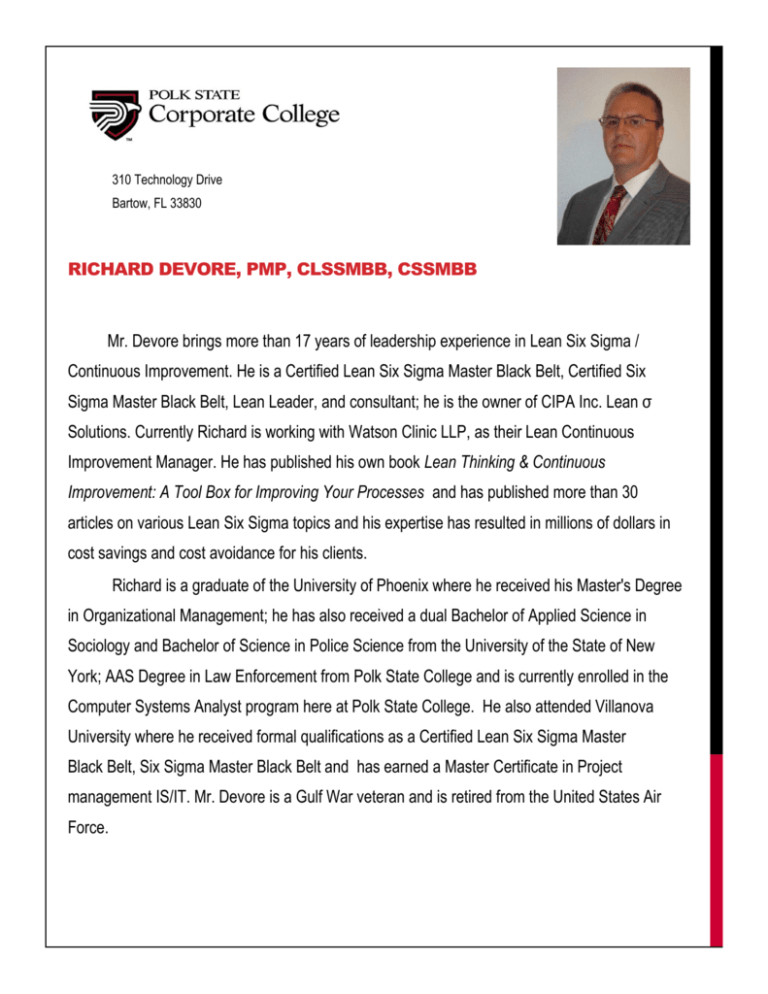 310 Technology Drive
Bartow, FL 33830
RICHARD DEVORE, PMP, CLSSMBB, CSSMBB
Mr. Devore brings more than 17 years of leadership experience in Lean Six Sigma /
Continuous Improvement. He is a Certified Lean Six Sigma Master Black Belt, Certified Six
Sigma Master Black Belt, Lean Leader, and consultant; he is the owner of CIPA Inc. Lean σ
Solutions. Currently Richard is working with Watson Clinic LLP, as their Lean Continuous
Improvement Manager. He has published his own book Lean Thinking & Continuous
Improvement: A Tool Box for Improving Your Processes and has published more than 30
articles on various Lean Six Sigma topics and his expertise has resulted in millions of dollars in
cost savings and cost avoidance for his clients.
Richard is a graduate of the University of Phoenix where he received his Master's Degree
in Organizational Management; he has also received a dual Bachelor of Applied Science in
Sociology and Bachelor of Science in Police Science from the University of the State of New
York; AAS Degree in Law Enforcement from Polk State College and is currently enrolled in the
Computer Systems Analyst program here at Polk State College. He also attended Villanova
University where he received formal qualifications as a Certified Lean Six Sigma Master
Black Belt, Six Sigma Master Black Belt and has earned a Master Certificate in Project
management IS/IT. Mr. Devore is a Gulf War veteran and is retired from the United States Air
Force.