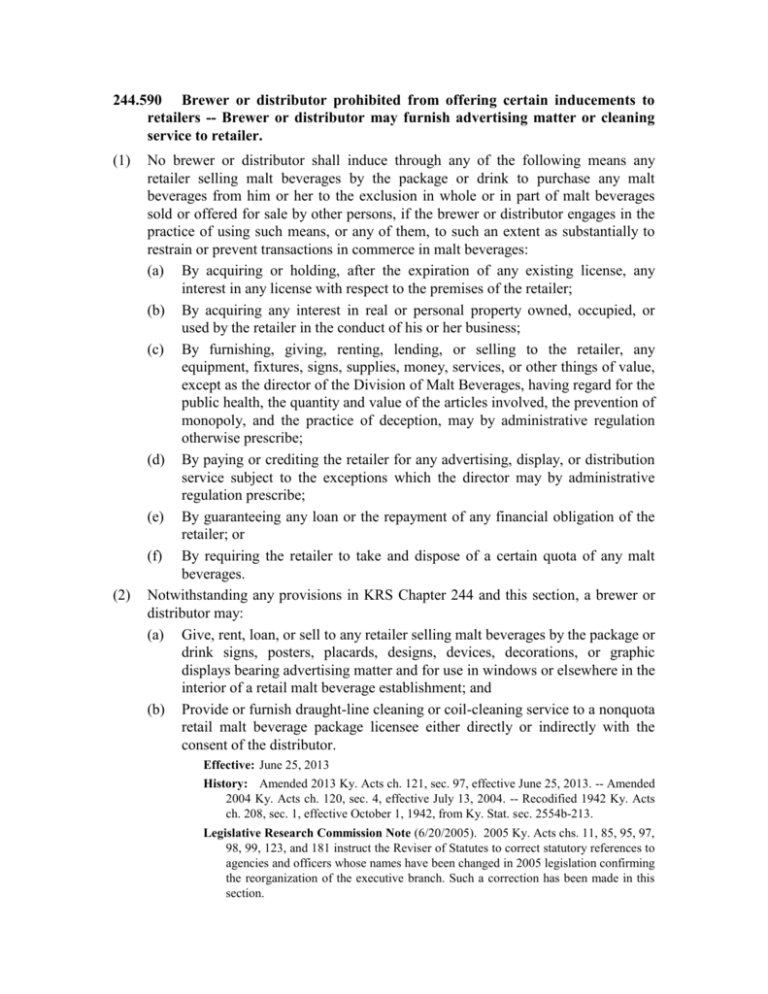 244.590 Brewer or distributor prohibited from offering certain inducements to
retailers -- Brewer or distributor may furnish advertising matter or cleaning
service to retailer.
(1)
(2)
No brewer or distributor shall induce through any of the following means any
retailer selling malt beverages by the package or drink to purchase any malt
beverages from him or her to the exclusion in whole or in part of malt beverages
sold or offered for sale by other persons, if the brewer or distributor engages in the
practice of using such means, or any of them, to such an extent as substantially to
restrain or prevent transactions in commerce in malt beverages:
(a) By acquiring or holding, after the expiration of any existing license, any
interest in any license with respect to the premises of the retailer;
(b) By acquiring any interest in real or personal property owned, occupied, or
used by the retailer in the conduct of his or her business;
(c) By furnishing, giving, renting, lending, or selling to the retailer, any
equipment, fixtures, signs, supplies, money, services, or other things of value,
except as the director of the Division of Malt Beverages, having regard for the
public health, the quantity and value of the articles involved, the prevention of
monopoly, and the practice of deception, may by administrative regulation
otherwise prescribe;
(d) By paying or crediting the retailer for any advertising, display, or distribution
service subject to the exceptions which the director may by administrative
regulation prescribe;
(e) By guaranteeing any loan or the repayment of any financial obligation of the
retailer; or
(f) By requiring the retailer to take and dispose of a certain quota of any malt
beverages.
Notwithstanding any provisions in KRS Chapter 244 and this section, a brewer or
distributor may:
(a) Give, rent, loan, or sell to any retailer selling malt beverages by the package or
drink signs, posters, placards, designs, devices, decorations, or graphic
displays bearing advertising matter and for use in windows or elsewhere in the
interior of a retail malt beverage establishment; and
(b) Provide or furnish draught-line cleaning or coil-cleaning service to a nonquota
retail malt beverage package licensee either directly or indirectly with the
consent of the distributor.
Effective: June 25, 2013
History: Amended 2013 Ky. Acts ch. 121, sec. 97, effective June 25, 2013. -- Amended
2004 Ky. Acts ch. 120, sec. 4, effective July 13, 2004. -- Recodified 1942 Ky. Acts
ch. 208, sec. 1, effective October 1, 1942, from Ky. Stat. sec. 2554b-213.
Legislative Research Commission Note (6/20/2005). 2005 Ky. Acts chs. 11, 85, 95, 97,
98, 99, 123, and 181 instruct the Reviser of Statutes to correct statutory references to
agencies and officers whose names have been changed in 2005 legislation confirming
the reorganization of the executive branch. Such a correction has been made in this
section.