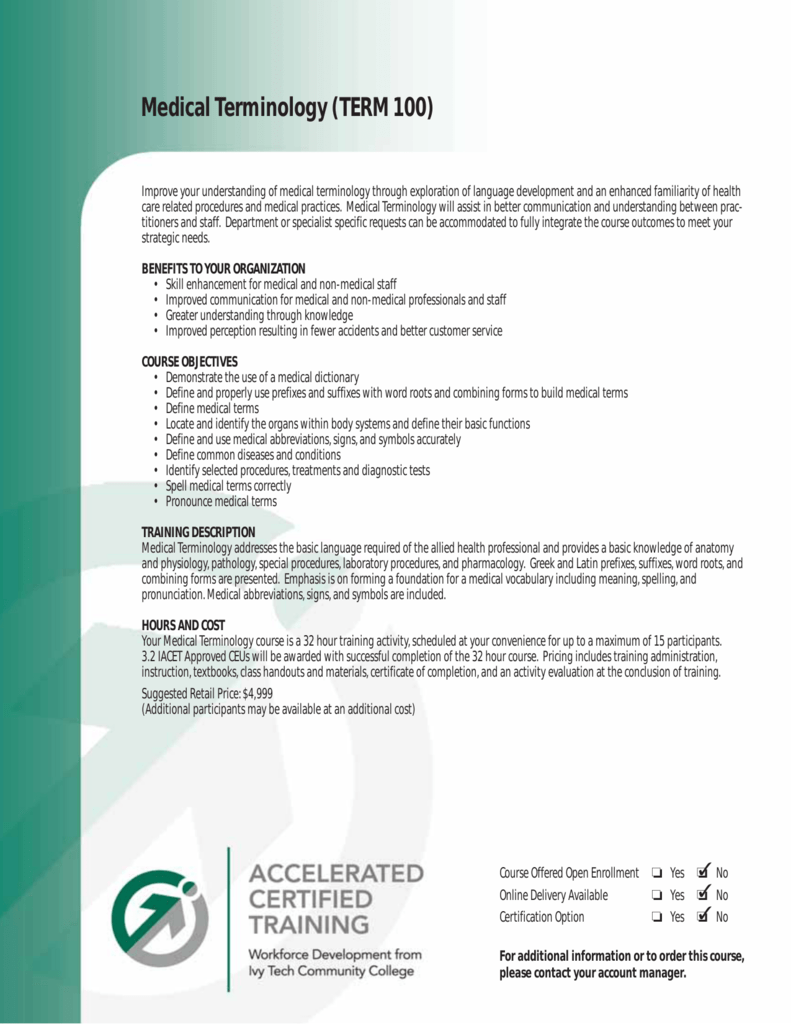 Medical Terminology (TERM 100)
Improve your understanding of medical terminology through exploration of language development and an enhanced familiarity of health
care related procedures and medical practices. Medical Terminology will assist in better communication and understanding between practitioners and staff. Department or specialist specific requests can be accommodated to fully integrate the course outcomes to meet your
strategic needs.
BENEFITS TO YOUR ORGANIZATION
• Skill enhancement for medical and non-medical staff
• Improved communication for medical and non-medical professionals and staff
• Greater understanding through knowledge
• Improved perception resulting in fewer accidents and better customer service
COURSE OBJECTIVES
• Demonstrate the use of a medical dictionary
• Define and properly use prefixes and suffixes with word roots and combining forms to build medical terms
• Define medical terms
• Locate and identify the organs within body systems and define their basic functions
• Define and use medical abbreviations, signs, and symbols accurately
• Define common diseases and conditions
• Identify selected procedures, treatments and diagnostic tests
• Spell medical terms correctly
• Pronounce medical terms
TRAINING DESCRIPTION
Medical Terminology addresses the basic language required of the allied health professional and provides a basic knowledge of anatomy
and physiology, pathology, special procedures, laboratory procedures, and pharmacology. Greek and Latin prefixes, suffixes, word roots, and
combining forms are presented. Emphasis is on forming a foundation for a medical vocabulary including meaning, spelling, and
pronunciation. Medical abbreviations, signs, and symbols are included.
HOURS AND COST
Your Medical Terminology course is a 32 hour training activity, scheduled at your convenience for up to a maximum of 15 participants.
3.2 IACET Approved CEUs will be awarded with successful completion of the 32 hour course. Pricing includes training administration,
instruction, textbooks, class handouts and materials, certificate of completion, and an activity evaluation at the conclusion of training.
Suggested Retail Price: $4,999
(Additional participants may be available at an additional cost)
No
Course Offered Open Enrollment J Yes J
Online Delivery Available
Certification Option
No
J Yes J
No
J Yes J
For additional information or to order this course,
please contact your account manager.