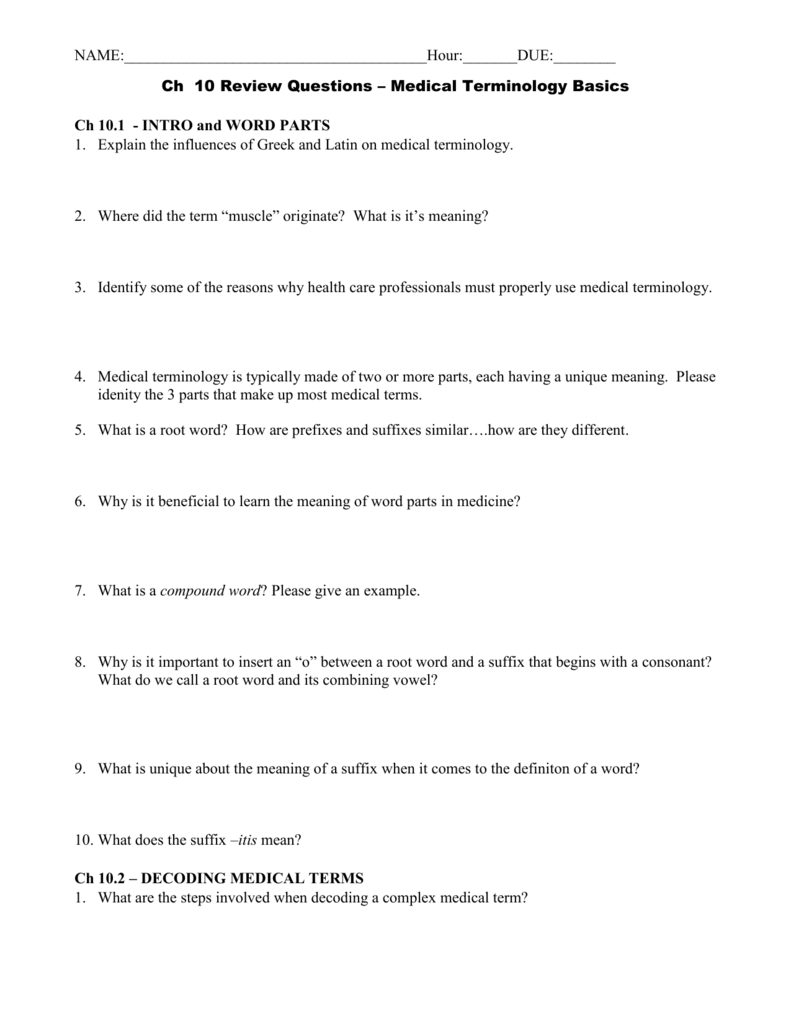 NAME:_______________________________________Hour:_______DUE:________
Ch 10 Review Questions – Medical Terminology Basics
Ch 10.1 - INTRO and WORD PARTS
1. Explain the influences of Greek and Latin on medical terminology.
2. Where did the term "muscle" originate? What is it's meaning?
3. Identify some of the reasons why health care professionals must properly use medical terminology.
4. Medical terminology is typically made of two or more parts, each having a unique meaning. Please
idenity the 3 parts that make up most medical terms.
5. What is a root word? How are prefixes and suffixes similar….how are they different.
6. Why is it beneficial to learn the meaning of word parts in medicine?
7. What is a compound word? Please give an example.
8. Why is it important to insert an "o" between a root word and a suffix that begins with a consonant?
What do we call a root word and its combining vowel?
9. What is unique about the meaning of a suffix when it comes to the definiton of a word?
10. What does the suffix –itis mean?
Ch 10.2 – DECODING MEDICAL TERMS
1. What are the steps involved when decoding a complex medical term?
NAME:_______________________________________Hour:_______DUE:________
2. Using the skills learned in this section, along with the tables provided, dissect the following terms
and write the definition for each.
a. abduction
b. laminectomy
c. macrophage
d. rhinitis
e. glycosuria
f. ultrasonography
Ch 10.3 - SPELLING AND PRONOUNCIATION
1. Why is it important that medical terms are spelled correctly?
2. Why is it important to pay close attention to surrounding words and facts when determining the
meaning of a term?
3. Some combining forms (root words and their combining vowel) can have the same meaning but
different origins (words)…please list three combining forms for "uterus".
Ch 10.4 – ABBREVIATIONS AND SYMBOLS
1. How would you determine if it's acceptable to use an abbreviation?
2. Why are symbols frequently used in health care?
3. Give an example of 3 abbreviations or acronyms and their meaning.



4. Give an example of 3 symbols and their meaning.



Ch 10.5 USING A MEDICAL DICTIONARY
1. What kinds of information are typically found in medical dictionaries?