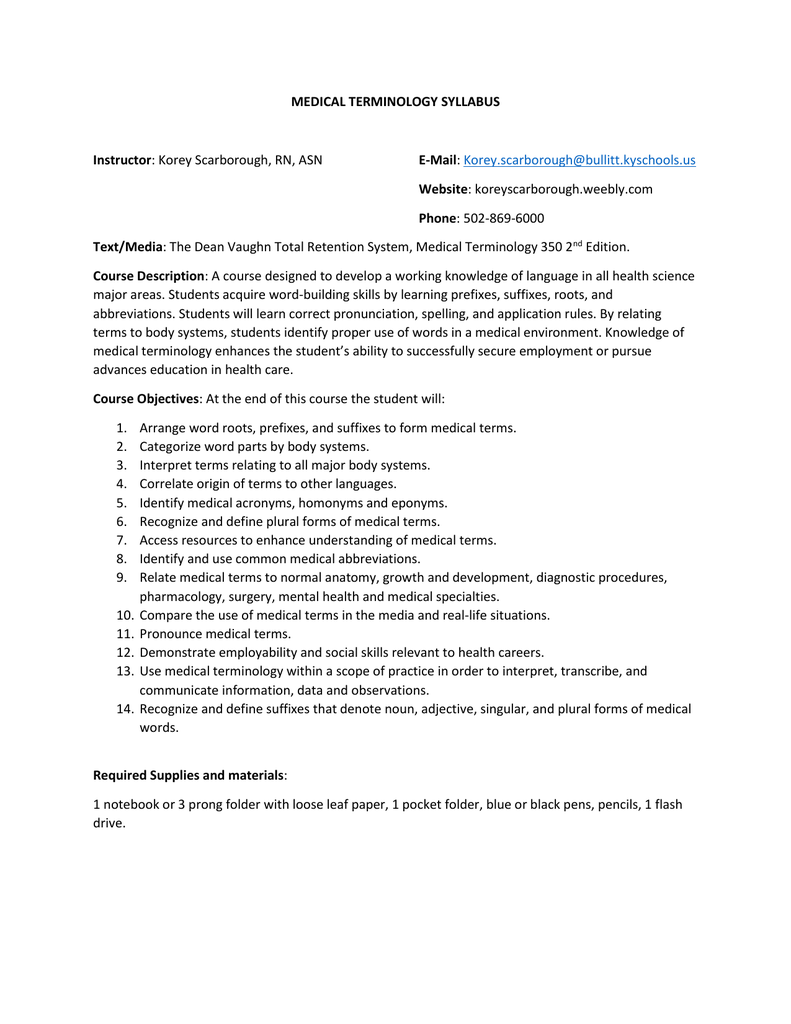 MEDICAL TERMINOLOGY SYLLABUS
Instructor: Korey Scarborough, RN, ASN
E-Mail: [email protected]
Website: koreyscarborough.weebly.com
Phone: 502-869-6000
Text/Media: The Dean Vaughn Total Retention System, Medical Terminology 350 2nd Edition.
Course Description: A course designed to develop a working knowledge of language in all health science
major areas. Students acquire word-building skills by learning prefixes, suffixes, roots, and
abbreviations. Students will learn correct pronunciation, spelling, and application rules. By relating
terms to body systems, students identify proper use of words in a medical environment. Knowledge of
medical terminology enhances the student's ability to successfully secure employment or pursue
advances education in health care.
Course Objectives: At the end of this course the student will:
1.
2.
3.
4.
5.
6.
7.
8.
9.
10.
11.
12.
13.
14.
Arrange word roots, prefixes, and suffixes to form medical terms.
Categorize word parts by body systems.
Interpret terms relating to all major body systems.
Correlate origin of terms to other languages.
Identify medical acronyms, homonyms and eponyms.
Recognize and define plural forms of medical terms.
Access resources to enhance understanding of medical terms.
Identify and use common medical abbreviations.
Relate medical terms to normal anatomy, growth and development, diagnostic procedures,
pharmacology, surgery, mental health and medical specialties.
Compare the use of medical terms in the media and real-life situations.
Pronounce medical terms.
Demonstrate employability and social skills relevant to health careers.
Use medical terminology within a scope of practice in order to interpret, transcribe, and
communicate information, data and observations.
Recognize and define suffixes that denote noun, adjective, singular, and plural forms of medical
words.
Required Supplies and materials:
1 notebook or 3 prong folder with loose leaf paper, 1 pocket folder, blue or black pens, pencils, 1 flash
drive.
Grading:
A= 90-100
B= 80-89
C= 70-79
D= 60-69
F= 59 and below
All work will be weighted accordingly such as quizzes, tests, projects, homework, classwork etc..
**Instructor reserves the right to make changes to course syllabus when necessary to meet learning
objectives, to compensate for missed classes or for other reasons deemed necessary.
***Please be aware that in Health Science courses, due to the content some graphic material such as
traumatic wounds, disease processes, human anatomy, fetal development ( video showing childbirth
will be viewed in Health & Wellness), etc… will be viewed by your student.