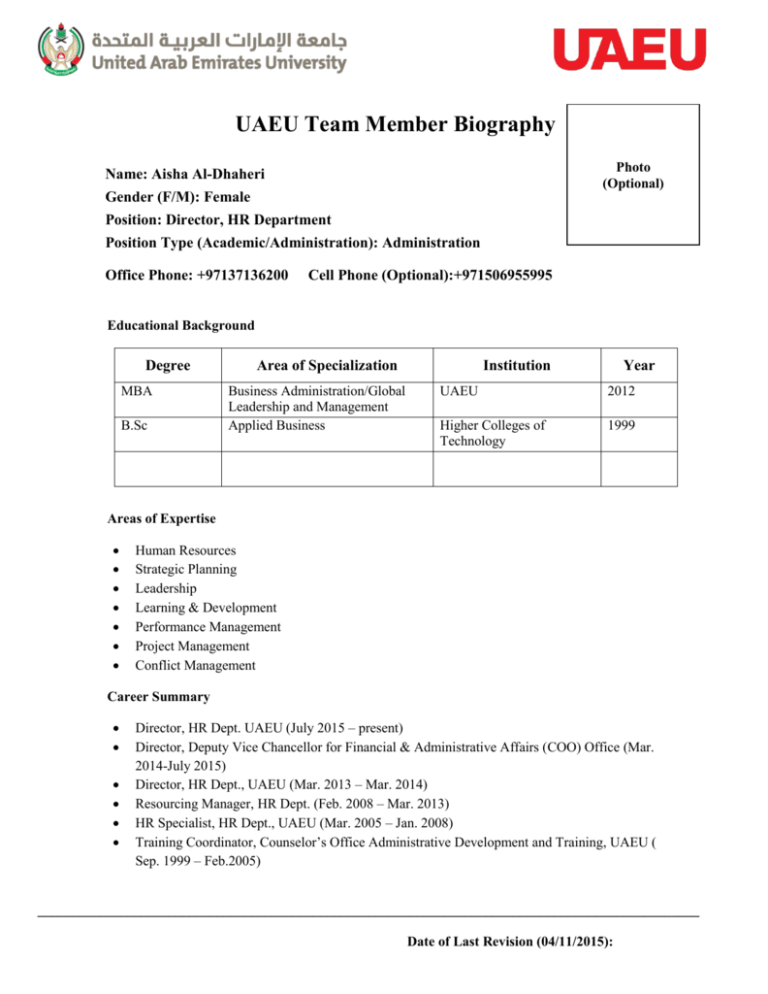 UAEU Team Member Biography
Photo
(Optional)
Name: Aisha Al-Dhaheri
Gender (F/M): Female
Position: Director, HR Department
Position Type (Academic/Administration): Administration
Office Phone: +97137136200
Cell Phone (Optional):+971506955995
Educational Background
Degree
MBA
B.Sc
Area of Specialization
Business Administration/Global
Leadership and Management
Applied Business
Institution
Year
UAEU
2012
Higher Colleges of
Technology
1999
Areas of Expertise







Human Resources
Strategic Planning
Leadership
Learning & Development
Performance Management
Project Management
Conflict Management
Career Summary






Director, HR Dept. UAEU (July 2015 – present)
Director, Deputy Vice Chancellor for Financial & Administrative Affairs (COO) Office (Mar.
2014-July 2015)
Director, HR Dept., UAEU (Mar. 2013 – Mar. 2014)
Resourcing Manager, HR Dept. (Feb. 2008 – Mar. 2013)
HR Specialist, HR Dept., UAEU (Mar. 2005 – Jan. 2008)
Training Coordinator, Counselor's Office Administrative Development and Training, UAEU (
Sep. 1999 – Feb.2005)
________________________________________________________________________________________________
Date of Last Revision (04/11/2015):
UAEU Team Member Biography
Name:
Ahmad Suleiman
Gender:
Male
Position:
Development Expert
Position Type:
Administration
Office Phone:
03-713-6311
Cell Phone:
050-6230738
Educational Background
Degree
Area of Specialization
Institution
Year
M.S.
Mathematics
Tennessee State University
1993
B.S.
Computer Science
Tennessee State University
1990
Areas of Expertise





Project Management, Strategic Planning, Human Resources, Finance
Quality Improvement, Institutional Research, Performance Measures
Liaison between the SG Division and UITS for all ERP Enhancements
Outsourcing Studies, Business Process Improvement, quantitative research studies, analytical
studies
Serve on university committees and participate in workgroups
Career Summary
Date
September 2005 Present
July 2001 – August
2005
September 1991- June
2000
Position
Development Expert
Organization
UAEU, Secretary General
Country
UAE
Director, Technical &
Administrative Support Unit
Manager, Operations
Analysis Unit
Data Administrator/ Acting
Director
Data Analyst
UAEU, Secretary General
UAE
UAEU, Secretary General
UAE
UAEU, Institutional Research &
Planning Support Unit
St. Michael's Hospital, Human
Resources
Meharry Medical College, Office
of Institutional Research
UAE
Programmer Analyst II
Canada
USA
Additional Relevant Experience & Certificates
March 2014
ITC International Consulting Al Ain, UAE
EFQM & Sheikh Khalifa's Governmental Excellence Program February 2011
Prime Minister Office, Adaa Dubai, UAE
An integrated system for managing performance and monitoring the execution of strategic and operational plans. March 2008
Queen's Executive Development Centre Al Ain, UAE
Operational Leadership Module April 2005
Schulich Executive Education Centre Toronto, Ontario Canada
York University. October, 2004
The Project Management Course
Ryerson University Toronto, Ontario Canada
Human Resources Management Certificate
February 2001
December 2000
XINTRA Computer Certification Provider
Oracle Internet Application Developer
Oracle Data Base Administration
Oracle: PL/SQL
October 1997
Sensible Communications
March 2001
Toronto, Ontario Canada
Nashville, Tennessee USA
MS ACCESS
August 1997
Kaplan Communications
Atlanta, Georgia USA
Web Master Series
Presentations:


"Predicting Student Performances at a Minority Professional School", The Association of Institutional Research. Long Beach, California, USA June 2001. "Student Tracking System." The Southern Association of Institutional Research. Mobile, Alabama, USA. October 1996.