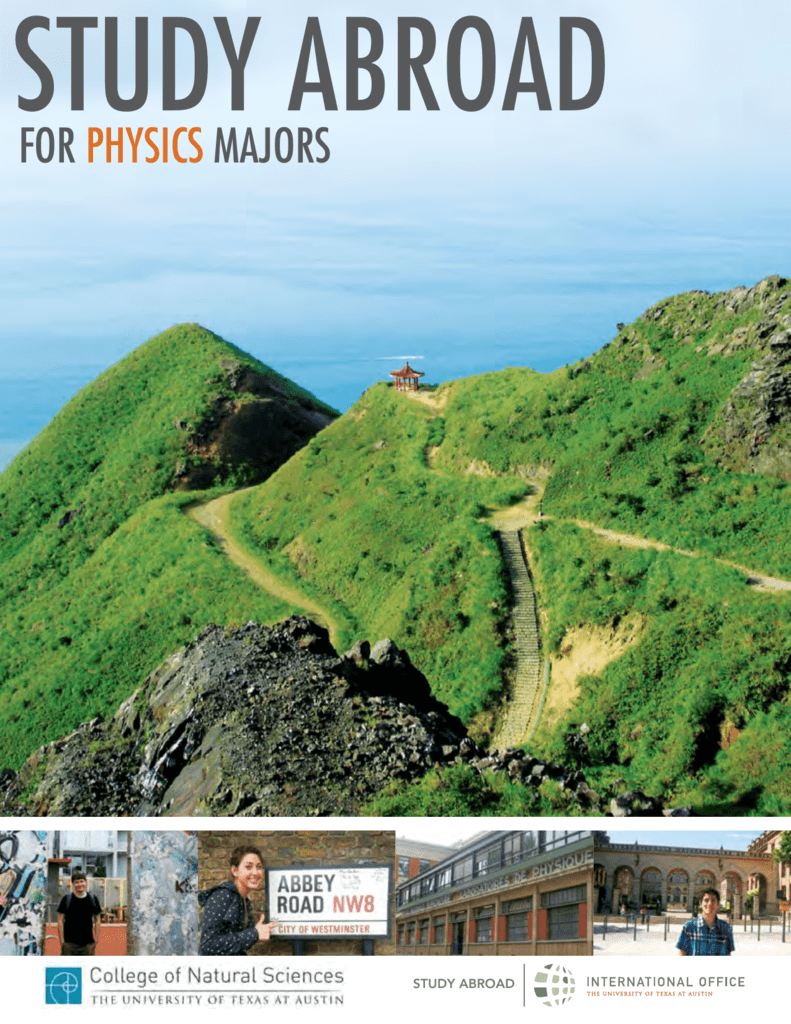 STUDY ABROAD
FOR PHYSICS MAJORS
STUDY ABROAD
WHY YOU SHOULD
STUDY ABROAD
Study abroad programs provide Physics majors with access to interesting
and relevant courses around the world. Immerse yourself in a new culture
while earning credits toward your degree. It is possible for Physics
students to go abroad for a semester or full year and still graduate on time!
WHAT YOU NEED TO KNOW
TO ASK YOUR ACADEMIC ADVISOR IN THE
DEPARTMENT OF PHYSICS
• Visit the Advising Office online:
cns.utexas.edu/mpa-home
• What classes must I complete on campus for
my degree?
• What core or major requirements can I
complete abroad?
• What remaining prerequisites must I fulfill, and
how will study abroad impact my progress?
PREMIER PARTNER UNIVERSITIES
CNS faculty members have carefully chosen
highly-ranked universities and pre-approved
science courses needed to complete your degree.
PRE-HEALTH PROFESSIONS OPTIONS
Explore the "Study Abroad Guide for Pre-Health
Professions" online and speak with your academic
advisor early to discuss options.
CREDIT
Choose from a wide selection of pre-approved
course offerings. Visit the "My Credit Abroad"
database online to view direct course matches.
AFFORDABILITY
Consider the real cost of studying abroad, the
difference between a semester in Austin and a
semester abroad. UT awards hundreds of study
abroad scholarships that can help offset costs.
EXPERIENTIAL LEARNING
Several programs allow you to include
undergraduate research or an internship during
your stay abroad.
QUESTIONS
• How many hours of upper-division credit do I
need to complete for my degree?
• How many hours of elective (lower vs. upper
division) credit do I have remaining in my major?
• Are there any in-residence requirements I need
to be aware of before I go abroad?
TO ASK YOUR STUDY ABROAD COORDINATOR
• How will I get credit for the courses I take abroad?
"Studying abroad enables students to explore how other
cultures approach the study of physics while gaining
inspiration from visiting beautiful places, such as Lake
Nahuel Huapi. I recently spent an afternoon on this lake
talking with a foreign colleague about normal metrics
and coadjoint orbits."
– Phil Morrison, Professor, Department of Physics,
College of Natural Sciences
2
STUDY ABROAD FOR PHYSICS MAJORS
• How can I get courses approved for my
program(s) of interest?
• What do I need to consider in preparing an
estimated budget for my program(s) of interest,
and what expenses do I need to plan for up front?
• Where can I find more information about
scholarships for study abroad?
• How can I contact UT students who have
participated in my program(s) of interest?
"My experiences abroad are the best memories I will take
away from college. I have learned so much about different
cultures, and the entire experience has enriched my life."
– Courtney Campion, England
TO ASK THE OFFICE OF STUDENT
FINANCIAL SERVICES
• Learn about study abroad and financial aid before
you contact Financial Services.
Visit: world.utexas.edu/abroad/funding
• How do loans work for study abroad? What kinds
of aid/loans do I currently receive, and are there
any restrictions on this aid if I study abroad?
• Have I reached the maximum of (insert name of)
loan allowed per academic year?
• When will funds be released for my semester
of participation?
• How will additional scholarships impact my UT
financial aid?
STUDY ABROAD FOR PHYSICS MAJORS
3
CNS PREMIER PARTNERS
Each program below has numerous courses pre-approved for
UT credit which apply to Physics degree requirements. Visit the
"My Credit Abroad" database online to view direct course matches:
world.utexas.edu/abroad/credit
AUSTRALIAN NATIONAL UNIVERSITY
CANBERRA, AUSTRALIA
ANU is Australia's only national university and
is located in the heart of the capital city.
Mountains and beautiful beaches are just a few
hours away, making ANU a perfect choice for
students seeking world-class academics and
cultural and outdoor opportunities.
NATIONAL UNIVERSITY OF SINGAPORE
Courses taught in English. The eclectic mix of East
and West in cosmopolitan Singapore makes the
exchange program at NUS an engaging choice.
Students are able to study in English at one of
the top universities in Asia, choosing from a wide
range of pre-approved courses in the sciences,
liberal arts, and business.
UNIVERSITY COLLEGE LONDON, ENGLAND
Located in a city of over eight million people,
UCL is among the world's top universities. This
exchange program is ideal for independent
students looking for a challenging academic
experience at a prestigious institution. Preapproved courses are available across the sciences
and liberal arts.
4
STUDY ABROAD FOR PHYSICS MAJORS
UNIVERSITY OF CAPE TOWN, SOUTH AFRICA
UNIVERSITY OF NOTTINGHAM, ENGLAND
Nottingham is an excellent choice for the student
who prefers a full academic-year study abroad
experience, as there are a number of year-long
courses offered in the School of Physics and
Astronomy. Examples include From Newton to
Einstein, The Quantum World, and Theoretical
Particle Physics.
UNIVERSITY OF OTAGO, DUNEDIN,
NEW ZEALAND
Courses taught in English. This program allows
students to direct enroll at Africa's leading
research university, located on the slopes of Table
Mountain overlooking the city. The UCT Physics
Department has an active tradition of research and
teaching in the physical sciences.
The University of Otago has earned an international
reputation for the quality of its research and
teaching and is located on the coast in a vibrant,
beautiful, and peaceful place to live and study.
Courses are available across the sciences.
UNIVERSITY OF MELBOURNE, AUSTRALIA
UNIVERSITY OF QUEENSLAND,
BRISBANE, AUSTRALIA
University of Melbourne ranks within the top 30
universities in the world. The campus is located
just five minutes from the vibrant downtown area.
With numerous pre-approved courses available
across all fields, Melbourne has been a top
destination for UT students.
UNIVERSITY OF NEW SOUTH WALES,
SYDNEY, AUSTRALIA
Ideally situated in the eastern suburbs of Sydney,
this program allows students to study at one of
the country's best universities while getting a
taste of Australian culture, great weather, and
beautiful beaches. Example courses of interest for
science students include Linear Algebra and Solid
State Physics.
"From a research standpoint, seeing how science gets
done in another country was an invaluable experience.
I got exposure to a new and really exciting subfield of
physics. Overall, the experience opened my eyes in a
way I don't think could have happened in the U.S."
– Will Berdanier, Switzerland
Students can choose from a wide selection of courses
that fulfill physics degree requirements at UQ. In
addition, UQ provides students with an opportunity
to gain research experience working alongside the
UNIVERSITY OF SYDNEY, AUSTRALIA
university's leading academics and researchers
The University of Sydney offers a wide selection
through its undergraduate research programs.
of courses pre-approved for credit. Some options
include Physics I and Linear Algebra. Students
UNIVERSITY OF SUSSEX, BRIGHTON, ENGLAND can apply to the Study Abroad Internship Program
which exposes participants to the Australian
Located in a coastal city, the University of Sussex
workplace culture through hands-on experience
has been a top choice of UT science students in
recent years. Brighton has one of the youngest per outside of the classroom.
capita populations in the UK and boasts a vibrant
arts and entertainment scene. Examples of classes
science students have taken include Introductory
Physics I & II and Further and Vector Calculus.
UPPSALA UNIVERSITY, UPPSALA, SWEDEN
Courses taught in English and Swedish.
Established in 1477, Uppsala University is regarded
as one of the best universities in Europe. The
UT "Swedish Excellence Endowment" offers
significant scholarship funding specifically for
UT Austin students. A wide selection of science
courses is available, and students can opt to enroll
in Swedish language courses as well.
STUDY ABROAD FOR PHYSICS MAJORS
5
MAPPING YOUR SEMESTERS
Sample plans specific to each of the Physics major options are available
under the "International Study" section of the UT College of Natural
Sciences website. Use the samples to help incorporate a semester abroad
into your degree plan.
SAMPLE STUDY ABROAD PLAN (12-14 CATALOG)
BACHELOR OF SCIENCE IN PHYSICS – OPTION I
Spring
Summer
M 408C
M 408D
American History*
PHY 110C or 1 hour elective
PHY 301/PHY 101L
GOV 310L
RHE 306 or UGS 302 or 303
PHY 110C or 1 hour elective
CH 301
CH 302
Social & Behavioral Sciences*
UGS 302 or 303 or RHE 306
SECOND YEAR
Fall
Spring
Summer
M 427K
M 427L
GOV 312
M 340L
PHY 315/PHY 115L
E 316K*
Major Level BIO, AST or GEO
PHY 316/PHY 116L
Visual and Performing Arts*
PHY 110C or 1 hour elective
PROGRAM
HIGHLIGHT
UNIVERSITY OF
MELBOURNE (UM)
You could spend the
fall semester of
your senior year
at University of
Melbourne and enroll
in these four preapproved courses
that match the
courses needed to
fulfill your UT degree
requirements.
THIRD YEAR
Fall
Spring
PHY 353L
PHY 352K
PHY 355
PHY 373
PHY 336K
M 361 or elective*
M 362K
Elective*
Foreign Language/Culture*
Foreign Language/Culture*
Summer
Spring
PHY 362K
PHY 362L
PHY 369
PHY 474
American History
Electives as needed*
FIRST YEAR
Fall
Spring
Summer
Spring
Summer
Study abroad for Physics
majors is recommended
during fall semester of the
senior year, but sophomore
year is possible with
careful planning.
Spring
Summer
Spring
Summer
SECOND YEAR
Fall
THIRD YEAR
Fall
Going abroad during
your final semester is not
recommended, as the
delay in processing course
credits could prevent you
from graduating on time.
FOURTH YEAR
Fall
PHYC 30020
Quantum Systems
PHYC 30017
Statistical Physics
HIST 20043
The USA and the
World: Democracy
& Empire
FOURTH YEAR
Study Abroad
MY STUDY ABROAD PLAN
For detailed information
on our Premier Partners,
visit the "International
Study" section of the
UT College of Natural
Sciences website.
Speak with your academic
advisor early on for the
most flexibility in planning
your time abroad!
FIRST YEAR
Fall
PLANNING
TIPS
Summer
MECM 20006
Understanding
Australian Media
"I did research in a statistical physics laboratory, which fit
my major extremely well and really helped me stay on
track with my academic goals."
-– Santiago Benavides, France
Elective
* These are alternate non-science courses that can be rotated to a semester abroad, allowing
flexibility to consider a wider selection of programs. Speak with your academic advisor to discuss
possible options for rotating science courses.
6
STUDY ABROAD FOR PHYSICS MAJORS
STUDY ABROAD FOR PHYSICS MAJORS
7
WAYS TO GET STARTED
Discover more at world.utexas.edu/abroad
TALK TO YOUR ACADEMIC ADVISOR
Your advisor can help identify the best course
options to meet degree requirements and can help
determine the ideal semester to participate.
STUDY ABROAD PEER ADVISORS
Peer advisors can help you explore options and
answer questions during walk-in hours at the
International Office. See walk-in hours here:
world.utexas.edu/abroad/advising/peeradvisors
PROGRAM SEARCH ENGINE
Explore more than 400 study abroad programs.
MY CREDIT ABROAD DATABASE
Find more than 10,000 pre-approved foreign
courses with UT equivalents.
ON CAMPUS ADVISING AND EVENTS
Walk-in advising and information sessions are
available throughout the academic year. Dates,
times, and locations are found on the calendar on
the main Study Abroad website.
FUNDING STUDY ABROAD
Understand your funding options, financial aid,
online tools, and available scholarships:
world.utexas.edu/abroad/funding
CONTACT US
Phone: (512) 471-6490
Email: [email protected]
Web: world.utexas.edu/abroad
Facebook: facebook.com/longhorns.abroad
STUDY ABROAD
Pictured on the cover: Will Berdanier, Courtney Campion and Santiago Benavides
Take the world by the horns.