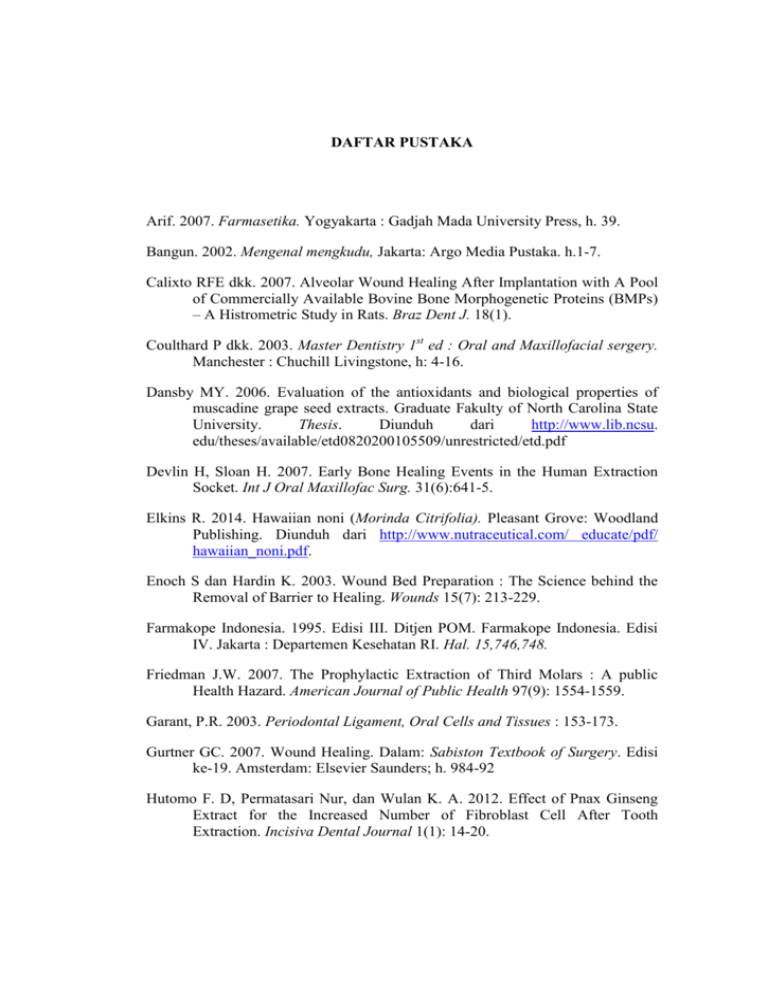 DAFTAR PUSTAKA
Arif. 2007. Farmasetika. Yogyakarta : Gadjah Mada University Press, h. 39.
Bangun. 2002. Mengenal mengkudu, Jakarta: Argo Media Pustaka. h.1-7.
Calixto RFE dkk. 2007. Alveolar Wound Healing After Implantation with A Pool
of Commercially Available Bovine Bone Morphogenetic Proteins (BMPs)
– A Histrometric Study in Rats. Braz Dent J. 18(1).
Coulthard P dkk. 2003. Master Dentistry 1st ed : Oral and Maxillofacial sergery.
Manchester : Chuchill Livingstone, h: 4-16.
Dansby MY. 2006. Evaluation of the antioxidants and biological properties of
muscadine grape seed extracts. Graduate Fakulty of North Carolina State
University.
Thesis.
Diunduh
dari
http://www.lib.ncsu.
edu/theses/available/etd0820200105509/unrestricted/etd.pdf
Devlin H, Sloan H. 2007. Early Bone Healing Events in the Human Extraction
Socket. Int J Oral Maxillofac Surg. 31(6):641-5.
Elkins R. 2014. Hawaiian noni (Morinda Citrifolia). Pleasant Grove: Woodland
Publishing. Diunduh dari http://www.nutraceutical.com/ educate/pdf/
hawaiian_noni.pdf.
Enoch S dan Hardin K. 2003. Wound Bed Preparation : The Science behind the
Removal of Barrier to Healing. Wounds 15(7): 213-229.
Farmakope Indonesia. 1995. Edisi III. Ditjen POM. Farmakope Indonesia. Edisi
IV. Jakarta : Departemen Kesehatan RI. Hal. 15,746,748.
Friedman J.W. 2007. The Prophylactic Extraction of Third Molars : A public
Health Hazard. American Journal of Public Health 97(9): 1554-1559.
Garant, P.R. 2003. Periodontal Ligament, Oral Cells and Tissues : 153-173.
Gurtner GC. 2007. Wound Healing. Dalam: Sabiston Textbook of Surgery. Edisi
ke-19. Amsterdam: Elsevier Saunders; h. 984-92
Hutomo F. D, Permatasari Nur, dan Wulan K. A. 2012. Effect of Pnax Ginseng
Extract for the Increased Number of Fibroblast Cell After Tooth
Extraction. Incisiva Dental Journal 1(1): 14-20.
Indraswary. 2011. Efek Konsentrasi Buah Adas (Foeniculum vulgare
Mill.)Topikal pada Epitelisasi Penyembuhan Luka Gingival Labial Tikus
Sprague Dawley in vivo. Sultan Agung XLIX (124) : 49-71.
Junqueira LJ, Carneiro J. 2005. Basic Histology. 11th ed. California: Lange
Medical Publications. h.89-97,113-114.
Karodi R, Jadhav M, Rub R, Bafina A. 2009. Evaluation of the Wound Healing
Activity of a Crude Extract of Rubia cordifolia L. (Indian madder) in
Mice. Int J Apple Res Nat Prod. 2(2): 12-8.
Khoswanto. 2010. The Effect of Mengkudu gel (Morinda Citrifolia Linn.) in
accelerating the escalation of fibroblast post extraction. Dental Journal.
43(1): 31-34.
Kieber, IPSC-Inchem, Joseph J, dan Ingrid BD'Agostino. 2002. Molocular
Mechanisms of Cytokinin Action. Plant Biology 1999, 2: 359-364.
Departement of Biological Sciences. Chicago.
Lawrence WT. 2002. Wound Healing Biology and Its Application to Wound
Management. Dalam: O'Leary P, penyunting, The Physiologic Basis of
Surgery. Edisi ke-3. Philadelphia: Lippincott Williams 7 wilkins; h. 10732
Leong M, Phillips LG. 2012. Wound Healing. Dalam: Sabiston Textbook of
Surgery. Edisi ke-19. Amsterdam: Elsevier Saunders: h. 984-92.
MacKay D, Miller AL. 2003. Nutritional Support for Wound Healing.http:
//highwire.stanford.edu/cgi/medicine/. Accessed June 2, 2009.
Nelson SC. 2006. Morinda Citrifolia L. Species Profiles for Pacific Island
Agroforesty. Diunduh dari http:// www.agroforesty.net/tti/Morindanoni.pdf.
Peterson, L.J. 2003. Contemporary Oral and Maxillofacial Surgery. 4th Ed.
Mosby: United State of America.
Pusponegoro AD. 2005. Luka. Dalam: sjamsuhidajat R,De Jong W, penyunting.
Buku Ajar Ilmu Bedah. Edisi ke-2. Jakarta: EGC.
Rahmitasari F, Setyari Wisnu, dan Rachmat E. A. 2011. The Effect of Spirulina
Gel on Fibroblast Cell Number after Wound Healing. Dental Journal.
44.(4) : 192-195.
Ruli. 2000 TOGA tahun 1 seri 2. Surabaya: PT Jawa Pos Printed. H. 11.
Sahelian R. 2007. Phenolic Compounds and phenolic acids. Diunduh dari
http://www.raysahelian.com/phenolic.html.
Schultz GS. 2007. The Physiology of Wound Bed Preparation. Dalam : Granich
MS, Gamelli RL, penyunting. Surgical Wound Healing and Management
Switzerland: Informa Healthcare; h. 1-16
Selimovic, E. dkk. 2011. Pain and Relieve After impacted Wisdom Teeth
Extraction Dependent on The Drug Therapy. Coll. Antropol, 35.(1): 133136.
Steiner GG dkk. 2008. The Healing Socket
Compendium.29(2).
and Socket Regeneration.
Vermerris W, Nicholson R. 2006. Phenolic compound biochemistry. Springer.
Wang MY. 2007. Morinda Citrifolia (noni): a literature review and recent
advances in noni research. Acta Pharmacologica Sinica 2002;23(12):112741. Diunduh dari http://www.chinaphar.com/1671-4083/23/1127.pdf.
Webster J. 2012. Negative Pressure Wound Therapy for Skin Graft and Surgical
wound Healing by Primary intention. Cochrane Database of Systematic
Review;(4):1-45.
Wray D, Stenhouse D, Lee D, dan Clark AJE. 2003. Textbook for General and
Oral Surgery Philadlpia: Elsevier Science limited. h 103-112.
Young B, Heath JW. 2005. Functional histology. 4th ed. Churchill Livingstone.
h.69-70.
Yusuf, Nova Sari Shorbina dkk. 2013. Pengaruh Ekstrak Biji Jintan Hitam
terhadap Jumlah Fibroblas, Makrofag, Pembuluh Darah Pasca Ekstraksi
Gigi Tikus Wistar. Dentistry Student Journal 2(2).