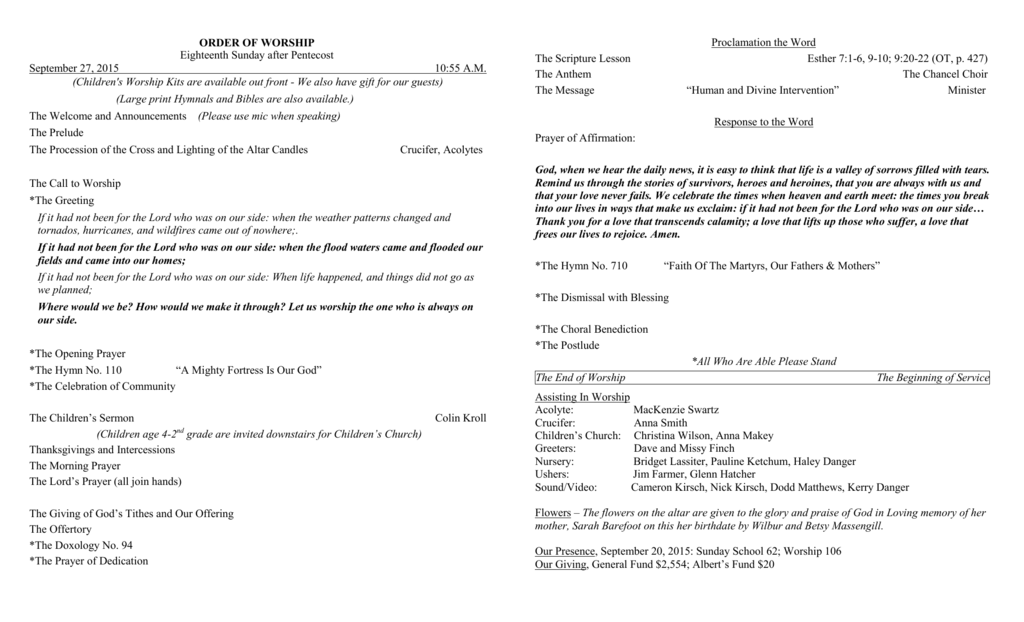 ORDER OF WORSHIP
Eighteenth Sunday after Pentecost
September 27, 2015
10:55 A.M.
(Children's Worship Kits are available out front - We also have gift for our guests)
(Large print Hymnals and Bibles are also available.)
The Welcome and Announcements
Proclamation the Word
Esther 7:1-6, 9-10; 9:20-22 (OT, p. 427)
The Chancel Choir
"Human and Divine Intervention"
Minister
The Scripture Lesson
The Anthem
The Message
(Please use mic when speaking)
Response to the Word
The Prelude
The Procession of the Cross and Lighting of the Altar Candles
Prayer of Affirmation:
Crucifer, Acolytes
The Call to Worship
*The Greeting
If it had not been for the Lord who was on our side: when the weather patterns changed and
tornados, hurricanes, and wildfires came out of nowhere;.
If it had not been for the Lord who was on our side: when the flood waters came and flooded our
fields and came into our homes;
If it had not been for the Lord who was on our side: When life happened, and things did not go as
we planned;
Where would we be? How would we make it through? Let us worship the one who is always on
our side.
*The Opening Prayer
The Giving of God's Tithes and Our Offering
The Offertory
*The Doxology No. 94
*The Prayer of Dedication
*The Hymn No. 710
"Faith Of The Martyrs, Our Fathers & Mothers"
*The Dismissal with Blessing
*The Choral Benediction
*The Postlude
*All Who Are Able Please Stand
*The Hymn No. 110
"A Mighty Fortress Is Our God"
*The Celebration of Community
The Children's Sermon
(Children age 4-2nd grade are invited downstairs for Children's Church)
Thanksgivings and Intercessions
The Morning Prayer
The Lord's Prayer (all join hands)
God, when we hear the daily news, it is easy to think that life is a valley of sorrows filled with tears.
Remind us through the stories of survivors, heroes and heroines, that you are always with us and
that your love never fails. We celebrate the times when heaven and earth meet: the times you break
into our lives in ways that make us exclaim: if it had not been for the Lord who was on our side…
Thank you for a love that transcends calamity; a love that lifts up those who suffer, a love that
frees our lives to rejoice. Amen.
The End of Worship
Colin Kroll
The Beginning of Service
Assisting In Worship
Acolyte:
MacKenzie Swartz
Crucifer:
Anna Smith
Children's Church: Christina Wilson, Anna Makey
Greeters:
Dave and Missy Finch
Nursery:
Bridget Lassiter, Pauline Ketchum, Haley Danger
Ushers:
Jim Farmer, Glenn Hatcher
Sound/Video:
Cameron Kirsch, Nick Kirsch, Dodd Matthews, Kerry Danger
Flowers – The flowers on the altar are given to the glory and praise of God in Loving memory of her
mother, Sarah Barefoot on this her birthdate by Wilbur and Betsy Massengill.
Our Presence, September 20, 2015: Sunday School 62; Worship 106
Our Giving, General Fund $2,554; Albert's Fund $20
SJ Varsity Football Team Pre-Game Dinner
Our Church will be providing the SJ Varsity Football Team the pre-game meal Friday, Oct. 23rd.
We will be serving Barbequed Grilled chicken, Green Beans and Baked Potatoes.The Methodist Men
will grill the chicken and we will have the food at the school to serve @2:45 p.m. The cost of the
meal is around $250. Anyone that would like to make a financial contribution, help cook, serve the
meal or make some brownies can see Jenny Johnson. Thank you!
Today:
Wednesday:
Next Sunday:
Opportunities This Week
5:00 p.m., Youth Group (FH)
6:15 p.m., Body & Soul Café, Bible Studies: Youth(FH), JAM(downstairs),
Adult (Sanctuary)
7:30 p.m., Choir Practice (upstairs)
8:00 a.m., UMMen Breakfast (FH)
10:55 a.m., World Communion Sunday
3:30 p.m., Youth Council (FH)
Cares Of The Congregation
For Health And Well Being: Carolyn Parker (radiation); Donovan Butler (UNC); Anthony Gudak
(stomach); Wilbur Massengill (chemo); Debra Superville (radiation); Rose Minshew (home); Jason
Palmer (Lou Gehrig's disease); Sarah Barber (home); Margaret Walker (home); Jerry Temple
(recovering); Martha Stiles (rehab); Jean Patterson (broken foot); Wilson Coats; Katie Talton (tests);
Promise Whitley (chemo); Wilson Coats, Sr. and Wilson Coats, Jr. (Bryan Center); Betty Burke
(Fall); Pat Moore (stroke); Barbara Rhodes (blood pressure); Gail O'Neil (cancer); Willa Mae
Harvester (radiation)
Nursing & Rest Home Care: Cindy Johnson (long term care); Mike Wagnon (McLamb's); Melba
Chandler (Fall's River Village); Mary Lou Byrd (Liberty Commons)
Body & Soul Café & Wednesday Groups
Everyone is invited to come and join us on Wed night for Body & Soul Café at 6:15 p.m., in the
FH. The cost is $3.00/adults and $2.00/12 and under. After supper we have Study for children (JAM
5-11), youth and adults from 6:45-7:30 p.m. The Chancel Choir practices at 7:40 p.m. – 8:30 p.m.
Mission Moment
We will be collecting 'undies/boxers/briefs for boys/girls at SJ High School - all sizes needed cards will be in the Mission Quilt. Currently SJ has 10 identified students as 'Homeless' (living in
very unstable home environments) and anticipate that # to increase. Pls return items by Sun 03Oct.
Homecoming October 11
We will celebrate Homecoming on Sunday, October 11. It will be our joy to welcome back
Nathan Blake to be our speaker. After worship everyone is invited to lunch in the FH. The worship
Team will provide fried chicken, and everyone else should bring plenty of food to share. Please invite
family and friends to come and join us for this special day.