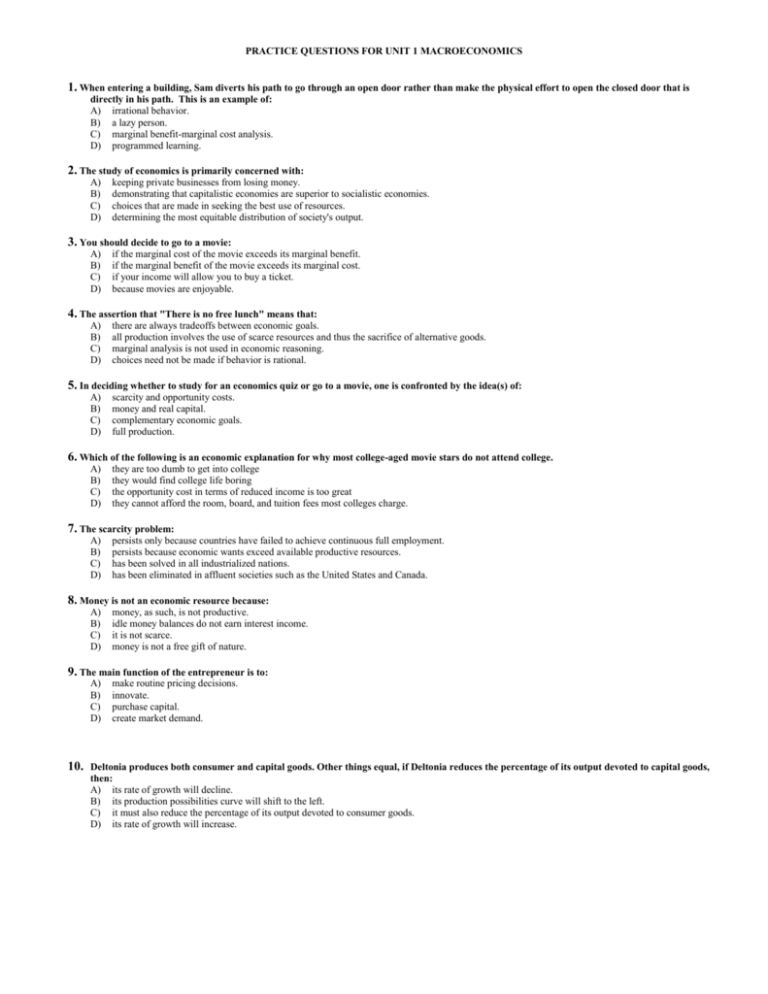 PRACTICE QUESTIONS FOR UNIT 1 MACROECONOMICS
1. When entering a building, Sam diverts his path to go through an open door rather than make the physical effort to open the closed door that is
directly in his path. This is an example of:
A) irrational behavior.
B) a lazy person.
C) marginal benefit-marginal cost analysis.
D) programmed learning.
2. The study of economics is primarily concerned with:
A)
B)
C)
D)
keeping private businesses from losing money.
demonstrating that capitalistic economies are superior to socialistic economies.
choices that are made in seeking the best use of resources.
determining the most equitable distribution of society's output.
3. You should decide to go to a movie:
A)
B)
C)
D)
if the marginal cost of the movie exceeds its marginal benefit.
if the marginal benefit of the movie exceeds its marginal cost.
if your income will allow you to buy a ticket.
because movies are enjoyable.
4. The assertion that "There is no free lunch" means that:
A)
B)
C)
D)
there are always tradeoffs between economic goals.
all production involves the use of scarce resources and thus the sacrifice of alternative goods.
marginal analysis is not used in economic reasoning.
choices need not be made if behavior is rational.
5. In deciding whether to study for an economics quiz or go to a movie, one is confronted by the idea(s) of:
A)
B)
C)
D)
scarcity and opportunity costs.
money and real capital.
complementary economic goals.
full production.
6. Which of the following is an economic explanation for why most college-aged movie stars do not attend college.
A)
B)
C)
D)
they are too dumb to get into college
they would find college life boring
the opportunity cost in terms of reduced income is too great
they cannot afford the room, board, and tuition fees most colleges charge.
7. The scarcity problem:
A)
B)
C)
D)
persists only because countries have failed to achieve continuous full employment.
persists because economic wants exceed available productive resources.
has been solved in all industrialized nations.
has been eliminated in affluent societies such as the United States and Canada.
8. Money is not an economic resource because:
A)
B)
C)
D)
money, as such, is not productive.
idle money balances do not earn interest income.
it is not scarce.
money is not a free gift of nature.
9. The main function of the entrepreneur is to:
A)
B)
C)
D)
make routine pricing decisions.
innovate.
purchase capital.
create market demand.
10. Deltonia produces both consumer and capital goods. Other things equal, if Deltonia reduces the percentage of its output devoted to capital goods,
then:
A) its rate of growth will decline.
B) its production possibilities curve will shift to the left.
C) it must also reduce the percentage of its output devoted to consumer goods.
D) its rate of growth will increase.
11. Refer to the above graphs. Assume that pizza is measured in slices and beer in pints. In which of the graphs is the opportunity cost of a pint of beer
equal to one slice of pizza?
A) graph A
B) graph B
C) graph C
D) graph D
12. The production possibilities curve illustrates the basic principle that:
A)
B)
C)
D)
the production of more of any one good will in time require smaller and smaller sacrifices of other goods.
an economy will automatically obtain full employment of its resources.
if all the resources of an economy are in use, more of one good can be produced only if less of another good is produced.
an economy's capacity to produce increases in proportion to its population size.
13. A nation's production possibilities curve is bowed out from the origin because:
A)
B)
C)
D)
resources are not equally efficient in producing every good.
the originator of the idea drew it this way and modern economists follow this convention.
resources are scarce.
wants are virtually unlimited.
Use the following to answer questions: 13-14
14. Refer to the above diagram. Other things equal, this economy will achieve the most rapid rate of growth if:
A)
B)
C)
D)
the ratio of capital to consumer goods is minimized.
it chooses point C.
it chooses point B.
it chooses point A.
15. Refer to the above diagram. This economy will experience unemployment if it produces at point:
A)
B)
C)
D)
A..
B.
C.
D.
16. Which of the following is not correct? A typical production possibilities curve:
A)
B)
C)
D)
indicates how much of two products a society can produce.
reveals how much each additional unit of one product will cost in terms of the other product.
specifies how much of each product society should produce.
indicates that to produce more of one product society must forgo larger and larger amounts of the other product.