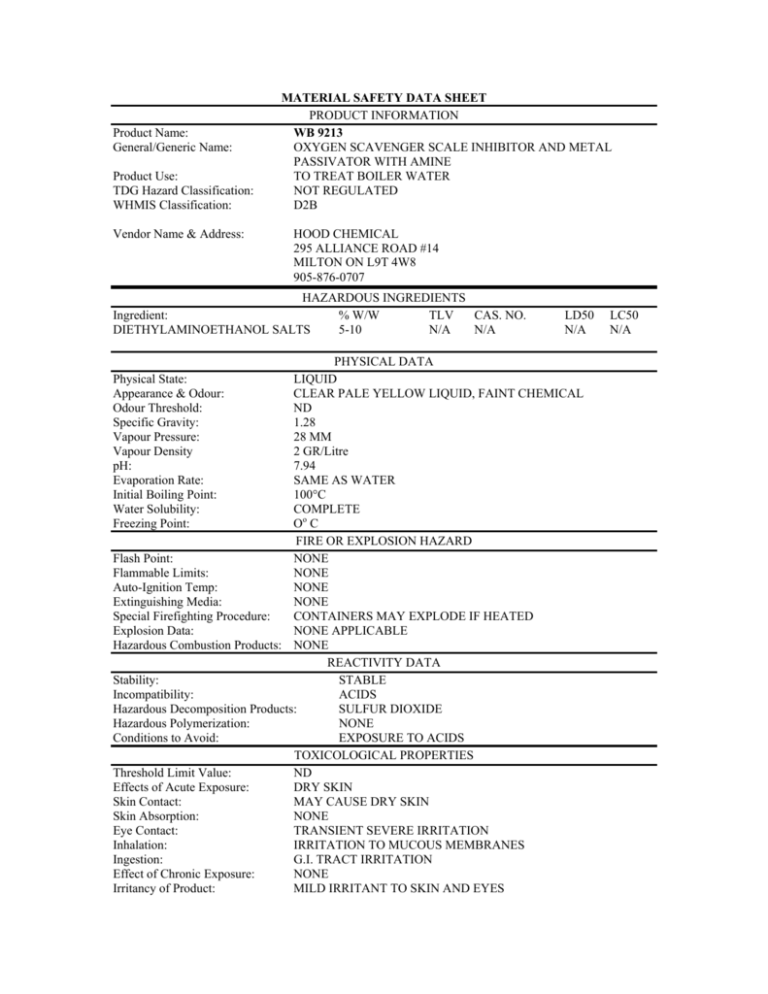 Product Name:
General/Generic Name:
Product Use:
TDG Hazard Classification:
WHMIS Classification:
Vendor Name & Address:
MATERIAL SAFETY DATA SHEET
PRODUCT INFORMATION
WB 9213
OXYGEN SCAVENGER SCALE INHIBITOR AND METAL
PASSIVATOR WITH AMINE
TO TREAT BOILER WATER
NOT REGULATED
D2B
HOOD CHEMICAL
295 ALLIANCE ROAD #14
MILTON ON L9T 4W8
905-876-0707
HAZARDOUS INGREDIENTS
Ingredient:
% W/W
TLV
CAS. NO.
DIETHYLAMINOETHANOL SALTS
5-10
N/A
N/A
LD50
N/A
PHYSICAL DATA
Physical State:
LIQUID
Appearance & Odour:
CLEAR PALE YELLOW LIQUID, FAINT CHEMICAL
Odour Threshold:
ND
Specific Gravity:
1.28
Vapour Pressure:
28 MM
Vapour Density
2 GR/Litre
pH:
7.94
Evaporation Rate:
SAME AS WATER
Initial Boiling Point:
100°C
Water Solubility:
COMPLETE
Freezing Point:
Oo C
FIRE OR EXPLOSION HAZARD
Flash Point:
NONE
Flammable Limits:
NONE
Auto-Ignition Temp:
NONE
Extinguishing Media:
NONE
Special Firefighting Procedure:
CONTAINERS MAY EXPLODE IF HEATED
Explosion Data:
NONE APPLICABLE
Hazardous Combustion Products: NONE
REACTIVITY DATA
Stability:
STABLE
Incompatibility:
ACIDS
Hazardous Decomposition Products:
SULFUR DIOXIDE
Hazardous Polymerization:
NONE
Conditions to Avoid:
EXPOSURE TO ACIDS
TOXICOLOGICAL PROPERTIES
Threshold Limit Value:
ND
Effects of Acute Exposure:
DRY SKIN
Skin Contact:
MAY CAUSE DRY SKIN
Skin Absorption:
NONE
Eye Contact:
TRANSIENT SEVERE IRRITATION
Inhalation:
IRRITATION TO MUCOUS MEMBRANES
Ingestion:
G.I. TRACT IRRITATION
Effect of Chronic Exposure:
NONE
Irritancy of Product:
MILD IRRITANT TO SKIN AND EYES
LC50
N/A
PAGE TWO
WB 9213
TOXICOLOGICAL PROPERTIES CONT'D.
Carcinogenicity:
Sensitization to Material:
Reproduction Toxicity:
Teratogenicity:
Mutagenicity:
ND
NONE
ND
ND
ND
PREVENTIVE MEASURES
Protective Equipment To Be Used: USUALLY NONE REQUIRED
Respiratory Protection:
NONE REQUIRED
Ventilation:
NORMAL AIR FLOW
Protective Gloves:
NONE
Eye Protection:
SAFETY GLASSES
Other Protective Measures:
NONE
FIRST AID MEASURES
Skin Contact:
WASH WITH SOAP AND WATER
Eye Contact:
RINSE EYES WITH PLENTY OF WATER, SEEK MEDICAL
ATTENTION IF IRRITATION PERSISTS
Inhalation:
MOVE TO FRESH AIR
Ingestion:
DRINK PLENTY OF WATER OR MILK
SPILL OR LEAK PROCEDURES
Steps To Be Taken In Case Material Is Released or Spilled: CONTAIN SPILL, ABSORB ONTO
INERT MATERIAL
Waste Disposal Information:
DISPOSE OF IN ACCORDANCE WITH ALL LOCAL,
PROVINCIAL AND FEDERAL REGULATIONS.
PREPARATION INFORMATION
Prepared by:
LAB PERSONNEL
NA Not Applicable
Date Revised:
JANUARY 2013
NE None Established
ND No Data Available
NR Not Regulated
DISCLAIMER OF LIABILITY:
The information in this MSDS was obtained from sources which we believe are reliable. However,
the information is provided without any warranty, express or implied, regarding its correctness. The
conditions or methods of handling, storage, use or disposal of the material are beyond our control
and may be beyond our knowledge. For this and other reasons, we do not assume responsibility and
expressly disclaim liability for loss, damage or expense arising out of or in any way connected with
the handling, storage, use or disposal of the material.
This MSDS was prepared and is to be used only for this material. If the material is used as a
component in another material, this MSDS information may not be applicable. This document is
generated for the purpose of distributing health, safety, and environmental data. It is not a
specification sheet nor should any displayed date be construed as a specification. Some of the
information presented and conclusions drawn herein are from sources other than direct test data on
the material itself.