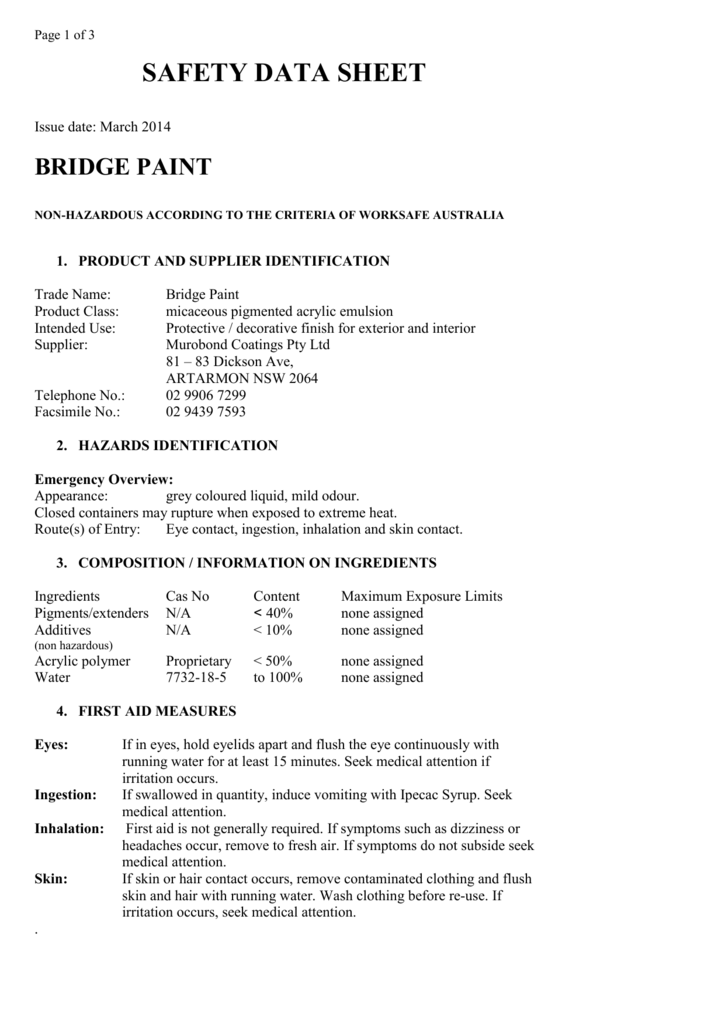 Page 1 of 3
SAFETY DATA SHEET
Issue date: March 2014
BRIDGE PAINT
NON-HAZARDOUS ACCORDING TO THE CRITERIA OF WORKSAFE AUSTRALIA
1. PRODUCT AND SUPPLIER IDENTIFICATION
Trade Name:
Product Class:
Intended Use:
Supplier:
Telephone No.:
Facsimile No.:
Bridge Paint
micaceous pigmented acrylic emulsion
Protective / decorative finish for exterior and interior
Murobond Coatings Pty Ltd
81 – 83 Dickson Ave,
ARTARMON NSW 2064
02 9906 7299
02 9439 7593
2. HAZARDS IDENTIFICATION
Emergency Overview:
Appearance:
grey coloured liquid, mild odour.
Closed containers may rupture when exposed to extreme heat.
Route(s) of Entry:
Eye contact, ingestion, inhalation and skin contact.
3. COMPOSITION / INFORMATION ON INGREDIENTS
Ingredients
Pigments/extenders
Additives
Cas No
N/A
N/A
Content
< 40%
< 10%
Maximum Exposure Limits
none assigned
none assigned
Proprietary
7732-18-5
< 50%
to 100%
none assigned
none assigned
(non hazardous)
Acrylic polymer
Water
4. FIRST AID MEASURES
Eyes:
Ingestion:
Inhalation:
Skin:
.
If in eyes, hold eyelids apart and flush the eye continuously with
running water for at least 15 minutes. Seek medical attention if
irritation occurs.
If swallowed in quantity, induce vomiting with Ipecac Syrup. Seek
medical attention.
First aid is not generally required. If symptoms such as dizziness or
headaches occur, remove to fresh air. If symptoms do not subside seek
medical attention.
If skin or hair contact occurs, remove contaminated clothing and flush
skin and hair with running water. Wash clothing before re-use. If
irritation occurs, seek medical attention.
Page 2 of 3
5. FIRE FIGHTING MEASURES
Flash Point:
Not applicable.
General Hazards: Containers of this material may build up pressure if exposed to
heat.
Fire fighting extinguishing media: All.
Fire fighting equipment: Wear self-contained breathing apparatus (SCBA) and full
firefighting protective clothing. Thoroughly decontaminate all protective equipment
after use.
Fire & explosion hazards: This material is not flammable.
6. ACCIDENTAL RELEASE
Small spills: Absorb the liquid with inert material such as dry sand or earth and
place it in a chemical waste container.
Large spills: Persons not wearing protective equipment should be evacuated from
the area of spill until cleanup has been completed. Stop leak at source when it is safe
to do so. Dike and pump the liquid into waste containers.
7. HANDLING & STORAGE
Store in a cool dry area, away from direct sunlight. Keep containers closed.
8. EXPOSURE CONTROLS / PERSONAL PROTECTION
Exposure Guidelines: No limit value established for this product.
Engineering controls: Use in a well ventilated area.
Personal Protection: Avoid contact with skin and eyes. Gloves, overalls, and glasses
should be worn.
9. PHYSICAL AND CHEMICAL PROPERTIES
Appearance & Odour:
grey coloured liquid with mild odour.
Boiling Point:
100ºC (Water)
Flash Point:
Not applicable
Vapour Density:
Not available
Specific Gravity:
1.7 g/ml
Evaporation Rate:
Not available
Flammability Limits:
Not applicable
Solubility in water:
Completely dispersible
pH:
Approx. 8.5
Volatile Organic Compound: 49.64 g/litre
10. STABILITY & REACTIVITY
Stability:
Hazardous Polymerisation:
Incompatibility:
Conditions to avoid:
Hazardous Decomposition
Products:
Hazardous reactions:
Stable
Will not occur
None known
Warm storage
Can yield carbon monoxide if exposed to
fire.
None known.
Page 3 of 3
11. TOXICOLOGICAL INFORMATION
Effects of prolonged exposure:
EYES: May irritate eyes
SKIN: Contact with skin may result in irritation.
INHALATION: With poor ventilation, may cause irritation to mucous membranes.
INGESTION: Large quantities may cause nausea / vomiting.
CHRONIC EFFECTS: None expected.
12. ECOLOGICAL INFORMATION
Free of Hazardous Air Pollutants (HAPS).
Avoid contaminating Waterways.
13. DISPOSAL INFORMATION
Refer to State / Territory Land Waste Management Authority.
Do not pour down drains.
Dispose of in approved landfill.
14. TRANSPORT INFORMATION
Not classified as Dangerous Goods by the criteria of the Australian Dangerous
Goods Code (ADG Code), IMDG & IATA.
15. REGULATORY INFORMATION
Non Hazardous according to the criteria of Worksafe Australia.
Hazard Category: None
Poisons Schedule: None
16. OTHER INFORMATION
All components within this product are listed on the AICS.
Reason Issued: New Format SDS
Prepared By: Murobond Coatings Pty Ltd
This information is provided in good faith and is correct to the best of Murobond's
knowledge at the date of issue. Murobond makes no representation as to its
completeness or accuracy. Customers should determine the suitability or otherwise of
this product for their intended purpose before using. Murobond disclaims
responsibility for damage of any kind resulting from the use of this information.
THERE ARE NO WARRANTIES OR REPRESENTATIONS, EXPRESSED OR
IMPLIED,
INCLUDING THOSE OF MERCHANTABILITY OR FITNESS FOR A
PARTICULAR PURPOSE WITH RESPECT TO THIS INFORMATION OR TO
THE PRODUCT IT DESCRIBES.