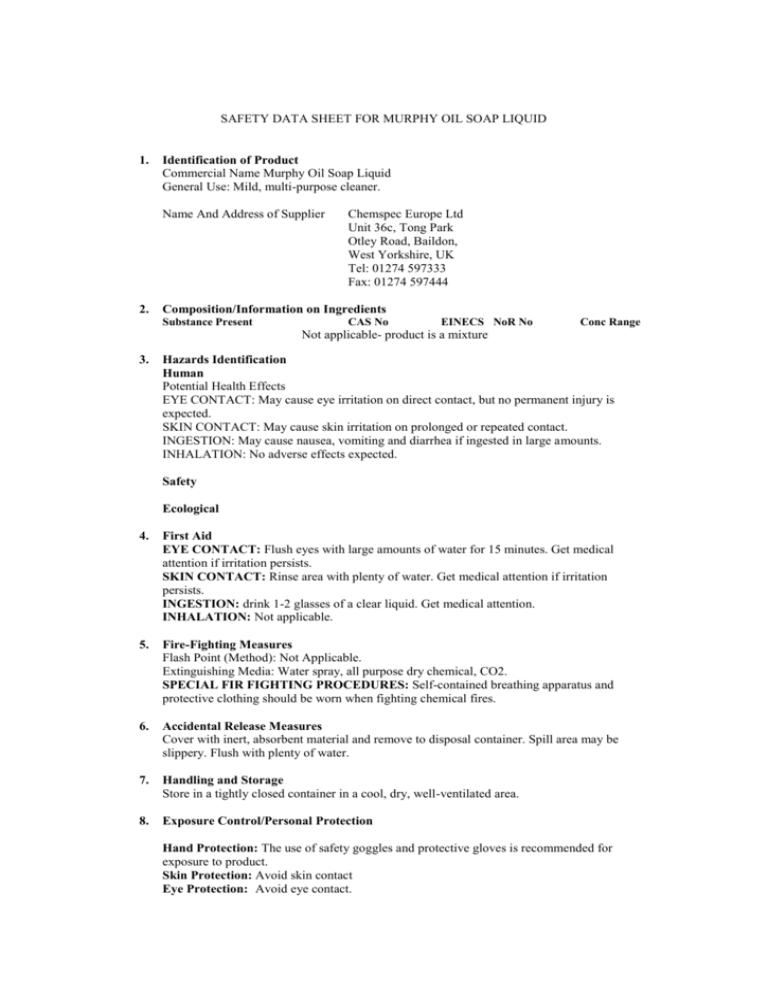 SAFETY DATA SHEET FOR MURPHY OIL SOAP LIQUID
1.
Identification of Product
Commercial Name Murphy Oil Soap Liquid
General Use: Mild, multi-purpose cleaner.
Name And Address of Supplier
2.
Chemspec Europe Ltd
Unit 36c, Tong Park
Otley Road, Baildon,
West Yorkshire, UK
Tel: 01274 597333
Fax: 01274 597444
Composition/Information on Ingredients
Substance Present
CAS No
EINECS NoR No
Conc Range
Not applicable- product is a mixture
3.
Hazards Identification
Human
Potential Health Effects
EYE CONTACT: May cause eye irritation on direct contact, but no permanent injury is
expected.
SKIN CONTACT: May cause skin irritation on prolonged or repeated contact.
INGESTION: May cause nausea, vomiting and diarrhea if ingested in large amounts.
INHALATION: No adverse effects expected.
Safety
Ecological
4.
First Aid
EYE CONTACT: Flush eyes with large amounts of water for 15 minutes. Get medical
attention if irritation persists.
SKIN CONTACT: Rinse area with plenty of water. Get medical attention if irritation
persists.
INGESTION: drink 1-2 glasses of a clear liquid. Get medical attention.
INHALATION: Not applicable.
5.
Fire-Fighting Measures
Flash Point (Method): Not Applicable.
Extinguishing Media: Water spray, all purpose dry chemical, CO2.
SPECIAL FIR FIGHTING PROCEDURES: Self-contained breathing apparatus and
protective clothing should be worn when fighting chemical fires.
6.
Accidental Release Measures
Cover with inert, absorbent material and remove to disposal container. Spill area may be
slippery. Flush with plenty of water.
7.
Handling and Storage
Store in a tightly closed container in a cool, dry, well-ventilated area.
8.
Exposure Control/Personal Protection
Hand Protection: The use of safety goggles and protective gloves is recommended for
exposure to product.
Skin Protection: Avoid skin contact
Eye Protection: Avoid eye contact.
Respiratory Protection:
No occupational exposure limits have been set for the substances present in this
preparation.
9.
Physical and Chemical Properties
Appearance:
Amber, viscous paste
Odour:
Citrus odour
PH:
(1% solution): 11.0+/-0.6
Relative Density:
Solubility in water:
Viscosity:
Flash Point:
Boiling Point:
Specific Gravity: approximately 1.0
10. Stability and Reactivity
GENERAL: This product is stable. Hazardous polymerisation will not occur.
INCOMPATIBLE MATERIAL: Avoid contact with strong acids, alkalis and oxidizing and
reducing agents, organic peroxides and easily ignited materials. Avoid prolonged contact with
reactive metals (e.g aluminium, brass, bronze etc.)
HAZARDOUS DECOMPOSITION: May produce irritating and/or toxic fumes upon
thermal decomposition.
11. Toxicology Information
This product has not been tested as a whole. However this formula was reviewed by expert
toxicologists in the Product Safety Assurance Department of Colgate-Palmolive and is
determined to be safe for its intended use. This review has taken into consideration available
safety-related information including information on individual ingredients, similar ingredients,
similar formulas and potential ingredients interactions. This review is a component of the
hazard determination used to prepare the statements in Section 3 of the MSDS.
12. Ecological Information
Not Available
13. Disposal Considerations
Any disposal practice must be in compliance with local, state and federal laws and regulations
(contact local or state environmental agency for specific rules). Do not dump into sewers, any
body of water or onto the ground.
14. Transport Information
Not regulated as a DOT hazardous material.
15. Regulatory Information
RCRA (40 CFR 261, Subpart D:) Not Applicable
CLEAN WATER ACT: Not Applicable
CLEAN AIR ACT: Contains ethanol which is a Section 111 material
SARA: Section 301-304 (Threshold planning quantity – TPQ) 40 CFR 355: No TPR for any
component.
Not Applicable
SECTION 313 (Toxic chemical release reporting) 40 CFR 372: The following chemicals
must be reported under SARA 313: Not Applicable
CERCLA: Section 102 (Reportable Quantity – RQ) 40 CFR 302: Not Applicable
R38
R43
R10
S24
S23
S51
S36/37/39
S43
S28
Chemicals to be reported on the label
16. Other Information
Effective Date: June 10, 2002
Supersedes MSDS dated June 29, 2000
MSDS Status: Revised sections 1,2,3,4,8,11,13,15
The information on this sheet is limited to the material identified and is believed by the
Colgate-Palmolive Company to be correct based on its knowledge and information as of the
date noted. Colgate makes no representation, guarantee or warranty, expressed or implied, as
to the accuracy, reliability or completeness of the information and assumes no responsibility
for injury, damage or loss resulting form the use of the material.