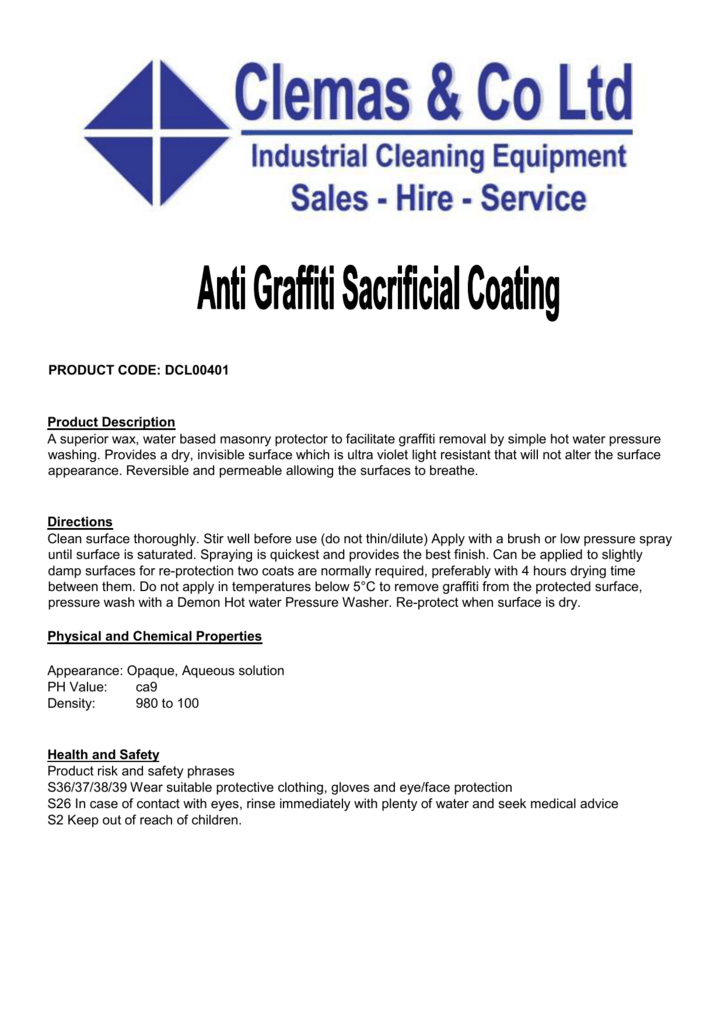 PRODUCT CODE: DCL00401
Product Description
A superior wax, water based masonry protector to facilitate graffiti removal by simple hot water pressure
washing. Provides a dry, invisible surface which is ultra violet light resistant that will not alter the surface
appearance. Reversible and permeable allowing the surfaces to breathe.
Directions
Clean surface thoroughly. Stir well before use (do not thin/dilute) Apply with a brush or low pressure spray
until surface is saturated. Spraying is quickest and provides the best finish. Can be applied to slightly
damp surfaces for re-protection two coats are normally required, preferably with 4 hours drying time
between them. Do not apply in temperatures below 5°C to remove graffiti from the protected surface,
pressure wash with a Demon Hot water Pressure Washer. Re-protect when surface is dry.
Physical and Chemical Properties
Appearance: Opaque, Aqueous solution
PH Value:
ca9
Density:
980 to 100
Health and Safety
Product risk and safety phrases
S36/37/38/39 Wear suitable protective clothing, gloves and eye/face protection
S26 In case of contact with eyes, rinse immediately with plenty of water and seek medical advice
S2 Keep out of reach of children.
PRODUCT SAFETY DATA SHEET
IDENTIFICATION
Product Name: Anti-Graffiti Sacrificial Coating
Product Code: DCL00401
Supplier:
Clemas & Company Limited
Unit 5 Ashchurch Business Centre
Tewkesbury, Gloucestershire GL20 8NB
Tel: 01684 850777
Fax: 01684 850707
COMPOSITION/INFORMATION INGREDIENTS
Not regulated under the criteria of Directive
67/548/EEC. (As amended)
HAZARDS IDENTIFICATION
Main hazards: This product is not considered to be
hazardous.
FIRST AID MEASURES
Inhalation: Remove casualty to fresh air. Allow the
casualty to rest. If you feel unwell, seek medical
advice.
Skin contact: Wash skin with mild soap and water.
Seek medical attention if ill effect or irritation
develops.
Eye contact: Rinse immediately with plenty of water.
Retract eyelids often. Seek medical attention if
irritation develops.
Ingestion: If swallowed, rinse mouth with water (only
if the person is conscious). Give water to drink. If you
feel unwell, seek medical advice (show the label
where possible).
FIRE-FIRE FIGHTING MEASURES:
Flammable class: Not flammable.
Extinguishing media: Use extinguishing media
appropriate for surrounding fire.
Surrounding fires: Use water spray or fog for cooling
exposed containers.
Special exposure hazards: When heated to
decomposition, emits dangerous fumes. Carbon
monoxide.
ACCIDENTAL RELEASE MEASURES:
Personal precautions: Equip clean-up crew with proper
protection.
Environmental precautions: Prevent entry to sewers and
public waters.
After spillage and/or leakage: Clean up any spills as
soon as possible, using an absorbent material to collect it.
Use suitable disposal containers.
Flush with plenty of water.
EXPOSURE CONTROLS/ PERSONAL PROTECTION
Respiratory protection: No special respiratory
protection equipment is recommended under normal
conditions of use with adequate ventilation.
Hand protection: In case of repeated or prolonged
contact wear gloves.
Skin protection: In case of possible repeated skin
contact wear protective clothing.
Eye protection: Chemical goggles or safety glasses.
STABILITY & REACTIVITY
Hazardous decomposition products: When heated to
decomposition, emits dangerous fumes. Carbon
monoxide. Carbon dioxide.
Conditions to avoid: Extremely high or low temps.
TOXICOLOGICAL INFORMATION
Inhalation: May cause irritation to the
respiratory tract and to other mucous
membranes.
Dermal: Repeated or prolonged skin contact may
cause irritation.
Ocular: Direct contact with the eyes is
likely slightly irritating.
Ingestion: May cause irritation of the
linings of the mouth, throat, and
gastrointestinal tract.
ECOLOGICAL INFORMATION
On product: No specific risk for the environment.
DISPOSAL CONSIDERATIONS
Product: Dispose in accordance with Local
Authority Regulations.
Container: Made from HDPE and should be
disposed of in accordance with Local
Authority Regulations.
TRANSPORT INFORMATION
General information Not classified
REGULATORY
INFORMATION Symbol(s) :
None.
R
Phrase(s) : None.
S
Phrase(s) : S25 - Avoid contact with
eyes.
OTHER INFORMATION
The contents and format of this MSDS are in
accordance with EEC Commission Directive
93/112/EEC.
DISCLAIMER OF LIABILITY: The information in this
MSDS was obtained from sources which we believe are
reliable. However, the information is provided without
any warranty, express or implied, regarding its
correctness. The conditions or methods of handling,
storage, use or disposal of the product are beyond our
control and may be beyond our knowledge. For this and
other reasons, we do not assume responsibility and
expressly disclaim liability for loss, damage or expense
arising out of or in any way connected with the handling,
storage, use or disposal of the product. This MSDS was
prepared and is to be used only for this product. If the
product is used as a component in another product, this
MSDS information may not be applicable.