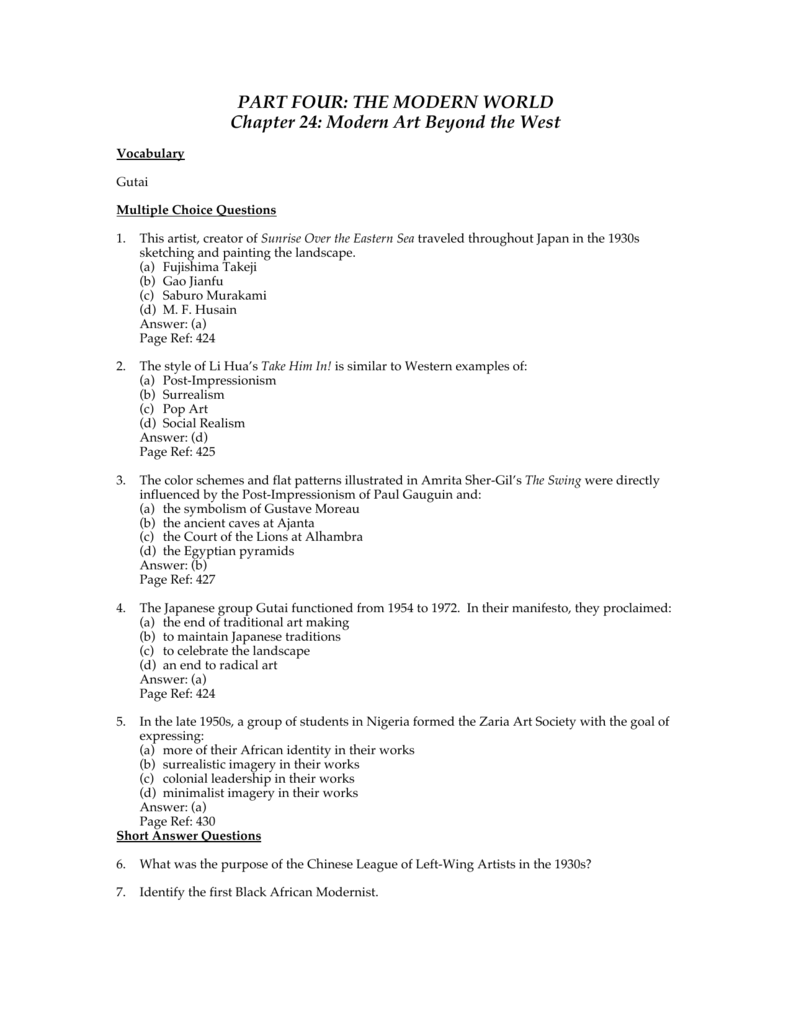 PART FOUR: THE MODERN WORLD
Chapter 24: Modern Art Beyond the West
Vocabulary
Gutai
Multiple Choice Questions
1.
This artist, creator of Sunrise Over the Eastern Sea traveled throughout Japan in the 1930s
sketching and painting the landscape.
(a) Fujishima Takeji
(b) Gao Jianfu
(c) Saburo Murakami
(d) M. F. Husain
Answer: (a)
Page Ref: 424
2.
The style of Li Hua's Take Him In! is similar to Western examples of:
(a) Post-Impressionism
(b) Surrealism
(c) Pop Art
(d) Social Realism
Answer: (d)
Page Ref: 425
3.
The color schemes and flat patterns illustrated in Amrita Sher-Gil's The Swing were directly
influenced by the Post-Impressionism of Paul Gauguin and:
(a) the symbolism of Gustave Moreau
(b) the ancient caves at Ajanta
(c) the Court of the Lions at Alhambra
(d) the Egyptian pyramids
Answer: (b)
Page Ref: 427
4.
The Japanese group Gutai functioned from 1954 to 1972. In their manifesto, they proclaimed:
(a) the end of traditional art making
(b) to maintain Japanese traditions
(c) to celebrate the landscape
(d) an end to radical art
Answer: (a)
Page Ref: 424
5.
In the late 1950s, a group of students in Nigeria formed the Zaria Art Society with the goal of
expressing:
(a) more of their African identity in their works
(b) surrealistic imagery in their works
(c) colonial leadership in their works
(d) minimalist imagery in their works
Answer: (a)
Page Ref: 430
Short Answer Questions
6.
What was the purpose of the Chinese League of Left-Wing Artists in the 1930s?
7.
Identify the first Black African Modernist.
8.
Why was the purchase of Gerard Sekoto's painting Street Scene by the South African National
Gallery made secret?
Essay Questions
9.
How did the Gutai group of artists anticipated several aspects of Happenings and
Performance Art that emerged later in the West?
10. How has globalization affected traditional non-Western artistic traditions? What place does
diversity occupy in the art world, and what are some nationalistic concerns explored by
artists? Should ethnicity and/or nationality determine what an artist creates? Explain.