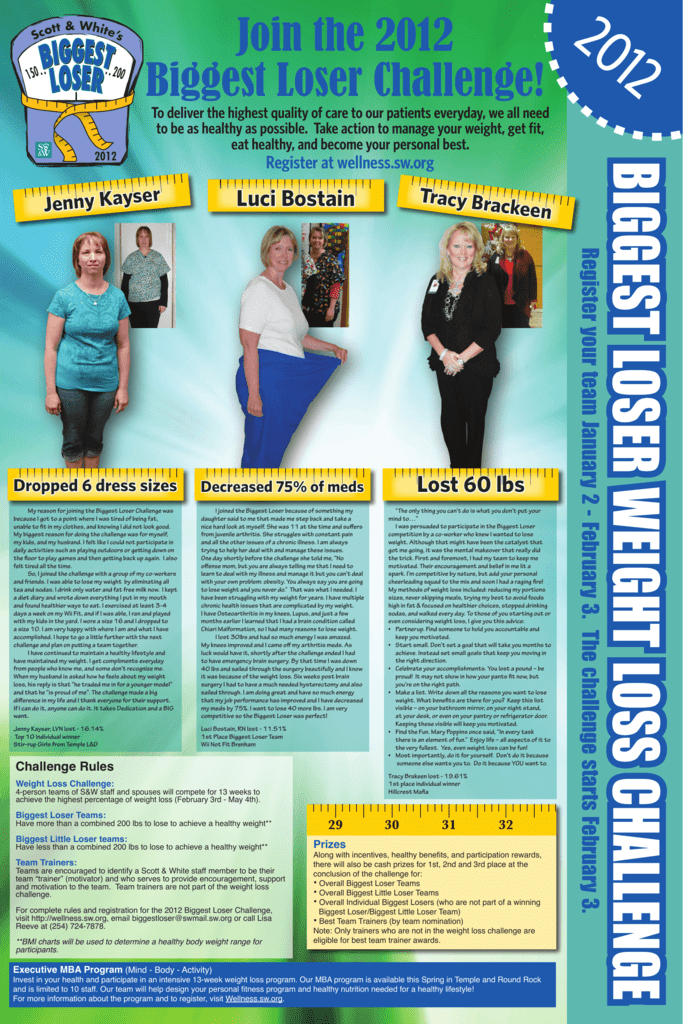 Sco
tt & White'
s
. . 200
150 . .
20
12
To deliver the highest quality of care to our patients everyday, we all need
to be as healthy as possible. Take action to manage your weight, get fit,
eat healthy, and become your personal best.
Register at wellness.sw.org
r
e
s
y
a
K
y
n
n
e
J
Tracy Bra
ckeen
Luci Bostain
Decreased 75% of meds
My reason for joining the Biggest Loser Challenge was
because I got to a point where I was tired of being fat,
unable to fit in my clothes, and knowing I did not look good.
My biggest reason for doing the challenge was for myself,
my kids, and my husband. I felt like I could not participate in
daily activities such as playing outdoors or getting down on
the floor to play games and then getting back up again. I also
felt tired all the time.
So, I joined the challenge with a group of my co-workers
and friends. I was able to lose my weight by eliminating all
tea and sodas. I drink only water and fat free milk now. I kept
a diet diary and wrote down everything I put in my mouth
and found healthier ways to eat. I exercised at least 3-4
days a week on my Wii Fit, and if I was able, I ran and played
with my kids in the yard. I wore a size 16 and I dropped to
a size 10. I am very happy with where I am and what I have
accomplished. I hope to go a little further with the next
challenge and plan on putting a team together.
I have continued to maintain a healthy lifestyle and
have maintained my weight. I get compliments everyday
from people who know me, and some don't recognize me.
When my husband is asked how he feels about my weight
loss, his reply is that "he traded me in for a younger model"
and that he "is proud of me". The challenge made a big
difference in my life and I thank everyone for their support.
If I can do it, anyone can do it. It takes Dedication and a BIG
want.
I joined the Biggest Loser because of something my
daughter said to me that made me step back and take a
nice hard look at myself. She was 11 at the time and suffers
from juvenile arthritis. She struggles with constant pain
and all the other issues of a chronic illness. I am always
trying to help her deal with and manage these issues.
One day shortly before the challenge she told me, "No
offense mom, but you are always telling me that I need to
learn to deal with my illness and manage it but you can't deal
with your own problem: obesity. You always say you are going
to lose weight and you never do." That was what I needed. I
have been struggling with my weight for years. I have multiple
chronic health issues that are complicated by my weight.
I have Osteoarthritis in my knees, Lupus, and just a few
months earlier I learned that I had a brain condition called
Chiari Malformation, so I had many reasons to lose weight.
I lost 30lbs and had so much energy I was amazed.
My knees improved and I came off my arthritis meds. As
luck would have it, shortly after the challenge ended I had
to have emergency brain surgery. By that time I was down
40 lbs and sailed through the surgery beautifully and I know
it was because of the weight loss. Six weeks post brain
surgery I had to have a much needed hysterectomy and also
sailed through. I am doing great and have so much energy
that my job performance has improved and I have decreased
my meds by 75%. I want to lose 40 more lbs. I am very
competitive so the Biggest Loser was perfect!
Jenny Kayser, LVN lost - 16.14%
Top 10 Individual winner
Stir-rup Girls from Temple L&D
Luci Bostain, RN lost - 11.51%
1st Place Biggest Loser Team
Wii Not Fit Brenham
Challenge Rules
4-person teams of S&W staff and spouses will compete for 13 weeks to
achieve the highest percentage of weight loss (February 3rd - May 4th).
Have more than a combined 200 lbs to lose to achieve a healthy weight**
Biggest Little Loser teams:
Have less than a combined 200 lbs to lose to achieve a healthy weight**
Team Trainers:
Teams are encouraged to identify a Scott & White staff member to be their
team "trainer" (motivator) and who serves to provide encouragement, support
and motivation to the team. Team trainers are not part of the weight loss
challenge.
For complete rules and registration for the 2012 Biggest Loser Challenge,
visit http://wellness.sw.org, email [email protected] or call Lisa
Reeve at (254) 724-7878.
**BMI charts will be used to determine a healthy body weight range for
participants.
Executive MBA Program (Mind - Body - Activity)
"The only thing you can't do is what you don't put your
mind to…"
I was persuaded to participate in the Biggest Loser
competition by a co-worker who knew I wanted to lose
weight. Although that might have been the catalyst that
got me going, it was the mental makeover that really did
the trick. First and foremost, I had my team to keep me
motivated. Their encouragement and belief in me lit a
spark. I'm competitive by nature, but add your personal
cheerleading squad to the mix and soon I had a raging fire!
My methods of weight loss included: reducing my portions
sizes, never skipping meals, trying my best to avoid foods
high in fat & focused on healthier choices, stopped drinking
sodas, and walked every day. To those of you starting out or
even considering weight loss, I give you this advice:
• Partnerup. Find someone to hold you accountable and
keep you motivated.
• Start small. Don't set a goal that will take you months to
achieve. Instead set small goals that keep you moving in
the right direction.
• Celebrate your accomplishments. You lost a pound – be
proud! It may not show in how your pants fit now, but
you're on the right path.
• Make a list. Writedown all the reasons you want to lose
weight. What benefits are there for you? Keep this list
visible – on your bathroom mirror, on your night stand,
at your desk, or even on your pantry or refrigerator door.
Keeping these visible will keep you motivated.
• Find the Fun. Mary Poppins once said, "In every task
there is an element of fun." Enjoy life – all aspects of it to
the very fullest. Yes, even weight loss can be fun!
• Most importantly, do it for yourself. Don't do it because
someone else wants you to. Do it because YOU want to.
Tracy Brakeen lost - 19.61%
1st place individual winner
Hillcrest Mafia
Weight Loss Challenge:
Biggest Loser Teams:
Lost 60 lbs
29
30
31
32
Prizes
Along with incentives, healthy benefits, and participation rewards,
there will also be cash prizes for 1st, 2nd and 3rd place at the
conclusion of the challenge for:
• Overall Biggest Loser Teams
• Overall Biggest Little Loser Teams
• Overall Individual Biggest Losers (who are not part of a winning
Biggest Loser/Biggest Little Loser Team)
• Best Team Trainers (by team nomination)
Note: Only trainers who are not in the weight loss challenge are
eligible for best team trainer awards.
Invest in your health and participate in an intensive 13-week weight loss program. Our MBA program is available this Spring in Temple and Round Rock
and is limited to 10 staff. Our team will help design your personal fitness program and healthy nutrition needed for a healthy lifestyle!
For more information about the program and to register, visit Wellness.sw.org.
Register your team January 2 - February 3. The challenge starts February 3.
Dropped 6 dress sizes
BIGGEST LOSER WEIGHT LOSS Challenge
2012
Join the 2012
Biggest Loser Challenge!