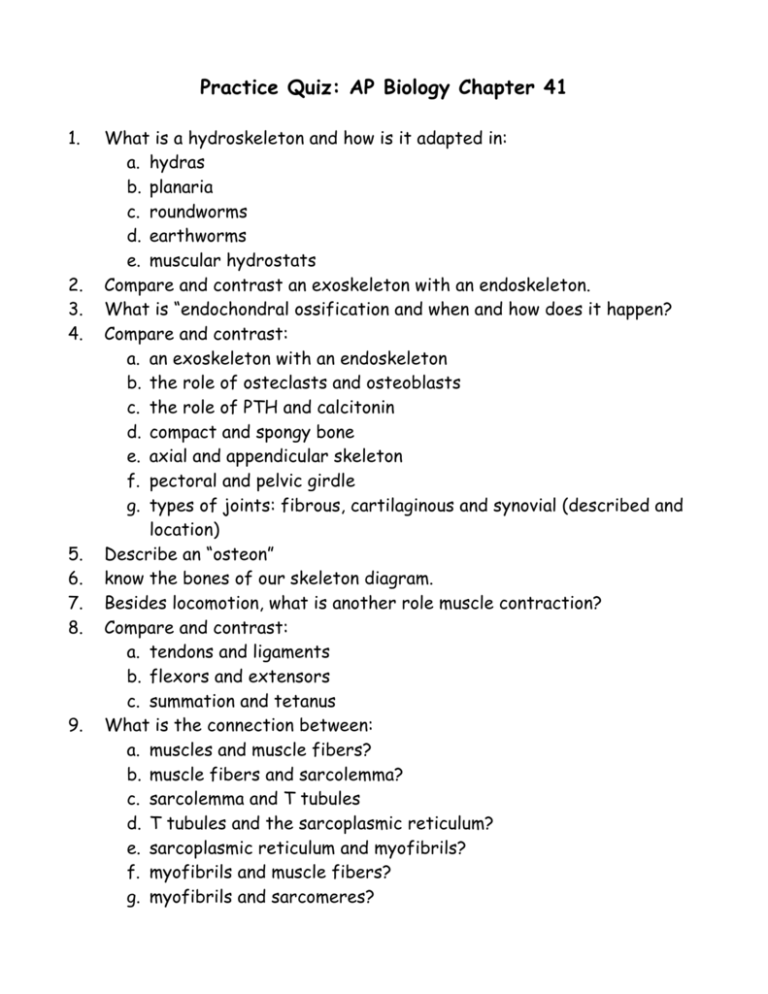 Practice Quiz: AP Biology Chapter 41
1.
2.
3.
4.
5.
6.
7.
8.
9.
What is a hydroskeleton and how is it adapted in:
a. hydras
b. planaria
c. roundworms
d. earthworms
e. muscular hydrostats
Compare and contrast an exoskeleton with an endoskeleton.
What is "endochondral ossification and when and how does it happen?
Compare and contrast:
a. an exoskeleton with an endoskeleton
b. the role of osteclasts and osteoblasts
c. the role of PTH and calcitonin
d. compact and spongy bone
e. axial and appendicular skeleton
f. pectoral and pelvic girdle
g. types of joints: fibrous, cartilaginous and synovial (described and
location)
Describe an "osteon"
know the bones of our skeleton diagram.
Besides locomotion, what is another role muscle contraction?
Compare and contrast:
a. tendons and ligaments
b. flexors and extensors
c. summation and tetanus
What is the connection between:
a. muscles and muscle fibers?
b. muscle fibers and sarcolemma?
c. sarcolemma and T tubules
d. T tubules and the sarcoplasmic reticulum?
e. sarcoplasmic reticulum and myofibrils?
f. myofibrils and muscle fibers?
g. myofibrils and sarcomeres?
10.
11.
12.
13.
h. actin and myosin?
i. troponin and tropomyosin
j. myoglobin and hemoglobin?
k. creatine phosphate and ATP?
l. fermentation and oxygen debt?
Diagram and label a sarcomere.
Summarize the sliding filament model of muscle contraction.
Describe the activity at a neuromuscular junction.
Describe the steps of a muscle contracting (sarcomere shortening)
starting at the point when acetylcholine binds to the sarcolemma.