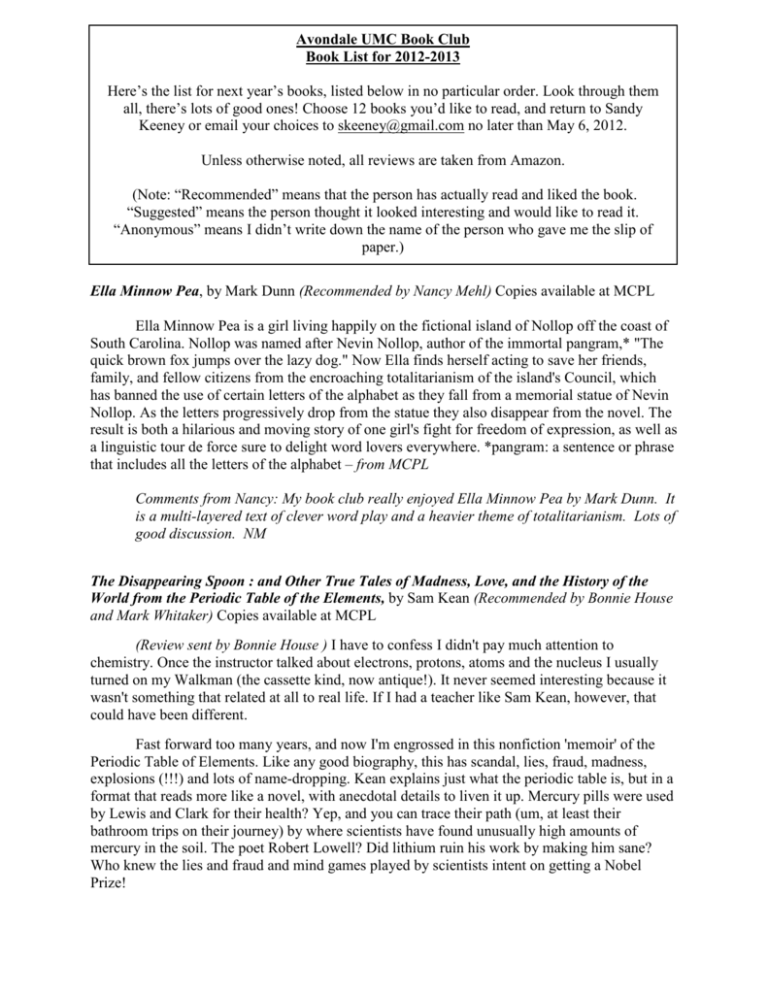 Avondale UMC Book Club
Book List for 2012-2013
Here's the list for next year's books, listed below in no particular order. Look through them
all, there's lots of good ones! Choose 12 books you'd like to read, and return to Sandy
Keeney or email your choices to skeeney@gmail.com no later than May 6, 2012.
Unless otherwise noted, all reviews are taken from Amazon.
(Note: "Recommended" means that the person has actually read and liked the book.
"Suggested" means the person thought it looked interesting and would like to read it.
"Anonymous" means I didn't write down the name of the person who gave me the slip of
paper.)
Ella Minnow Pea, by Mark Dunn (Recommended by Nancy Mehl) Copies available at MCPL
Ella Minnow Pea is a girl living happily on the fictional island of Nollop off the coast of
South Carolina. Nollop was named after Nevin Nollop, author of the immortal pangram,* "The
quick brown fox jumps over the lazy dog." Now Ella finds herself acting to save her friends,
family, and fellow citizens from the encroaching totalitarianism of the island's Council, which
has banned the use of certain letters of the alphabet as they fall from a memorial statue of Nevin
Nollop. As the letters progressively drop from the statue they also disappear from the novel. The
result is both a hilarious and moving story of one girl's fight for freedom of expression, as well as
a linguistic tour de force sure to delight word lovers everywhere. *pangram: a sentence or phrase
that includes all the letters of the alphabet – from MCPL
Comments from Nancy: My book club really enjoyed Ella Minnow Pea by Mark Dunn. It
is a multi-layered text of clever word play and a heavier theme of totalitarianism. Lots of
good discussion. NM
The Disappearing Spoon : and Other True Tales of Madness, Love, and the History of the
World from the Periodic Table of the Elements, by Sam Kean (Recommended by Bonnie House
and Mark Whitaker) Copies available at MCPL
(Review sent by Bonnie House ) I have to confess I didn't pay much attention to
chemistry. Once the instructor talked about electrons, protons, atoms and the nucleus I usually
turned on my Walkman (the cassette kind, now antique!). It never seemed interesting because it
wasn't something that related at all to real life. If I had a teacher like Sam Kean, however, that
could have been different.
Fast forward too many years, and now I'm engrossed in this nonfiction 'memoir' of the
Periodic Table of Elements. Like any good biography, this has scandal, lies, fraud, madness,
explosions (!!!) and lots of name-dropping. Kean explains just what the periodic table is, but in a
format that reads more like a novel, with anecdotal details to liven it up. Mercury pills were used
by Lewis and Clark for their health? Yep, and you can trace their path (um, at least their
bathroom trips on their journey) by where scientists have found unusually high amounts of
mercury in the soil. The poet Robert Lowell? Did lithium ruin his work by making him sane?
Who knew the lies and fraud and mind games played by scientists intent on getting a Nobel
Prize!
There's no getting around it, this is a book that makes you think. It's not simple and it assumes
you have a basic knowledge of science. Some areas were over my head, but not for long. Kean is
a wonderful teacher with a sassy wise guy voice that livens up any of the deeper areas.
Orthodoxy, by G. K. Chesterton (Recommended by Jonathan and Betsy Lightfoot) 1 copy
available at MCPL
If G.K. Chesterton's Orthodoxy: The Romance of Faith is, as he called it, a "slovenly
autobiography," then we need more slobs in the world. This quirky, slender book describes how
Chesterton came to view orthodox Catholic Christianity as the way to satisfy his personal
emotional needs, in a way that would also allow him to live happily in society. Chesterton argues
that people in western society need a life of "practical romance, the combination of something
that is strange with something that is secure. We need so to view the world as to combine an idea
of wonder and an idea of welcome." Drawing on such figures as Fra Angelico, George Bernard
Shaw, and St. Paul to make his points, Chesterton argues that submission to ecclesiastical
authority is the way to achieve a good and balanced life. The whole book is written in a style that
is as majestic and down-to-earth as C.S. Lewis at his best. The final chapter, called "Authority
and the Adventurer," is especially persuasive. It's hard to imagine a reader who will not close the
book believing, at least for the moment, that the Church will make you free.
Comments from Jonathan Lightfoot: Free electronic copies available via the Gutenburg
Project. Lightfoots also have one hard copy available.
I'll just add to the review that this is one of my favorite books, and that Chesterton is a
master of metaphors and images that help you know what he is talking about more than
just intellectually, you actually see poetically with images that help you Know something
as you know a friend or a spouse.
Searching for God Knows What, by Donald Miller (Recommended by Mark Whitaker)
Available at MCPL
New York Times best-selling author Donald Miller explores the origin and meaning of
redemption in this fully revised and redesigned bestseller.
Hysterically funny, wryly provocative, and disquietingly insightful, Searching for God
Knows What invites readers to examine their deep need for redemption, to feel it, know it, and
live like it is true in their lives.
Miller weaves phenomenal characters and true-to-life spectacles into his acclaimed
memoir style to enrich, inspire, entertain, and ultimately challenge readers to see life in a new
way. He shows that one of the greatest desires of every person is the desire for redemption, to
have brokenness repaired. Instead of the chaotic relationships, self-hatred, wreckless
consumerism, and anxiety that overrun a life without redemption, Miller uncovers the beauty and
power of the Gospel to fulfill one of our deepest needs.
The Geeks Shall Inherit the Earth: Popularity, Quirk Theory, and Why Outsiders Thrive after
High School, by Alexandra Robbins (Suggested by Sandy Keeney) Available at MCPL
*Now a New York Times bestseller* In a smart, entertaining, reassuring book that reads
like fiction, Alexandra Robbins manages to cross Gossip Girl with Freaks and Geeks and
explain the fascinating psychology and science behind popularity and outcasthood. She reveals
that the things that set students apart in high school are the things that help them stand out later
in life. Robbins follows seven real people grappling with the uncertainties of high school social
life, including:
•
•
•
•
•
•
•
The Loner, who has withdrawn from classmates since they persuaded her to unwittingly
join her own hate club;
The Popular Bitch, a cheerleading captain both seduced by and trapped within her
clique's perceived prestige;
The Nerd, whose differences cause students to laugh at him and his mother to needle him
for not being "normal";
The New Girl, determined to stay positive as classmates harass her for her mannerisms
and target her because of her race;
The Gamer, an underachiever in danger of not graduating, despite his intellect and his
yearning to connect with other students;
The Weird Girl, who battles discrimination and gossipy politics in school but leads a
joyous life outside of it;
The Band Geek, who is alternately branded too serious and too emo, yet annually runs
for class president.
In the middle of the year, Robbins surprises her subjects with a secret challenge--experiments
that force them to change how classmates see them.
Robbins intertwines these narratives--often triumphant, occasionally heartbreaking, and
always captivating--with essays exploring subjects like the secrets of popularity, being excluded
doesn't mean there's anything wrong with you, why outsiders succeed, how schools make the
social scene worse--and how to fix it.
The Geeks Shall Inherit the Earth is not just essential reading for students, teachers, parents,
and anyone who deals with teenagers, but for all of us, because at some point in our lives we've
all been on the outside looking in.
The Story of Stuff: The Impact of Overconsumption on the Planet, Our Communities, and
Our Health-And How We Can Make It Better, by Annie Leonard (Suggested by Sandy Keeney)
Available at MCPL
The Story of Stuff, now available in paperback, offers an astonishing, galvanizing
exploration of the stuff we use every day, revealing how overconsumption threatens the planet
and our health, and providing hope that change is within reach.
The Story of Stuff was received with widespread enthusiasm in hardcover, by everyone
from Stephen Colbert to Tavis Smiley to George Stephanopolous on Good Morning America, as
well as far-reaching print and blog coverage. Uncovering and communicating a critically
important idea—that there is an intentional system behind our patterns of consumption and
disposal—Annie Leonard transforms how we think about our lives and our relationship to the
planet.
From sneaking into factories and dumps around the world to visiting textile workers in
Haiti and children mining coltan for cell phones in the Congo, Leonard, named one of Time
magazine's 100 environmental heroes of 2009, highlights each step of the materials economy
and its actual effect on the earth and the people who live near sites like these.
With curiosity, compassion, and humor, Leonard shares concrete steps for taking action
at the individual and political level that will bring about sustainability, community health, and
economic justice. Embraced by teachers, parents, churches, community centers, activists, and
everyday readers, The Story of Stuff will be a long-lived classic, keeping company with Silent
Spring and An Inconvenient Truth .
The Destiny of the Republic: A Tale of Madness, Medicine, and the Murder of a President, by
Candice Millard (Suggested by Sandy Keeney) Available at MCPL
James A. Garfield was one of the most extraordinary men ever elected president. Born
into abject poverty, he rose to become a wunderkind scholar, a Civil War hero, and a renowned
and admired reformist congressman. Nominated for president against his will, he engaged in a
fierce battle with the corrupt political establishment. But four months after his inauguration, a
deranged office seeker tracked Garfield down and shot him in the back.
But the shot didn't kill Garfield. The drama of what happened subsequently is a powerful
story of a nation in turmoil. The unhinged assassin's half-delivered strike shattered the fragile
national mood of a country so recently fractured by civil war, and left the wounded president as
the object of a bitter behind-the-scenes struggle for power—over his administration, over the
nation's future, and, hauntingly, over his medical care. A team of physicians administered
shockingly archaic treatments, to disastrous effect. As his condition worsened, Garfield received
help: Alexander Graham Bell, the inventor of the telephone, worked around the clock to invent a
new device capable of finding the bullet.
Meticulously researched, epic in scope, and pulsating with an intimate human focus and
high-velocity narrative drive, The Destiny of the Republic will stand alongside The Devil in the
White City and The Professor and the Madman as a classic of narrative history.
In the Garden of Beasts, by Erik Larson (Suggested by Anonymous) Available at MCPL
Erik Larson has been widely acclaimed as a master of narrative non-fiction, and in his
new book, the bestselling author of Devil in the White City turns his hand to a remarkable story
set during Hitler's rise to power.
The time is 1933, the place, Berlin, when William E. Dodd becomes America's first
ambassador to Hitler's Germany in a year that proved to be a turning point in history.
A mild-mannered professor from Chicago, Dodd brings along his wife, son, and
flamboyant daughter, Martha. At first Martha is entranced by the parties and pomp, and the
handsome young men of the Third Reich with their infectious enthusiasm for restoring Germany
to a position of world prominence. Enamored of the "New Germany," she has one affair after
another, including with the suprisingly honorable first chief of the Gestapo, Rudolf Diels. But as
evidence of Jewish persecution mounts, confirmed by chilling first-person testimony, her father
telegraphs his concerns to a largely indifferent State Department back home. Dodd watches with
alarm as Jews are attacked, the press is censored, and drafts of frightening new laws begin to
circulate. As that first year unfolds and the shadows deepen, the Dodds experience days full of
excitement, intrigue, romance--and ultimately, horror, when a climactic spasm of violence and
murder reveals Hitler's true character and ruthless ambition.
Suffused with the tense atmosphere of the period, and with unforgettable portraits of the
bizarre Göring and the expectedly charming--yet wholly sinister--Goebbels, In the Garden of
Beasts lends a stunning, eyewitness perspective on events as they unfold in real time, revealing
an era of surprising nuance and complexity. The result is a dazzling, addictively readable work
that speaks volumes about why the world did not recognize the grave threat posed by Hitler until
Berlin, and Europe, were awash in blood and terror.
"Larson is a marvelous writer...superb at creating characters with a few short strokes."—
New York Times Book Review
The Forgotten Garden, by Kate Morton (Suggested by Anonymous) Available at MCPL
From the #1 internationally bestselling author of The House at Riverton, a novel that
takes the reader on an unforgettable journey through generations and across continents as two
women try to uncover their family's secret past
A tiny girl is abandoned on a ship headed for Australia in 1913. She arrives completely
alone with nothing but a small suitcase containing a few clothes and a single book—a beautiful
volume of fairy tales. She is taken in by the dockmaster and his wife and raised as their own. On
her twenty-first birthday, they tell her the truth, and with her sense of self shattered and very
little to go on, "Nell" sets out to trace her real identity. Her quest leads her to Blackhurst Manor
on the Cornish coast and the secrets of the doomed Mountrachet family. But it is not until her
granddaughter, Cassandra, takes up the search after Nell's death that all the pieces of the puzzle
are assembled. A spellbinding tale of mystery and self-discovery, The Forgotten Garden will
take hold of your imagination and never let go.
The Adventures of Huckleberry Finn, by Mark Twain (Suggested by Anonymous) Available at
MCPL
Wild child Huck has to get away. His violent drunk of a father is back in town again,
raising Cain. He won't rest until he has Huck's money. So the enterprising boy fakes his own
death and sets out in search of adventure and freedom. Teaming up with Jim, an escaped slave
with a price on his head, the two fugitives go on the run, travelling down the wide Mississippi
River. But Huck finds himself wrestling with his conscience. Should he save Jim, or turn his
friend over to a terrible fate?
The River of Doubt: Theodore Roosevelt's Darkest Journey, by Candice Millard (Suggested by
Anonymous) Available at MCPL
At once an incredible adventure narrative and a penetrating biographical portrait, The
River of Doubt is the true story of Theodore Roosevelt's harrowing exploration of one of the
most dangerous rivers on earth.
The River of Doubt—it is a black, uncharted tributary of the Amazon that snakes through
one of the most treacherous jungles in the world. Indians armed with poison-tipped arrows haunt
its shadows; piranhas glide through its waters; boulder-strewn rapids turn the river into a roiling
cauldron.
After his humiliating election defeat in 1912, Roosevelt set his sights on the most
punishing physical challenge he could find, the first descent of an unmapped, rapids-choked
tributary of the Amazon. Together with his son Kermit and Brazil's most famous explorer,
Cândido Mariano da Silva Rondon, Roosevelt accomplished a feat so great that many at the time
refused to believe it. In the process, he changed the map of the western hemisphere forever.
Along the way, Roosevelt and his men faced an unbelievable series of hardships, losing their
canoes and supplies to punishing whitewater rapids, and enduring starvation, Indian attack,
disease, drowning, and a murder within their own ranks. Three men died, and Roosevelt was
brought to the brink of suicide. The River of Doubt brings alive these extraordinary events in a
powerful nonfiction narrative thriller that happens to feature one of the most famous Americans
who ever lived.
From the soaring beauty of the Amazon rain forest to the darkest night of Theodore
Roosevelt's life, here is Candice Millard's dazzling debut.
The Prophet, by Kahlil Gibran (Suggested by Ruth Lanningham) Available at MCPL
In a distant, timeless place, a mysterious prophet walks the sands. At the moment of his
departure, he wishes to offer the people gifts but possesses nothing. The people gather round,
each asks a question of the heart, and the man's wisdom is his gift. It is Gibran's gift to us, as
well, for Gibran's prophet is rivaled in his wisdom only by the founders of the world's great
religions. On the most basic topics--marriage, children, friendship, work, pleasure--his words
have a power and lucidity that in another era would surely have provoked the description
"divinely inspired." Free of dogma, free of power structures and metaphysics, consider these
poetic, moving aphorisms a 20th-century supplement to all sacred traditions--as millions of other
readers already have.
An Amish Christmas: A Novel, by Cynthia Keller (Suggested by Anonymous) Available at
MCPL
Meg Hobart has everything: a happy marriage to a handsome, successful husband, a
beautiful home in Charlotte, North Carolina, and three wonderful children. But it all comes
crashing down around her the day she learns that her husband, James, has been living a lie—and
has brought the family to financial ruin. Penniless and homeless, the Hobarts pack up what little
they still possess and leave behind their golden life for good. But it's not the material things Meg
finds herself mourning. Instead, she misses the certainty that she should remain married to
James, who has betrayed her trust so thoughtlessly. Worse, she is suddenly very aware of just
how spoiled her children have become. Meg wonders what her family has really sacrificed in
their pursuit of the American dream.
A frightening twist of fate forces the Hobarts to take refuge with a kind Amish family in
Pennsylvania, where they find themselves in a home with no computers, no cell phones, nothing
the children consider fashionable or fun. Her uncooperative brood confined to the Amish world
of hard work and tradition, their futures entirely uncertain, Meg fears she can never make her
family whole again.
Celebrating life's simplest but most essential values, packed with laughter and tears, this
is a story of forgiveness and the power of love. You will never forget the special moment in time
that is An Amish Christmas.
The Hunger Games, by Suzanne Collins (Recommended by Rebecca Bennett) Available at
MCPL
In the ruins of a place once known as North America lies the nation of Panem, a shining
Capitol surrounded by twelve outlying districts. The Capitol is harsh and cruel and keeps the
districts in line by forcing them all to send one boy and one girl between the ages of twelve and
eighteen to participate in the annual Hunger Games, a fight to the death on live TV.
Sixteen-year-old Katniss Everdeen, who lives alone with her mother and younger sister,
regards it as a death sentence when she is forced to represent her district in the Games. But
Katniss has been close to dead and survival, for her, is second nature. Without really meaning to,
she becomes a contender. But if she is to win, she will have to start making choices that weigh
survival against humanity and life against love.
The Girl in the Blue Beret, by Bobbie Ann Mason (Recommended by Bill Farrar) Available at
MCPL
Inspired by the wartime experiences of her father-in-law, Bobbie Ann Mason has crafted
the haunting and profoundly moving story of an American World War II pilot shot down in
Occupied Europe, and his wrenching odyssey of discovery, decades later, as he uncovers the
truth about those who helped him escape in 1944.
At twenty-three, Marshall Stone was a confident, cocksure U.S. flyboy stationed in
England, with several bombing raids in a B-17 under his belt. But when enemy fighters forced
his plane to crash-land in a Belgian field during a mission to Germany, Marshall had to rely
solely on the kindness of ordinary Belgian and French citizens to help him hide from and evade
the Nazis. Decades later, restless and at the end of his career as an airline pilot, Marshall returns
to the crash site and finds himself drawn back in time, unable to stop thinking about the people
who risked their lives to save Allied pilots like him. Most of all, he is obsessed by the girl in the
blue beret, a courageous young woman who protected and guided him in occupied Paris.
Framed in spellbinding, luminous prose, Marshall's search for her gradually unfolds,
becoming a voyage of discovery that reveals truths about himself and the people he knew during
the war. Deeply beautiful and impossible to put down, The Girl in the Blue Beret is an
unforgettable story—intimate, affecting, exquisite—of memories, second chances, and one
intrepid girl who risked it all for a stranger.
To Kill a Mockingbird, by Harper Lee (Suggested by Nancy Mehl) Available at MCPL
"Shoot all the bluejays you want, if you can hit 'em, but remember it's a sin to kill a
mockingbird."
A lawyer's advice to his children as he defends the real mockingbird of Harper Lee's
classic novel—a black man charged with the rape of a white girl. Through the young eyes of
Scout and Jem Finch, Harper Lee explores with rich humor and unswerving honesty the
irrationality of adult attitudes toward race and class in the Deep South of the 1930s. The
conscience of a town steeped in prejudice, violence, and hypocrisy is pricked by the stamina and
quiet heroism of one man's struggle for justice—but the weight of history will only tolerate so
much.
One of the best-loved classics of all time, To Kill a Mockingbird has earned many distinctions since its original publication in 1960. It has won the Pulitzer Prize, been translated into
more than forty languages, sold more than forty million copies worldwide, and been made into
an enormously popular movie. It was also named the best novel of the twentieth century by
librarians across the country.
The Good Earth, by Pearl Buck (Suggested by Nancy Mehl) Available at MCPL
One of the greatest classics of our time, this is the powerfully moving story of peasant
Wang Lung – of the family he founded that would one day become a powerful dynasty; of the
gods he implored, sometimes with humility, sometimes with anger; and, above all, of the earth
that sustained him, the land that he made to prosper against the ravages of nature and the savage
attacks of bandit tribes.
Extraordinary Ordinary People, by Condoleezza Rice (Suggested by Nancy Mehl) Available at
MCPL
Condoleezza Rice has excelled as a diplomat, political scientist, and concert pianist. Her
achievements run the gamut from helping to oversee the collapse of communism in Europe and
the decline of the Soviet Union, to working to protect the country in the aftermath of 9-11, to
becoming only the second woman - and the first black woman ever -- to serve as Secretary of
State.
As comfortable describing lighthearted family moments as she is recalling the poignancy
of her mother's cancer battle and the heady challenge of going toe-to-toe with Soviet leaders,
Rice holds nothing back in this remarkably candid telling. This is the story of Condoleezza Rice
that has never been told, not that of an ultra-accomplished world leader, but of a little girl – and a
young woman -- trying to find her place in a sometimes hostile world and of two exceptional
parents, and an extended family and community, that made all the difference.
The Outliers, by Malcolm Gladwell (Suggested by Nancy Mehl) Available at MCPL
In this stunning new book, Malcolm Gladwell takes us on an intellectual journey through
the world of "outliers"--the best and the brightest, the most famous and the most successful. He
asks the question: what makes high-achievers different?
His answer is that we pay too much attention to what successful people are like, and too
little attention to where they are from: that is, their culture, their family, their generation, and the
idiosyncratic experiences of their upbringing. Along the way he explains the secrets of software
billionaires, what it takes to be a great soccer player, why Asians are good at math, and what
made the Beatles the greatest rock band.
Brilliant and entertaining, Outliers is a landmark work that will simultaneously delight
and illuminate.
Dear Me: A Letter to My Sixteen-Year-Old Self, by Joseph Galliano (Suggested by Mark
Whitaker) Unavailable at MCPL
These nuggets of wisdom are offered by an Academy Award–nominated actor (James
Woods), a popular comedian (Aasif Mandvi), and a world-famous novelist (Jodi Picoult) to their
sixteen-year-old selves. No matter how accomplished and confident they seem today, at sixteen,
they were like the rest of us—often unsure, frequently confused, and usually in need of a little
reassurance.
In Dear Me, 75 celebrities, writers, musicians, athletes, and actors have written letters to
their younger selves that give words of comfort, warning, humor, and advice. These letters
present intimate, moving, and witty insights into some of the world's most intriguing and
admired individuals. By turns funny, surprising, raw, and uplifting, this singular collection
captures the universal conditions that are youth, life, and growing up.
Honolulu, by Alan Brennert (Suggested by Bill and Velma Farrar) Available at MCPL
From the bestselling author of the "dazzling historical saga" (The Washington Post),
Moloka'i, comes the irresistible story of a young immigrant bride in a ramshackle town that
becomes a great modern city
"In Korea in those days, newborn girls were not deemed important enough to be graced
with formal names, but were instead given nicknames, which often reflected the parents' feelings
on the birth of a daughter: I knew a girl named Anger, and another called Pity. As for me, my
parents named me Regret."
Honolulu is the rich, unforgettable story of a young "picture bride" who journeys to
Hawai'i in 1914 in search of a better life.
Instead of the affluent young husband and chance at an education that she has been
promised, she is quickly married off to a poor, embittered laborer who takes his frustrations out
on his new wife. Renaming herself Jin, she makes her own way in this strange land, finding both
opportunity and prejudice. With the help of three of her fellow picture brides, Jin prospers along
with her adopted city, now growing from a small territorial capital into the great multicultural
city it is today. But paradise has its dark side, whether it's the daily struggle for survival in
Honolulu's tenements, or a crime that will become the most infamous in the islands' history...
With its passionate knowledge of people and places in Hawai'i far off the tourist track,
Honolulu is most of all the spellbinding tale of four women in a new world, united by dreams,
disappointment, sacrifices, and friendship.
How Mrs. Claus Saved Christmas, by Jeff Guinn (Suggested by Jonathan Lightfoot) Available
at MCPL
In How Mrs. Claus Saved Christmas, Jeff Guinn combines solid historical fact with
glorious legend to deliver another heartwarming holiday book for the whole family.
It's 1620 and Mrs. Claus's dear husband is off in the New World planting the seeds of
what will become a glorious Christmas tradition. Meanwhile, Mrs. Claus has chosen to stay in
England, where the first signs of a dangerous threat to Yuletide cheer are in evidence. The
Puritans have gained control of Parliament and appear determined to take all the fun out of
Christmas. But Mrs. Claus knows that it's time for serious action when, in 1647, a law is passed
by Parliament that actually punishes anyone who celebrates Christmas. Using as its springboard
the actual events of a day in 1647 when ten thousand peasants marched through the streets of
Canterbury demanding their right to celebrate a beloved holiday, How Mrs. Claus Saved
Christmas is rich in historical detail, adventure, and plain ol' Christmas fun.
The Sense of an Ending, by Julian Barnes (Suggested by Mary Hickernell) Available at MCPL
This is a book that reveals itself gradually. You think you know what it's about, only to
realize you've been mistaken — just like the narrator. What's curious is that you'd think he would
know. After all, it's his life you're reading about. The narrator, Tony Webster, has led an ordinary
life. He had a group of friends back in his school days who seemed to mean a lot to him. And he
had a serious girlfriend while in university. But he moved on, got married, had a child. Now
divorced, he's on good terms with both his wife and daughter. Suddenly, an unexpected
inheritance forces him to reinvestigate his life. Along the way he finds that his memory has
betrayed him. Or did he simply fail to remember what he wanted to forget?
"Did you read this book?" my friend asked. "I can't stop thinking about it." That about
sums it up. The Sense of an Ending is the kind of book that when you finish, you want to read
again just to sort out what clues you missed the first time around. And it makes you think: If one
man can get his life so wrong, can shape his memories to fit his own self-satisfied image of
himself, doesn't that open the possibility that we all do the same thing to some degree? Oh, this is
a great book to talk about.
---Description provided by Mary Hickernell
Caleb's Crossing, by Geraldine Brooks (Suggested by Mary Hickernell) Available at MCPL
In Caleb's Crossing, Geraldine Brooks has created a lovely heroine in Bethia Mayfield, a
young girl living on Martha's Vineyard in colonial times. Bethia longs to break free of the
restrictions of her strict Puritan community. Smarter than her older brother, who is destined to
get the education she wants and deserves, Bethia finds comfort in exploring the wilds of the
island with a young Native American named Caleb. It is a secret friendship and remains so, even
as the two end up in Cambridge: Caleb to study at Harvard, Bethia as an indentured servant who
takes care of the students.
When I first heard about this book, I wasn't sure I wanted to read it. I knew it was about
the the first Native American to graduate from Harvard. That sounded pretty academic to me, not
to mention elitist and politically correct. But it is by Geraldine Brooks, a writer I admire. So I
plunged ahead and was quite delighted to get swept up in the kind of story I loved as a kid: a
headstrong, rebellious young girl in a wild, untamed place defies all the rules and finds love.
Actually, scratch that last part. This is a book for grown-ups written by Geraldine Brooks, who
not only respects history, she loves it. So while she sets up a story that's easy to fall into, she
doesn't shy away from the realities of those times. And Bethia and Caleb's lives take some
unexpected turns. The result is a satisfying but sobering look at the early days of this country.
This is a great pick for lovers of historical fiction.
---Description provided by Mary Hickernell
State of Wonder, by Ann Patchett (Suggested by Mary Hickernell) Available at MCPL
In her latest novel, Ann Patchett, author of the beloved Bel Canto, takes her readers down
the Amazon and deep into the rain forest in a book that is part adventure story, part morality tale.
Marina Singh, a research scientist at a pharmaceutical company, sets out for the Amazon to
investigate the sudden death of her colleague Anders Ekman, who had been working with the
eccentric scientist Dr. Annick Swenson. Marina has her own past with Dr. Swenson, who
(unknowingly) had a profound effect on Marina's career and life. If intimidated by the brilliant
Swenson, Marina is nonetheless determined to uncover the true nature of the doctor's research
into female reproduction — and the longer Marina stays, the more she falls under the spell of the
rain forest and its people.
This book may be on a lot of book club lists already — but with good reason. Dr.
Swenson, who has probably been in the rain forest just a little too long, is pushing the ethical
boundaries of science with her research. The moral questions that Patchett raises, the revelations
about the research that seep out gradually, the relationship between these two women, the
choices they make, and the ramifications of those choices are ripe for endless discussion and
debate. Combine that with Patchett's vivid and voluptuous descriptions of the mystery, beauty
and dangers of the rain forest, and you have a practically perfect book club book.
My Stroke of Insight, by Jill Bolte Taylor (Suggested by Sandy Keeney) Available at MCPL
On December 10, 1996, Jill Bolte Taylor, a thirty-seven- year-old Harvard-trained brain
scientist experienced a massive stroke in the left hemisphere of her brain. As she observed her
mind deteriorate to the point that she could not walk, talk, read, write, or recall any of her life-all
within four hours-Taylor alternated between the euphoria of the intuitive and kinesthetic right
brain, in which she felt a sense of complete well-being and peace, and the logical, sequential left
brain, which recognized she was having a stroke and enabled her to seek help before she was
completely lost. It would take her eight years to fully recover.
For Taylor, her stroke was a blessing and a revelation. It taught her that by "stepping to
the right" of our left brains, we can uncover feelings of well-being that are often sidelined by
"brain chatter." Reaching wide audiences through her talk at the Technology, Entertainment,
Design (TED) conference and her appearance on Oprah's online Soul Series, Taylor provides a
valuable recovery guide for those touched by brain injury and an inspiring testimony that inner
peace is accessible to anyone.