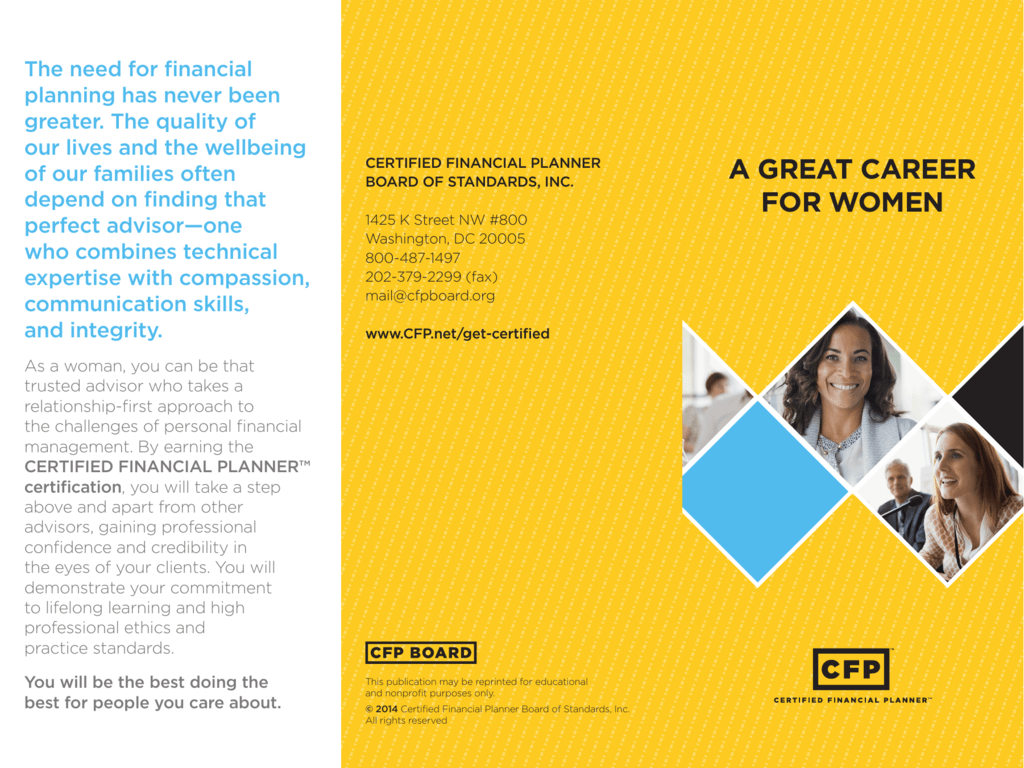 The need for financial
planning has never been
greater. The quality of
our lives and the wellbeing
of our families often
depend on finding that
perfect advisor—one
who combines technical
expertise with compassion,
communication skills,
and integrity.
CERTIFIED FINANCIAL PLANNER
BOARD OF STANDARDS, INC.
1425 K Street NW #800
Washington, DC 20005
800-487-1497
202-379-2299 (fax)
[email protected]
www.CFP.net/get-certified
As a woman, you can be that
trusted advisor who takes a
relationship-first approach to
the challenges of personal financial
management. By earning the
CERTIFIED FINANCIAL PLANNER™
certification, you will take a step
above and apart from other
advisors, gaining professional
confidence and credibility in
the eyes of your clients. You will
demonstrate your commitment
to lifelong learning and high
professional ethics and
practice standards.
You will be the best doing the
best for people you care about.
This publication may be reprinted for educational
and nonprofit purposes only.
© 2014 Certified Financial Planner Board of Standards, Inc.
All rights reserved
A GREAT CAREER
FOR WOMEN
Build your future by
helping others build theirs
• High income potential
• Dynamic, respected profession
• The satisfaction that comes with
helping people plan for their futures
WRITE
YOUR OWN
SUCCESS
STORY
As a CERTIFIED FINANCIAL PLANNER™
professional, you can expect personal
satisfaction as well as financial rewards.
Financial planners consistently report an
increase in earnings after attaining their
CFP® certification.
A creative, dynamic career
Financial planners come from all walks of
life and backgrounds. Some are career
changers from the fields of psychology or
teaching; others are artists, mothers,
doctors, and veterans. You can bring your
full self, and all your unique talents and
experiences, to bear through a career as
a CFP® professional.
Talk to successful women CFP® professionals
and you will hear that what they value the
most in their work is the freedom and
flexibility to harmonize their personal and
professional lives.
• Opportunity for creative problem solving
• Use skills relevant to one's own life
• Variety of business models: solo
practices, big firms
CFP® certification:
The highest standard in
personal financial planning
Requirements for CFP® certification
• Education
• Examination
• Experience
• Ethics
Meeting these requirements takes passion,
commitment, and hard work. But it's
worth it. In the words of one young woman
CFP® professional, "Getting that
certification gave me the credibility and
confidence I needed to be successful."
Be the trusted advisor
your clients turn to
throughout their lives
CERTIFIED FINANCIAL PLANNERTM
professionals are uniquely qualified to help
individuals pull all their finances together,
solve financial problems, and make a plan
to achieve their financial goals. To learn
more about studying personal financial
planning or becoming a CFP® professional,
visit www.CFP.net/get-certified.