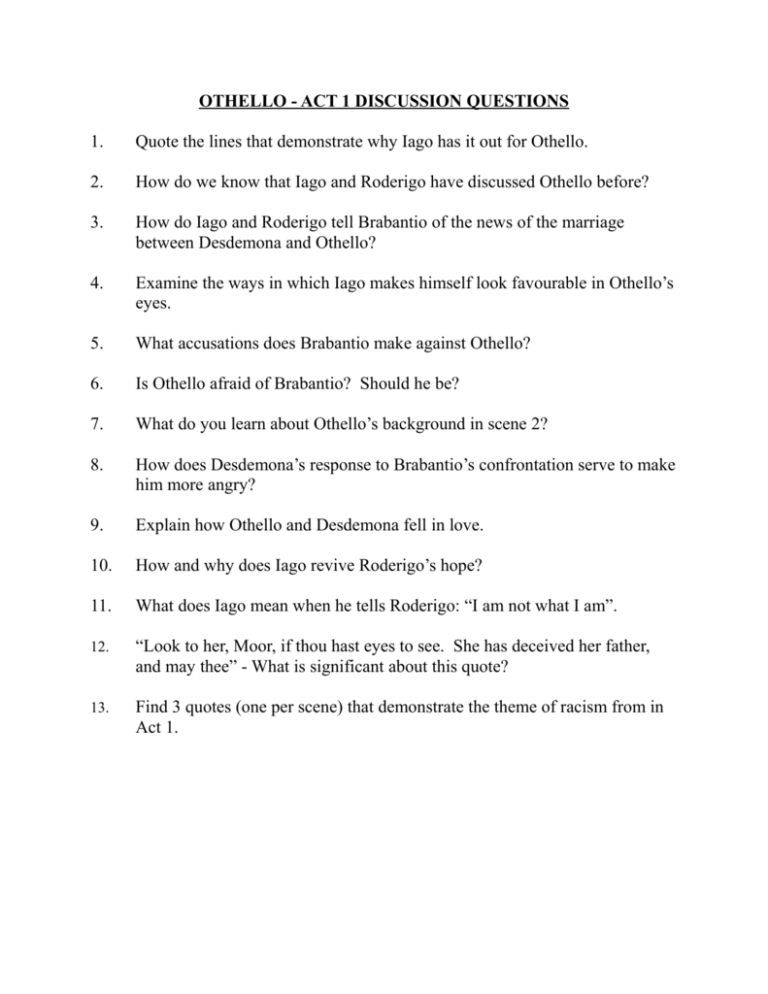 OTHELLO - ACT 1 DISCUSSION QUESTIONS
1.
Quote the lines that demonstrate why Iago has it out for Othello.
2.
How do we know that Iago and Roderigo have discussed Othello before?
3.
How do Iago and Roderigo tell Brabantio of the news of the marriage
between Desdemona and Othello?
4.
Examine the ways in which Iago makes himself look favourable in Othello's
eyes.
5.
What accusations does Brabantio make against Othello?
6.
Is Othello afraid of Brabantio? Should he be?
7.
What do you learn about Othello's background in scene 2?
8.
How does Desdemona's response to Brabantio's confrontation serve to make
him more angry?
9.
Explain how Othello and Desdemona fell in love.
10.
How and why does Iago revive Roderigo's hope?
11.
What does Iago mean when he tells Roderigo: "I am not what I am".
12.
"Look to her, Moor, if thou hast eyes to see. She has deceived her father,
and may thee" - What is significant about this quote?
13.
Find 3 quotes (one per scene) that demonstrate the theme of racism from in
Act 1.