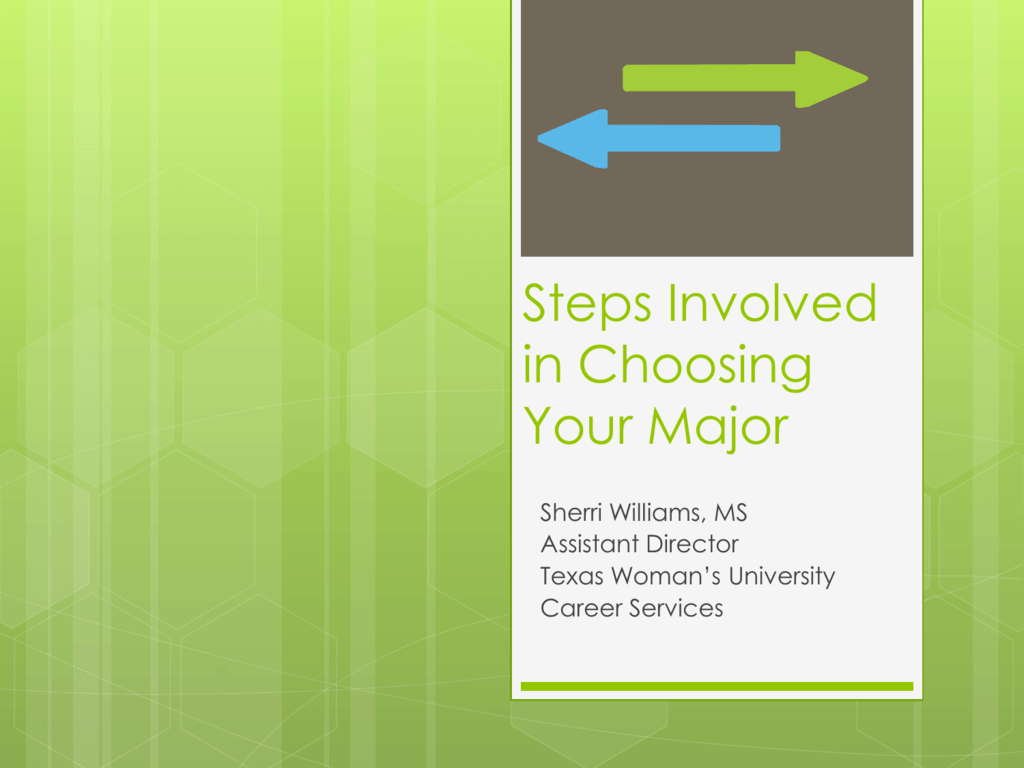 Steps Involved
in Choosing
Your Major
Sherri Williams, MS
Assistant Director
Texas Woman's University
Career Services
Why did you select your
current major?
 Earning
potential
 Stability since it is in a certain field
 Advice from friends and family
 Just drifted into the major: no real reason
 Inspiration from professors or others
 Experience
Choosing a major/career
 Jobs

"Hot" jobs can cool off
 Jobs

paying the highest salaries
Stress/Cost of job dissatisfaction
 The

in high demand
decision of others
The career interests of friends/family may
not necessarily be your interests
Choosing a major/career
 Choosing
a major and choosing a career
go hand in hand.
 However,
choosing one does not
automatically mean that you have
chosen the other.

Examples


Career in Law does not mean that your major should
be in pre-law, political science, history/government.
Any major can still be accepted in law school.
Majoring in English can lead to many types of careers.
Unsure about your major?
YOU ARE NOT ALONE!
 80%
of entering first-year students are
unsure of their major, even if they have
declared a major! ¹
 At
least 50% of undergraduate students
will change their major—at least once. ¹
What was President Obama's
major?
Political
Science
President Obama
Photo by whitehouse.gov
Source: www.whitehouse.gov/president/biography.html;
www.cbsnews.com
What was Former Governor's
Mitt Romney's major?
English
Mitt Romney
Photo by: Biography.com
Source: www.biography.com/people/mitt-romney-241055
What was Oprah's major?
Speech
&
Performing Arts
Oprah Winfrey
Photo: www.achievement.org
Source: www.imdb.com
What major do Jon Stewart and
Natalie Portman have in
common?
Psychology
Natalie Portman, Actress
Photo: www.absolutely.net
Jon Stewart, Comedian,
Former TV Host
Photo: Comedy Central
Source: www.imdb.com; www.startwars.com/bio/natalieportman.html
What was Martha Stewart's
major?
History &
Architectural
History
Martha Stewart
Founder, Martha Stewart Living Omimedia,
Inc.
Source: www.marthastewart.com
What was Conan O'Brien's
major?
American History
Conan O'Brien
Photo: nndb.com
Source: http://www.nndb.com/people/397/000022331/
STEPS TO THE RIGHT CAREER
THE JOB
Job Offers & Acceptance -Success on the Job
EMPLOYER CONTACT
Job Search -Resumes & Letters -Research Company -Interviews
DECISION MAKING
Career Goal -Additional Knowledge & Experience -Time Frame
OCCUPATIONAL RESEARCH
Literature Review -Informational Interview -Labor Market Trends -Employer/
Volunteer Experience
SELF ASSESSMENT
Personality Traits -Skills -Knowledge -Interests & Values -Achievements
How would you describe your
personality to someone?
•Efficient
•Adaptable
•Competitive
•Independent
•Organized
•Friendly
•Honest
•Outgoing
•Practical
•Caring
•Artistic
Skills
What
do you do well?
What
are your weaknesses?
What are the
top 10 skills
employers are
looking for in
candidates?
•
•
•
•
•
Team Work
Critical Thinking
Organization
V. Communication
Information
Processing
Source: National Association of Colleges and Employers, Job Outlook 2013
•
•
•
•
•
Analytical
Technical
Knowledge
Computing
W. Communication
Leadership
Assess Your Interests

Classes

Hobbies
Assess Your Values
Contribution to
Society


Prestige

Independence
High
income

Leadership

Leisure

Creativity

Security
What would you do if you
became a millionaire?
 Would
you still hold a job?
 Would
you volunteer?
 Would
you drop
everything and go travel?
Do the RESEARCH!
Exploring Majors
Occupational
Research
Informational
Interview
What Can I Do
with a Major In?
Where Can I Find
Out More About a
Specific Career?
What Do You
Do?
-www.chroniclecareerlibrary.com
http://whatcanidowiththis
major.com/major/
-www.onetonline.org
-www.bls.gov/ooh
-www,myplan.com
www.studentmentor.org
So…what now?
Set up an
appointment!
Career
Assessments
Informational
Interviews
Exploring
Majors
Literature
Review
Check out our
Career Library!
What to look for when
researching careers…
 Labor
market trends
 Realistic salary
 Career description
 Work tasks
 Educational
requirements/Licenses/Certifications
You need to schedule an
appointment with our Career
Counselor if you are…
 Bored
to tears in your current major courses
 Doing poorly in your current classes
 Chose your major without much thought
 Keep asking others what their major is
(secretly trying to find an alternative major)
 Majoring in Nursing, OT, or PT
How can Career Services help
you?
 Career
Counseling
 Resume
Critiquing
 Job
Search
Assistance
 Mock
Interviews
 Career
Day
 Career
Library
 Clothes
Closet
 Career
Class
Exploration
Career Services
 Human

Development Building
Suite 200
 940-898-2950
 www.twu.edu/career-services
COME SEE US!