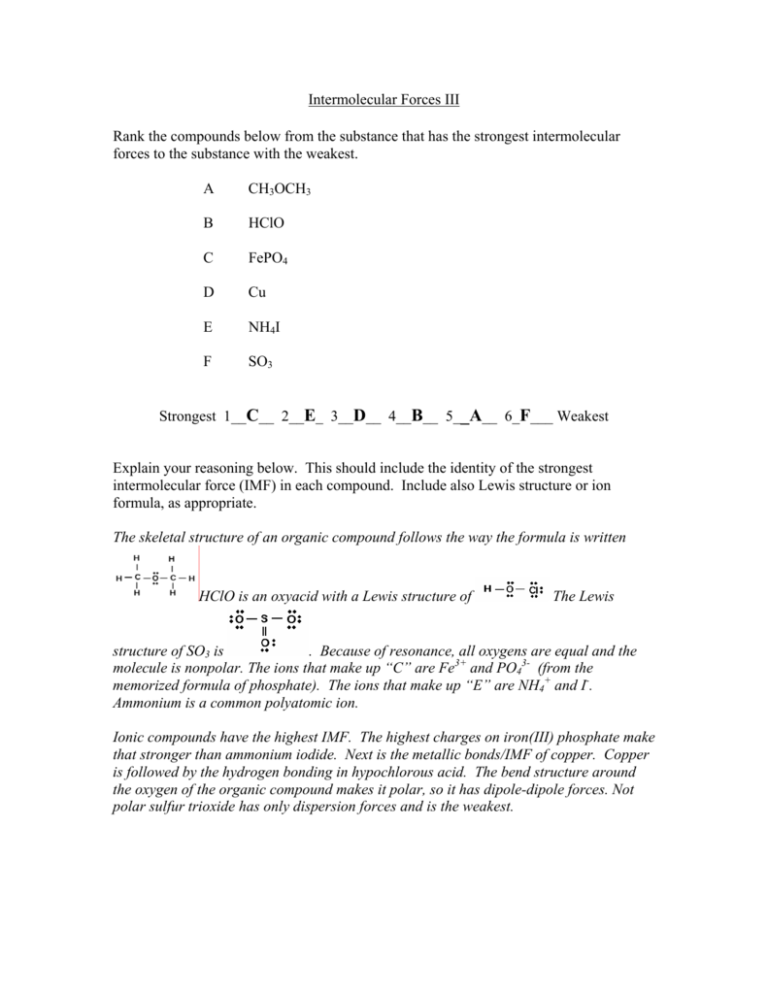 Intermolecular Forces III
Rank the compounds below from the substance that has the strongest intermolecular
forces to the substance with the weakest.
A
CH3OCH3
B
HClO
C
FePO4
D
Cu
E
NH4I
F
SO3
Strongest 1__C__ 2__E_ 3__D__ 4__B__ 5__A__ 6_F___ Weakest
Explain your reasoning below. This should include the identity of the strongest
intermolecular force (IMF) in each compound. Include also Lewis structure or ion
formula, as appropriate.
The skeletal structure of an organic compound follows the way the formula is written
HClO is an oxyacid with a Lewis structure of
The Lewis
. Because of resonance, all oxygens are equal and the
structure of SO3 is
molecule is nonpolar. The ions that make up "C" are Fe3+ and PO43- (from the
memorized formula of phosphate). The ions that make up "E" are NH4+ and I-.
Ammonium is a common polyatomic ion.
Ionic compounds have the highest IMF. The highest charges on iron(III) phosphate make
that stronger than ammonium iodide. Next is the metallic bonds/IMF of copper. Copper
is followed by the hydrogen bonding in hypochlorous acid. The bend structure around
the oxygen of the organic compound makes it polar, so it has dipole-dipole forces. Not
polar sulfur trioxide has only dispersion forces and is the weakest.