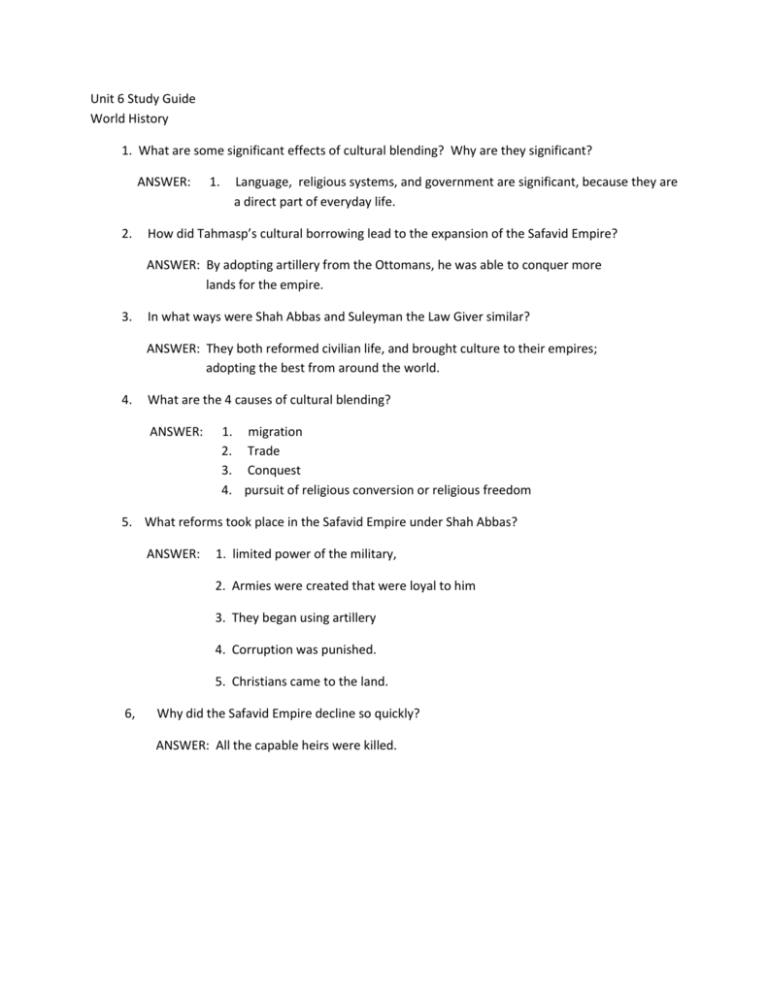 Unit 6 Study Guide
World History
1. What are some significant effects of cultural blending? Why are they significant?
ANSWER:
2.
1.
Language, religious systems, and government are significant, because they are
a direct part of everyday life.
How did Tahmasp's cultural borrowing lead to the expansion of the Safavid Empire?
ANSWER: By adopting artillery from the Ottomans, he was able to conquer more
lands for the empire.
3.
In what ways were Shah Abbas and Suleyman the Law Giver similar?
ANSWER: They both reformed civilian life, and brought culture to their empires;
adopting the best from around the world.
4.
What are the 4 causes of cultural blending?
ANSWER:
1. migration
2. Trade
3. Conquest
4. pursuit of religious conversion or religious freedom
5. What reforms took place in the Safavid Empire under Shah Abbas?
ANSWER:
1. limited power of the military,
2. Armies were created that were loyal to him
3. They began using artillery
4. Corruption was punished.
5. Christians came to the land.
6,
Why did the Safavid Empire decline so quickly?
ANSWER: All the capable heirs were killed.