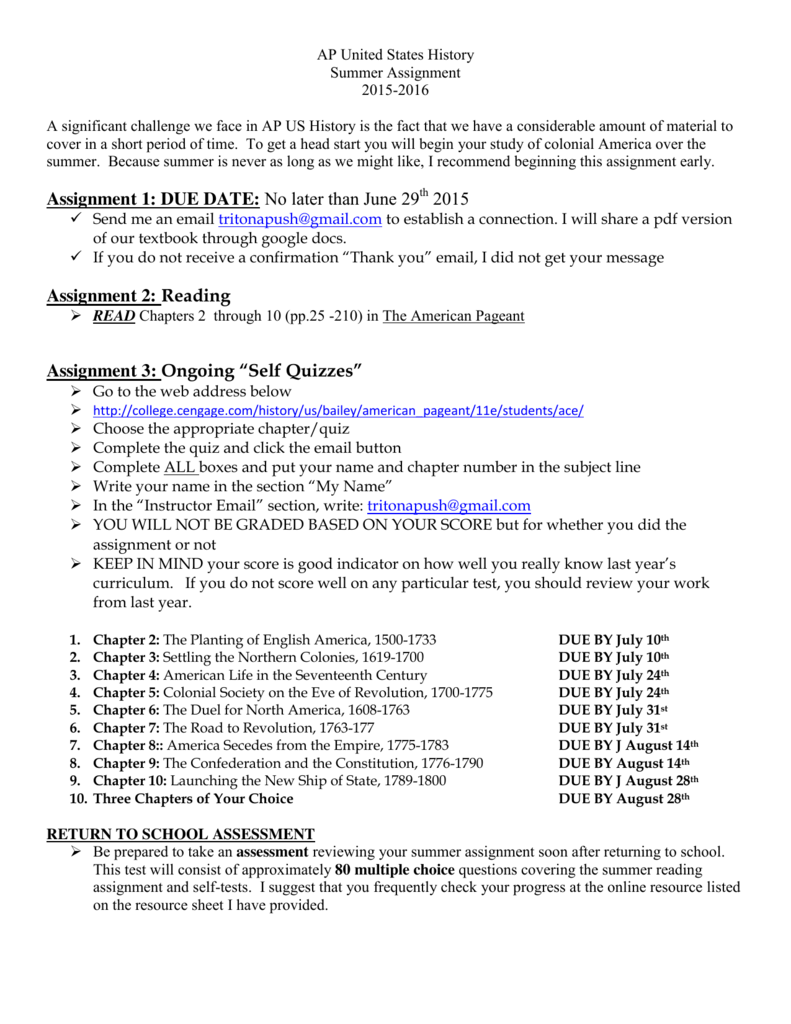 AP United States History
Summer Assignment
2015-2016
A significant challenge we face in AP US History is the fact that we have a considerable amount of material to
cover in a short period of time. To get a head start you will begin your study of colonial America over the
summer. Because summer is never as long as we might like, I recommend beginning this assignment early.
Assignment 1: DUE DATE: No later than June 29th 2015
Send me an email [email protected] to establish a connection. I will share a pdf version
of our textbook through google docs.
If you do not receive a confirmation "Thank you" email, I did not get your message
Assignment 2: Reading
READ Chapters 2 through 10 (pp.25 -210) in The American Pageant
Assignment 3: Ongoing "Self Quizzes"
Go to the web address below
http://college.cengage.com/history/us/bailey/american_pageant/11e/students/ace/
Choose the appropriate chapter/quiz
Complete the quiz and click the email button
Complete ALL boxes and put your name and chapter number in the subject line
Write your name in the section "My Name"
In the "Instructor Email" section, write: [email protected]
YOU WILL NOT BE GRADED BASED ON YOUR SCORE but for whether you did the
assignment or not
KEEP IN MIND your score is good indicator on how well you really know last year's
curriculum. If you do not score well on any particular test, you should review your work
from last year.
1.
2.
3.
4.
5.
6.
7.
8.
9.
10.
Chapter 2: The Planting of English America, 1500-1733
Chapter 3: Settling the Northern Colonies, 1619-1700
Chapter 4: American Life in the Seventeenth Century
Chapter 5: Colonial Society on the Eve of Revolution, 1700-1775
Chapter 6: The Duel for North America, 1608-1763
Chapter 7: The Road to Revolution, 1763-177
Chapter 8:: America Secedes from the Empire, 1775-1783
Chapter 9: The Confederation and the Constitution, 1776-1790
Chapter 10: Launching the New Ship of State, 1789-1800
Three Chapters of Your Choice
DUE BY July 10th
DUE BY July 10th
DUE BY July 24th
DUE BY July 24th
DUE BY July 31st
DUE BY July 31st
DUE BY J August 14th
DUE BY August 14th
DUE BY J August 28th
DUE BY August 28th
RETURN TO SCHOOL ASSESSMENT
Be prepared to take an assessment reviewing your summer assignment soon after returning to school.
This test will consist of approximately 80 multiple choice questions covering the summer reading
assignment and self-tests. I suggest that you frequently check your progress at the online resource listed
on the resource sheet I have provided.
AP US History Prep Resources
Free and on the Web
The American Pageant
***Houghton Mifflin Website for The American Pageant: A History of the Republic Twelfth Edition This site
is for a later edition of our book but good resources are available. Materials include online practice tests,
flashcards, and everybody's favorite-primary documents.
http://college.hmco.com/history/us/kennedy/am_pageant/12e/students/index.html
U.S. History for AP* Students
A fairly basic website with a good section of flashcards/notecards, period outlines, biographies of presidents,
and test-taking tips.
http://www.apstudent.com/ushistory/index.php
American History AP Quizzes
1200 self-correcting multiple-choice questions divided by topic/period. This is s good place for review. Try it
for ten-minutes a day.
http://www.historyteacher.net/USQuizMainPage.htm
Available for Purchase
United States History: Preparing for the Advanced Placement Examination
by John J. Newman
# ISBN-10: 1567656609
# ISBN-13: 978-1567656602
This book is generally considered the best and most comprehensive test guide. For whatever reason, it is more
difficult to find than you would think. It is currently available used through Amazon.com ranging in price from
$7.00 and up.
AND there are plenty of other test prep guides available from Barrons, Princeton Review, etc.