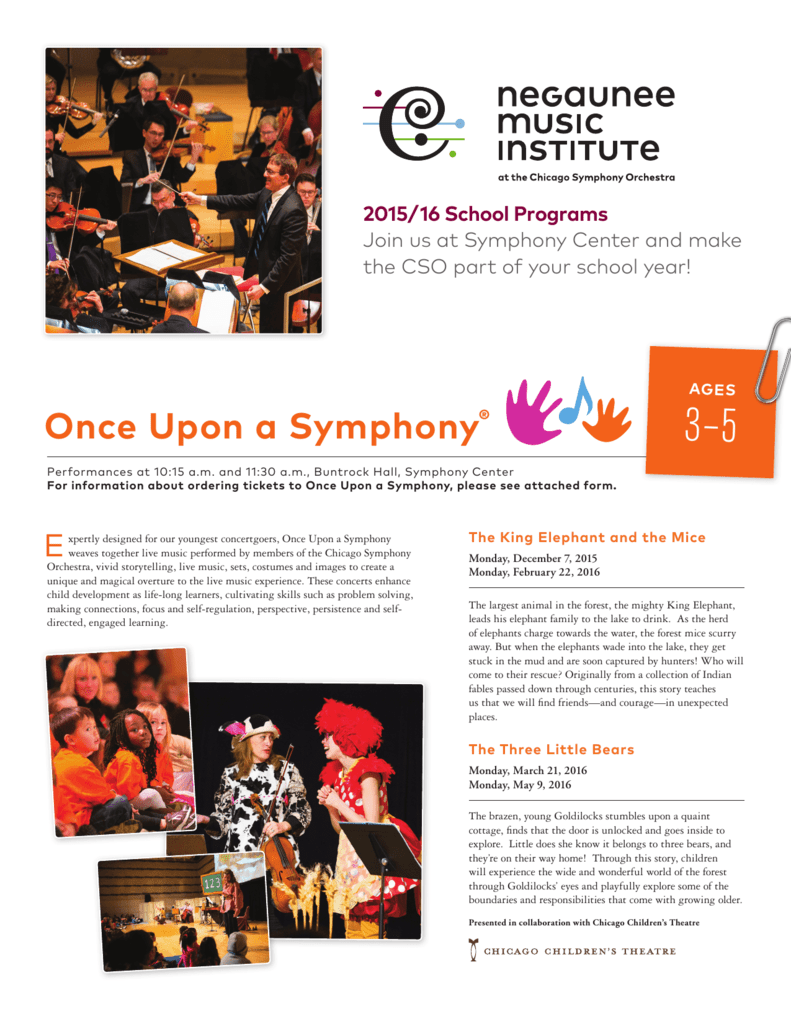 2015/16 School Programs
Join us at Symphony Center and make
the CSO part of your school year!
AG ES
Once Upon a Symphony®
3–5
Performances at 10:15 a.m. and 11:30 a.m., Buntrock Hall, Symphony Center
For information about ordering tickets to Once Upon a Symphony, please see attached form.
E
xpertly designed for our youngest concertgoers, Once Upon a Symphony
weaves together live music performed by members of the Chicago Symphony
Orchestra, vivid storytelling, live music, sets, costumes and images to create a
unique and magical overture to the live music experience. These concerts enhance
child development as life-long learners, cultivating skills such as problem solving,
making connections, focus and self-regulation, perspective, persistence and selfdirected, engaged learning.
The King Elephant and the Mice
Monday, December 7, 2015
Monday, February 22, 2016
The largest animal in the forest, the mighty King Elephant,
leads his elephant family to the lake to drink. As the herd
of elephants charge towards the water, the forest mice scurry
away. But when the elephants wade into the lake, they get
stuck in the mud and are soon captured by hunters! Who will
come to their rescue? Originally from a collection of Indian
fables passed down through centuries, this story teaches
us that we will find friends—and courage—in unexpected
places.
The Three Little Bears
Monday, March 21, 2016
Monday, May 9, 2016
The brazen, young Goldilocks stumbles upon a quaint
cottage, finds that the door is unlocked and goes inside to
explore. Little does she know it belongs to three bears, and
they're on their way home! Through this story, children
will experience the wide and wonderful world of the forest
through Goldilocks' eyes and playfully explore some of the
boundaries and responsibilities that come with growing older.
Presented in collaboration with Chicago Children's Theatre
School Concerts
Enrich your students' lives through the one-of-a-kind experience of hearing the Chicago Symphony
Orchestra playing orchestral masterpieces. Ignite a lifelong love of music with these fun and imaginative
programs for the young and the young at heart.
Performances each day at 10:15 a.m. and 12:00 p.m., Armour Stage, Symphony Center
For information about ordering tickets to these performances, please see attached form.
GR AD ES
K–5
Music is an essential
part of celebrations
that mark the course of
our lifetimes. Birthdays,
anniversaries and other
holidays are incomplete
without the festive spirit
of great music, inspiring
friends and family to
sing, dance and play
together. During the
2015/16 school year, join
us for three programs
that explore how,
when and why music is
used as a part of our
celebrations.
Surprise Party Recommended for grades K–3
A Midsummer Night's
Dream Recommended for grades K–5
Spanish Rhythm and
Dance Recommended for grades K–3
Friday, November 20, 2015
Friday, February 12, 2016
Friday, April 29, 2016
Members of the
Chicago Symphony Orchestra
Alastair Willis conductor
Program to include:
Haydn Symphony No. 94 (Surprise)
Strauss Champagne Polka
Chicago Symphony Orchestra
Edwin Outwater conductor
Program to include selections from:
Mendelssohn
A Midsummer Night's Dream
Members of the
Chicago Symphony Orchestra
Scott Speck conductor
Ensemble Español Spanish
Dance Theater guest artists
Program to include:
Bizet Excerpts from Carmen
Rimsky-Korsakov Capriccio espagnol
What kind of birthday party do you
throw for an orchestra? A musical one,
of course! We are planning a surprise
party for the Chicago Symphony
Orchestra's 125th birthday, and you're
invited. Make sure you keep this big
surprise a secret! This program is part
of the CSO's 125th anniversary season
celebration, honoring the incredible
musical legacy and future of our
orchestra.
Do dreams influence reality? Felix
Mendelssohn takes us into the magical
woods where a group of fairies
hilariously fumble in their attempts
to manipulate the lives of ordinary
people. This program celebrates the
legacy of William Shakespeare whose
comedic masterpiece A Midsummer
Night's Dream inspired brilliant music
by Felix Mendelssohn.
Romeo and Juliet
GRADES
6–12
What celebration is complete without
dancing? Infectious Spanish rhythms
will make you tap your toes and clap
your hands in this festive program
featuring the magnificent dancers
from Ensemble Español Spanish
Dance Theater, celebrating its 40th
anniversary during the 2015/16 season.
¡Vamos a bailar! Let's dance!
Ensemble Español Spanish Dance Theater
is in residence at Northeastern Illinois
University
Wednesday, February 10, 2016
Thursday, February 11, 2016
Chicago Symphony Orchestra
Edwin Outwater conductor
Are the deaths of Romeo and Juliet, the star crossed
lovers of Verona, a result of fate or of choices that they
and their families have made? How do the choices you
make impact your life? What is beyond your control?
This program investigates the choices that composers
have made in interpreting Shakespeare's timeless play,
where love, tradition and tragedy collide.
GR AD ES
9–12
Education Open Rehearsals
Provide your students with unique access to the world-class Chicago Symphony Orchestra as they work with
some of today's most sought-after guest conductors and soloists by attending a CSO Education Open Rehearsal.
Intended for students in grades 9-12 with an interest in music, each rehearsal lasts approximately 2.5 hours
and features pieces to be performed that same week as part of the CSO Main Series. Following each rehearsal,
students are invited to participate in a question and answer session with the conductor, guest artist or select
members of the CSO.
During the 2015/16 season, four rehearsals will be offered on an intermittent basis. For more information
and to request admission, visit cso.org/educationopenrehearsals.