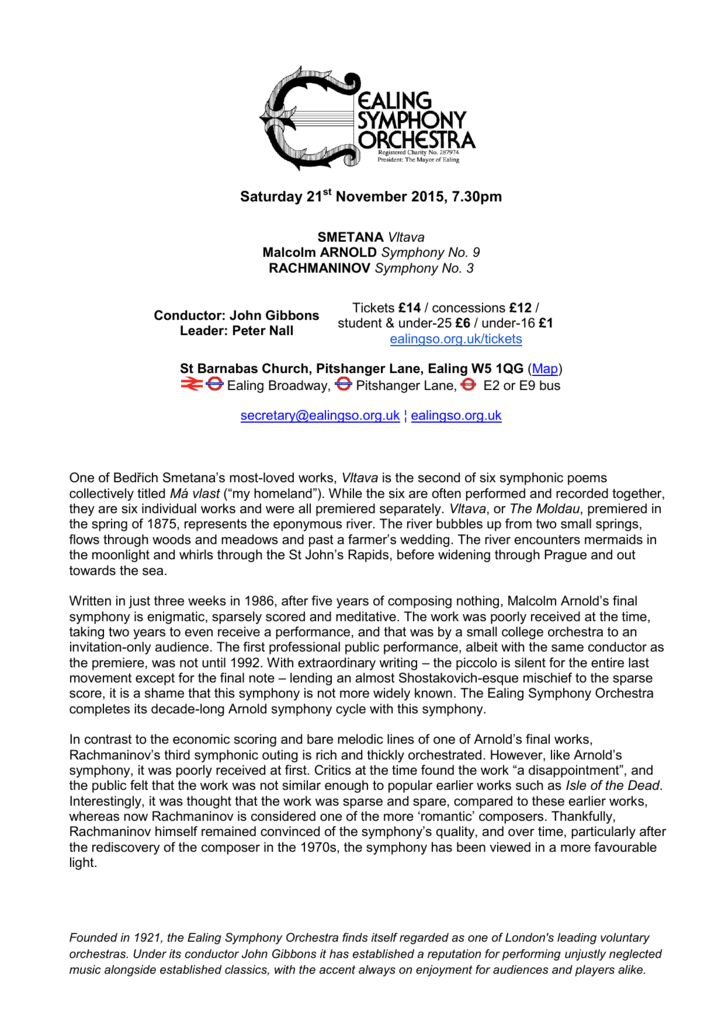 Saturday 21st November 2015, 7.30pm
SMETANA Vltava
Malcolm ARNOLD Symphony No. 9
RACHMANINOV Symphony No. 3
Conductor: John Gibbons
Leader: Peter Nall
Tickets £14 / concessions £12 /
student & under-25 £6 / under-16 £1
ealingso.org.uk/tickets
St Barnabas Church, Pitshanger Lane, Ealing W5 1QG (Map)
Ealing Broadway,
Pitshanger Lane,
E2 or E9 bus
[email protected] ¦ ealingso.org.uk
One of Bedřich Smetana's most-loved works, Vltava is the second of six symphonic poems
collectively titled Má vlast ("my homeland"). While the six are often performed and recorded together,
they are six individual works and were all premiered separately. Vltava, or The Moldau, premiered in
the spring of 1875, represents the eponymous river. The river bubbles up from two small springs,
flows through woods and meadows and past a farmer's wedding. The river encounters mermaids in
the moonlight and whirls through the St John's Rapids, before widening through Prague and out
towards the sea.
Written in just three weeks in 1986, after five years of composing nothing, Malcolm Arnold's final
symphony is enigmatic, sparsely scored and meditative. The work was poorly received at the time,
taking two years to even receive a performance, and that was by a small college orchestra to an
invitation-only audience. The first professional public performance, albeit with the same conductor as
the premiere, was not until 1992. With extraordinary writing – the piccolo is silent for the entire last
movement except for the final note – lending an almost Shostakovich-esque mischief to the sparse
score, it is a shame that this symphony is not more widely known. The Ealing Symphony Orchestra
completes its decade-long Arnold symphony cycle with this symphony.
In contrast to the economic scoring and bare melodic lines of one of Arnold's final works,
Rachmaninov's third symphonic outing is rich and thickly orchestrated. However, like Arnold's
symphony, it was poorly received at first. Critics at the time found the work "a disappointment", and
the public felt that the work was not similar enough to popular earlier works such as Isle of the Dead.
Interestingly, it was thought that the work was sparse and spare, compared to these earlier works,
whereas now Rachmaninov is considered one of the more 'romantic' composers. Thankfully,
Rachmaninov himself remained convinced of the symphony's quality, and over time, particularly after
the rediscovery of the composer in the 1970s, the symphony has been viewed in a more favourable
light.
Founded in 1921, the Ealing Symphony Orchestra finds itself regarded as one of London's leading voluntary
orchestras. Under its conductor John Gibbons it has established a reputation for performing unjustly neglected
music alongside established classics, with the accent always on enjoyment for audiences and players alike.