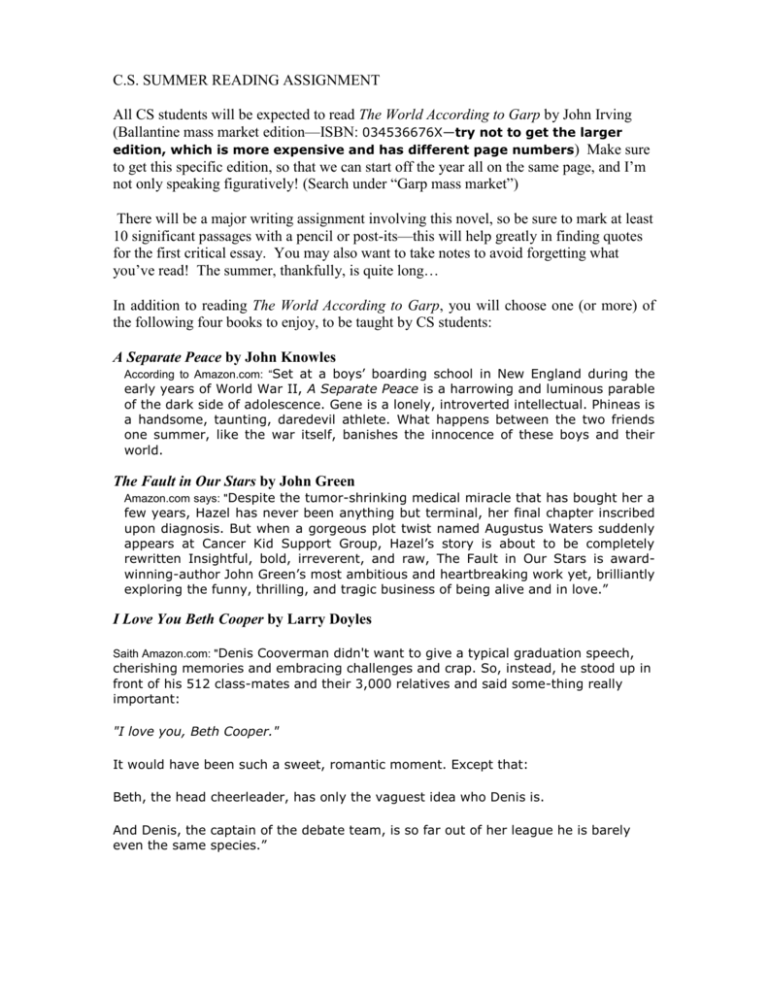 C.S. SUMMER READING ASSIGNMENT
All CS students will be expected to read The World According to Garp by John Irving
(Ballantine mass market edition—ISBN: 034536676X—try not to get the larger
edition, which is more expensive and has different page numbers) Make sure
to get this specific edition, so that we can start off the year all on the same page, and I'm
not only speaking figuratively! (Search under "Garp mass market")
There will be a major writing assignment involving this novel, so be sure to mark at least
10 significant passages with a pencil or post-its—this will help greatly in finding quotes
for the first critical essay. You may also want to take notes to avoid forgetting what
you've read! The summer, thankfully, is quite long…
In addition to reading The World According to Garp, you will choose one (or more) of
the following four books to enjoy, to be taught by CS students:
A Separate Peace by John Knowles
According to Amazon.com: "Set at a boys' boarding school in New England during the
early years of World War II, A Separate Peace is a harrowing and luminous parable
of the dark side of adolescence. Gene is a lonely, introverted intellectual. Phineas is
a handsome, taunting, daredevil athlete. What happens between the two friends
one summer, like the war itself, banishes the innocence of these boys and their
world.
The Fault in Our Stars by John Green
Amazon.com says: "Despite the tumor-shrinking medical miracle that has bought her a
few years, Hazel has never been anything but terminal, her final chapter inscribed
upon diagnosis. But when a gorgeous plot twist named Augustus Waters suddenly
appears at Cancer Kid Support Group, Hazel's story is about to be completely
rewritten Insightful, bold, irreverent, and raw, The Fault in Our Stars is awardwinning-author John Green's most ambitious and heartbreaking work yet, brilliantly
exploring the funny, thrilling, and tragic business of being alive and in love."
I Love You Beth Cooper by Larry Doyles
Saith Amazon.com: "Denis Cooverman didn't want to give a typical graduation speech,
cherishing memories and embracing challenges and crap. So, instead, he stood up in
front of his 512 class-mates and their 3,000 relatives and said some-thing really
important:
"I love you, Beth Cooper."
It would have been such a sweet, romantic moment. Except that:
Beth, the head cheerleader, has only the vaguest idea who Denis is.
And Denis, the captain of the debate team, is so far out of her league he is barely
even the same species."
Tuesdays with Morrie by Mitch Albom
According to Amazon.com: ""Maybe it was a grandparent, or a teacher, or a colleague.
Someone older, patient and wise, who understood you when you were young and
searching, helped you see the world as a more profound place, gave you sound
advice to help you make your way through it.
For Mitch Albom, that person was Morrie Schwartz, his college professor from
nearly twenty years ago.
Maybe, like Mitch, you lost track of this mentor as you made your way, and the
insights faded, and the world seemed colder. Wouldn't you like to see that person
again, ask the bigger questions that still haunt you, receive wisdom for your busy
life today the way you once did when you were younger?
Mitch Albom had that second chance. He rediscovered Morrie in the last months of
the older man's life. Knowing he was dying, Morrie visited with Mitch in his study
every Tuesday, just as they used to back in college. Their rekindled relationship
turned into one final "class": lessons in how to live.