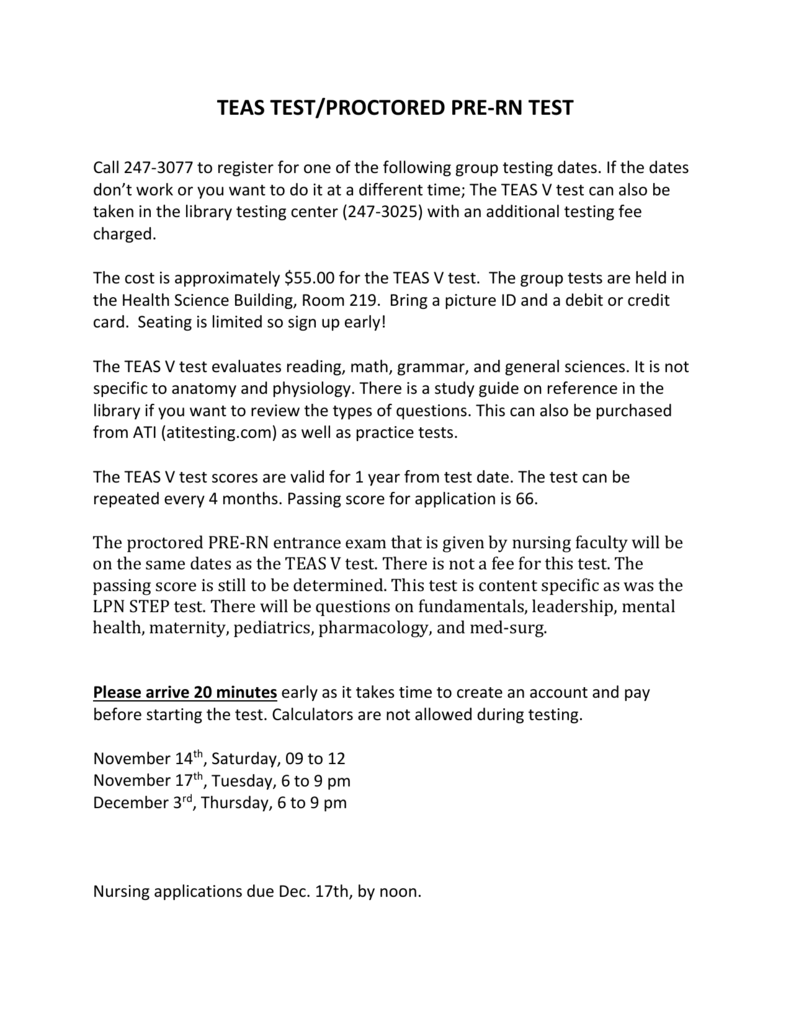 TEAS TEST/PROCTORED PRE-RN TEST
Call 247-3077 to register for one of the following group testing dates. If the dates
don't work or you want to do it at a different time; The TEAS V test can also be
taken in the library testing center (247-3025) with an additional testing fee
charged.
The cost is approximately $55.00 for the TEAS V test. The group tests are held in
the Health Science Building, Room 219. Bring a picture ID and a debit or credit
card. Seating is limited so sign up early!
The TEAS V test evaluates reading, math, grammar, and general sciences. It is not
specific to anatomy and physiology. There is a study guide on reference in the
library if you want to review the types of questions. This can also be purchased
from ATI (atitesting.com) as well as practice tests.
The TEAS V test scores are valid for 1 year from test date. The test can be
repeated every 4 months. Passing score for application is 66.
The proctored PRE-RN entrance exam that is given by nursing faculty will be
on the same dates as the TEAS V test. There is not a fee for this test. The
passing score is still to be determined. This test is content specific as was the
LPN STEP test. There will be questions on fundamentals, leadership, mental
health, maternity, pediatrics, pharmacology, and med-surg.
Please arrive 20 minutes early as it takes time to create an account and pay
before starting the test. Calculators are not allowed during testing.
November 14th, Saturday, 09 to 12
November 17th, Tuesday, 6 to 9 pm
December 3rd, Thursday, 6 to 9 pm
Nursing applications due Dec. 17th, by noon.