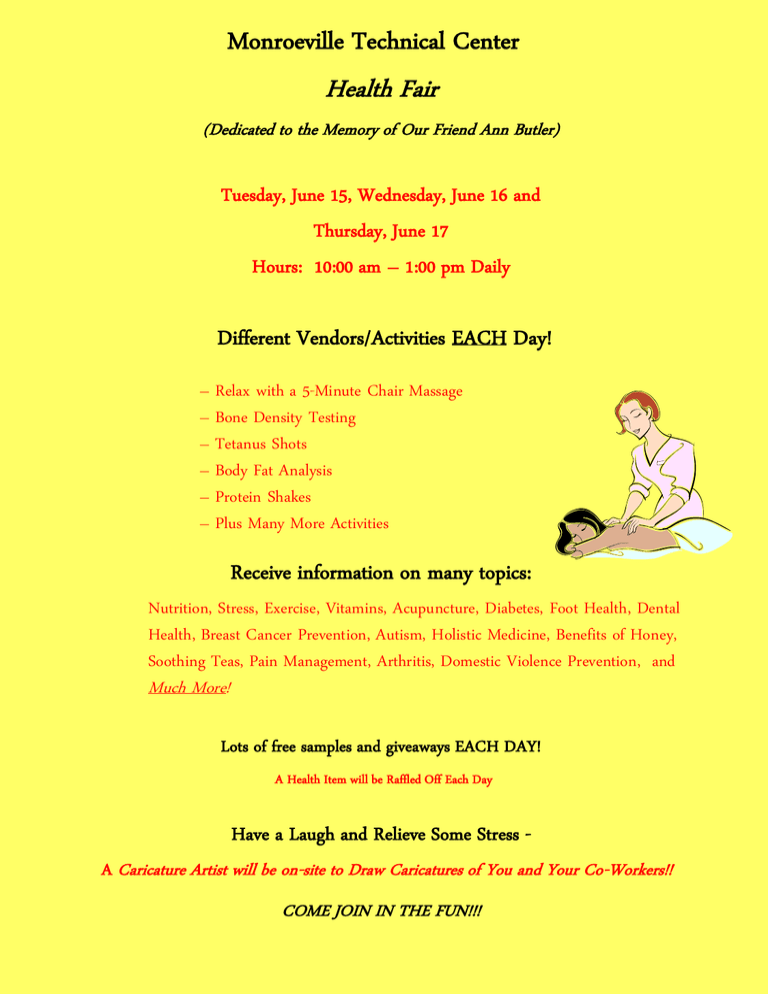 Monroeville Technical Center
Health Fair
(Dedicated to the Memory of Our Friend Ann Butler)
Tuesday, June 15, Wednesday, June 16 and
Thursday, June 17
Hours: 10:00 am – 1:00 pm Daily
Different Vendors/Activities EACH Day!
– Relax with a 5-Minute Chair Massage
– Bone Density Testing
– Tetanus Shots
– Body Fat Analysis
– Protein Shakes
– Plus Many More Activities
Receive information on many topics:
Nutrition, Stress, Exercise, Vitamins, Acupuncture, Diabetes, Foot Health, Dental
Health, Breast Cancer Prevention, Autism, Holistic Medicine, Benefits of Honey,
Soothing Teas, Pain Management, Arthritis, Domestic Violence Prevention, and
Much More!
Lots of free samples and giveaways EACH DAY!
A Health Item will be Raffled Off Each Day
Have a Laugh and Relieve Some Stress A Caricature Artist will be on-site to Draw Caricatures of You and Your Co-Workers!!
COME JOIN IN THE FUN!!!