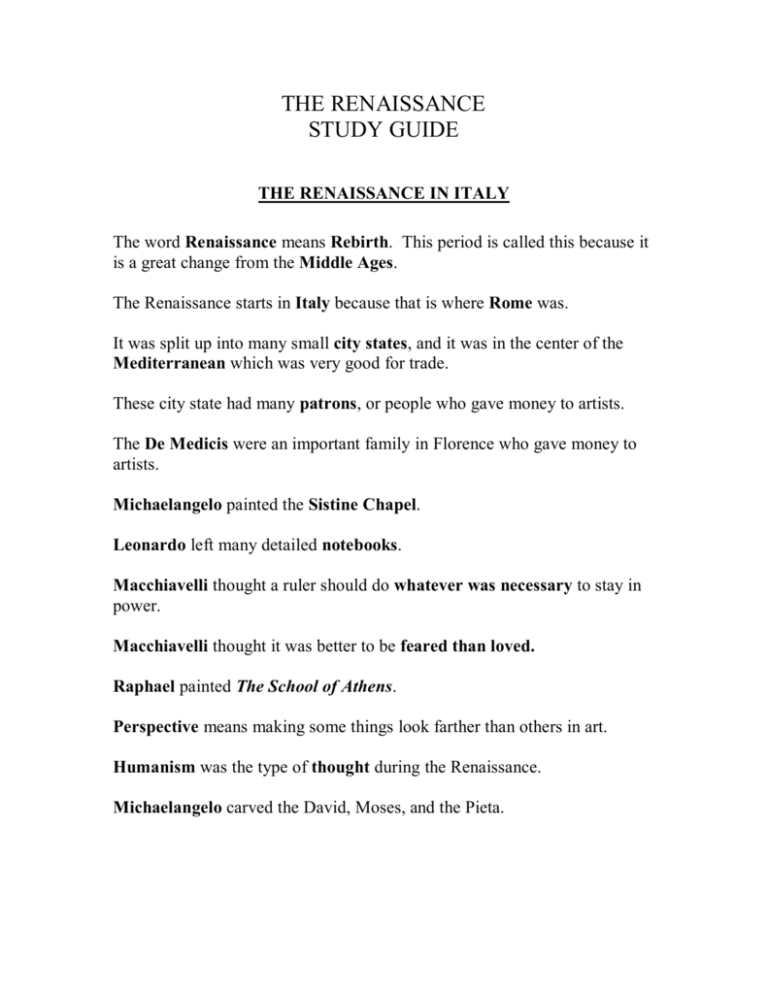 THE RENAISSANCE
STUDY GUIDE
THE RENAISSANCE IN ITALY
The word Renaissance means Rebirth. This period is called this because it
is a great change from the Middle Ages.
The Renaissance starts in Italy because that is where Rome was.
It was split up into many small city states, and it was in the center of the
Mediterranean which was very good for trade.
These city state had many patrons, or people who gave money to artists.
The De Medicis were an important family in Florence who gave money to
artists.
Michaelangelo painted the Sistine Chapel.
Leonardo left many detailed notebooks.
Macchiavelli thought a ruler should do whatever was necessary to stay in
power.
Macchiavelli thought it was better to be feared than loved.
Raphael painted The School of Athens.
Perspective means making some things look farther than others in art.
Humanism was the type of thought during the Renaissance.
Michaelangelo carved the David, Moses, and the Pieta.
THE RENAISSANCE IN THE NORTH
Gutenberg created the printing press.
Jan Van Eyck was a famous painter.
Thomas More wrote a book about a perfect society called Utopia.
Shakespeare wrote very famous plays.
THE REFORMATION
The Catholic Church was the only church during the Middle Ages.
People became mad that the church was selling forgiveness for sins, or
indulgences.
They were also mad that people were giving jobs to friends and relatives,
called simony.
Martin Luther nailed 95 theses, or complaints, on the church in Wittenberg,
Germany. This started Protestant religions.
In England, King Henry wanted a divorce because he did not have a son.
The pope said no, so he created his own church, the Anglican Church, or the
Church of England.