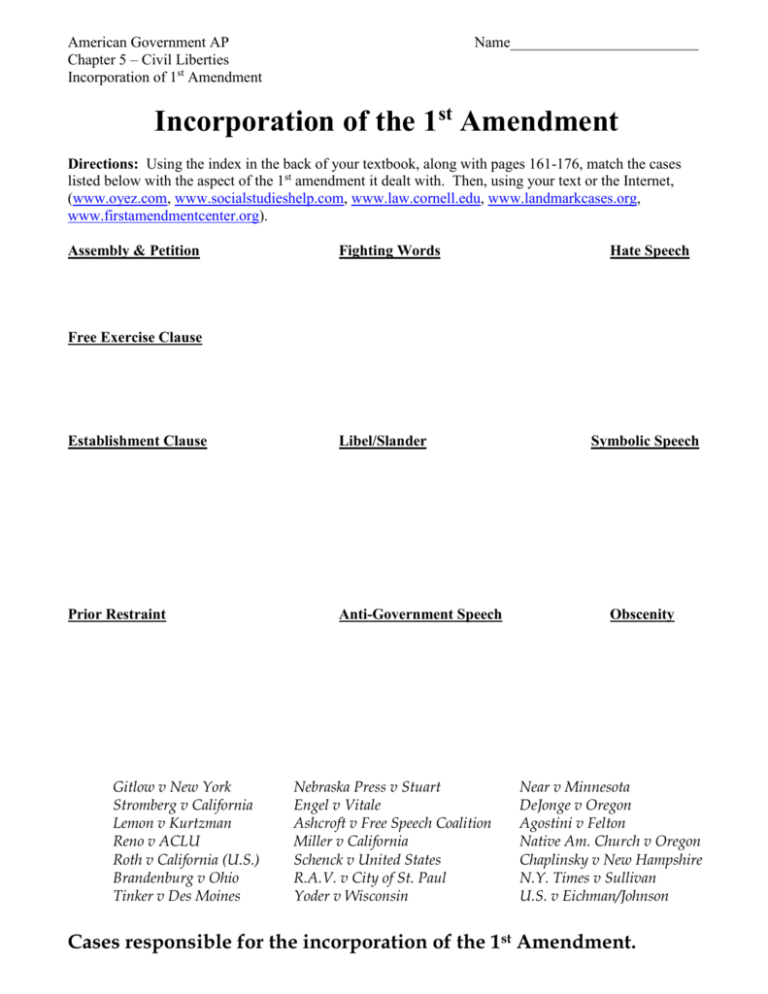 American Government AP
Chapter 5 – Civil Liberties
Incorporation of 1st Amendment
Name_________________________
Incorporation of the 1st Amendment
Directions: Using the index in the back of your textbook, along with pages 161-176, match the cases
listed below with the aspect of the 1st amendment it dealt with. Then, using your text or the Internet,
(www.oyez.com, www.socialstudieshelp.com, www.law.cornell.edu, www.landmarkcases.org,
www.firstamendmentcenter.org).
Assembly & Petition
Fighting Words
Hate Speech
Free Exercise Clause
Establishment Clause
Libel/Slander
Prior Restraint
Anti-Government Speech
Gitlow v New York
Stromberg v California
Lemon v Kurtzman
Reno v ACLU
Roth v California (U.S.)
Brandenburg v Ohio
Tinker v Des Moines
Nebraska Press v Stuart
Engel v Vitale
Ashcroft v Free Speech Coalition
Miller v California
Schenck v United States
R.A.V. v City of St. Paul
Yoder v Wisconsin
Symbolic Speech
Obscenity
Near v Minnesota
DeJonge v Oregon
Agostini v Felton
Native Am. Church v Oregon
Chaplinsky v New Hampshire
N.Y. Times v Sullivan
U.S. v Eichman/Johnson
Cases responsible for the incorporation of the 1st Amendment.