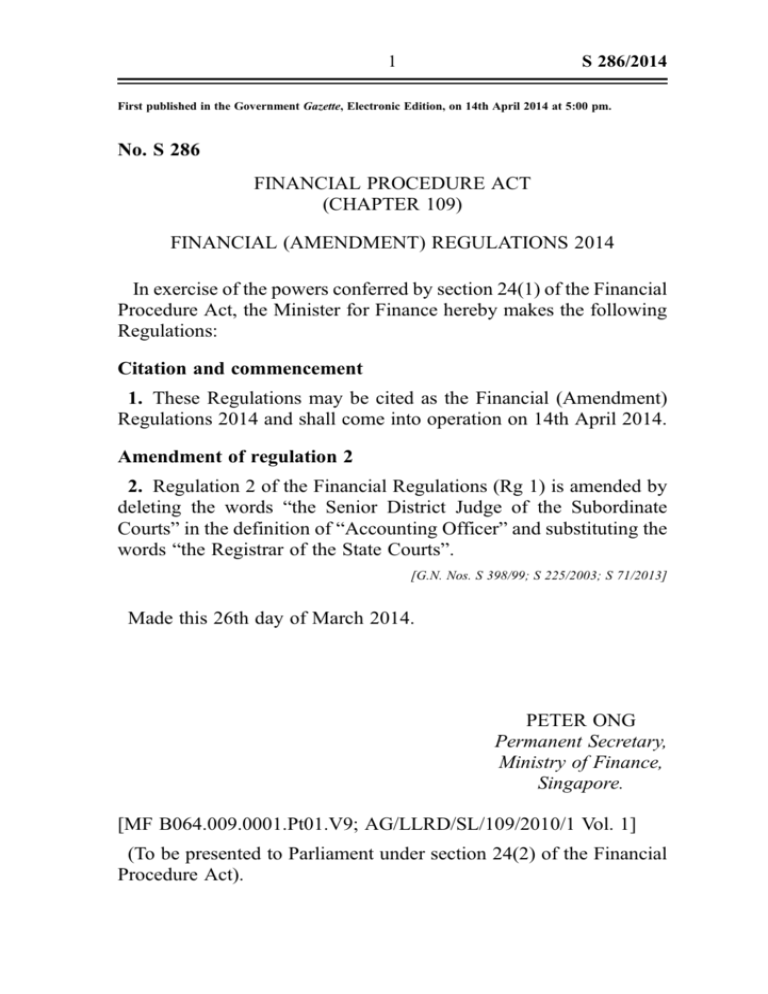 1
S 286/2014
First published in the Government Gazette, Electronic Edition, on 14th April 2014 at 5:00 pm.
No. S 286
FINANCIAL PROCEDURE ACT
(CHAPTER 109)
FINANCIAL (AMENDMENT) REGULATIONS 2014
In exercise of the powers conferred by section 24(1) of the Financial
Procedure Act, the Minister for Finance hereby makes the following
Regulations:
Citation and commencement
1. These Regulations may be cited as the Financial (Amendment)
Regulations 2014 and shall come into operation on 14th April 2014.
Amendment of regulation 2
2. Regulation 2 of the Financial Regulations (Rg 1) is amended by
deleting the words "the Senior District Judge of the Subordinate
Courts" in the definition of "Accounting Officer" and substituting the
words "the Registrar of the State Courts".
[G.N. Nos. S 398/99; S 225/2003; S 71/2013]
Made this 26th day of March 2014.
PETER ONG
Permanent Secretary,
Ministry of Finance,
Singapore.
[MF B064.009.0001.Pt01.V9; AG/LLRD/SL/109/2010/1 Vol. 1]
(To be presented to Parliament under section 24(2) of the Financial
Procedure Act).