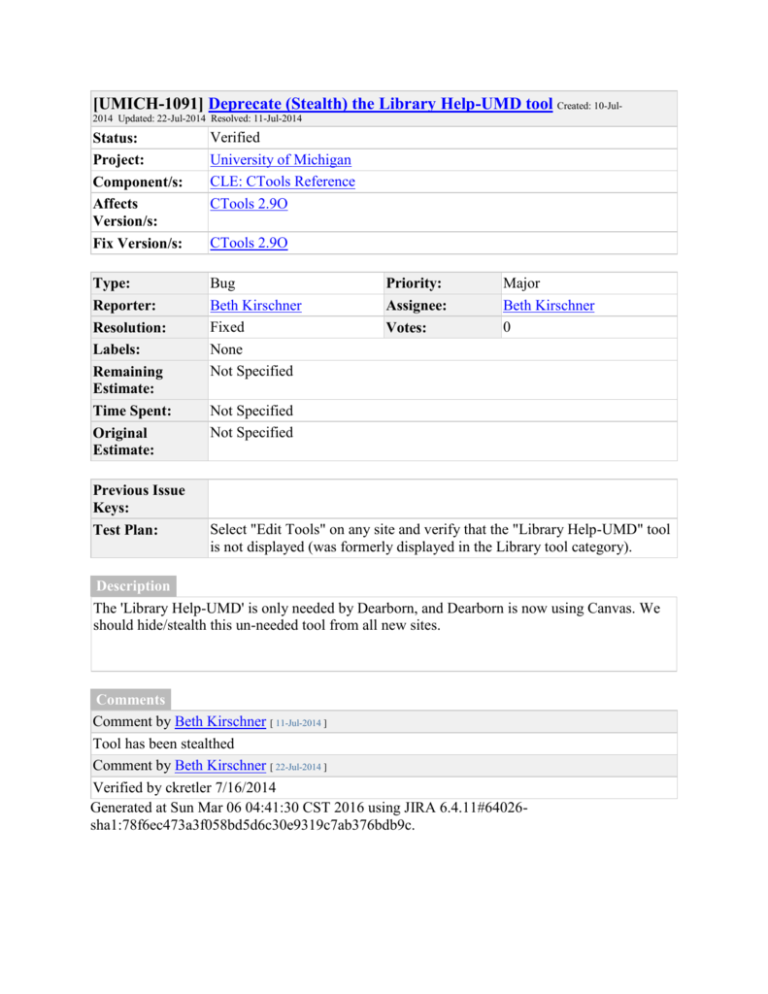 [UMICH-1091] Deprecate (Stealth) the Library Help-UMD tool Created: 10-Jul2014 Updated: 22-Jul-2014 Resolved: 11-Jul-2014
Status:
Project:
Component/s:
Affects
Version/s:
Fix Version/s:
Verified
University of Michigan
CLE: CTools Reference
CTools 2.9O
Type:
Reporter:
Resolution:
Labels:
Remaining
Estimate:
Time Spent:
Original
Estimate:
Bug
Beth Kirschner
Fixed
None
Not Specified
Previous Issue
Keys:
Test Plan:
CTools 2.9O
Priority:
Assignee:
Votes:
Major
Beth Kirschner
0
Not Specified
Not Specified
Select "Edit Tools" on any site and verify that the "Library Help-UMD" tool
is not displayed (was formerly displayed in the Library tool category).
Description
The 'Library Help-UMD' is only needed by Dearborn, and Dearborn is now using Canvas. We
should hide/stealth this un-needed tool from all new sites.
Comments
Comment by Beth Kirschner [ 11-Jul-2014 ]
Tool has been stealthed
Comment by Beth Kirschner [ 22-Jul-2014 ]
Verified by ckretler 7/16/2014
Generated at Sun Mar 06 04:41:30 CST 2016 using JIRA 6.4.11#64026sha1:78f6ec473a3f058bd5d6c30e9319c7ab376bdb9c.