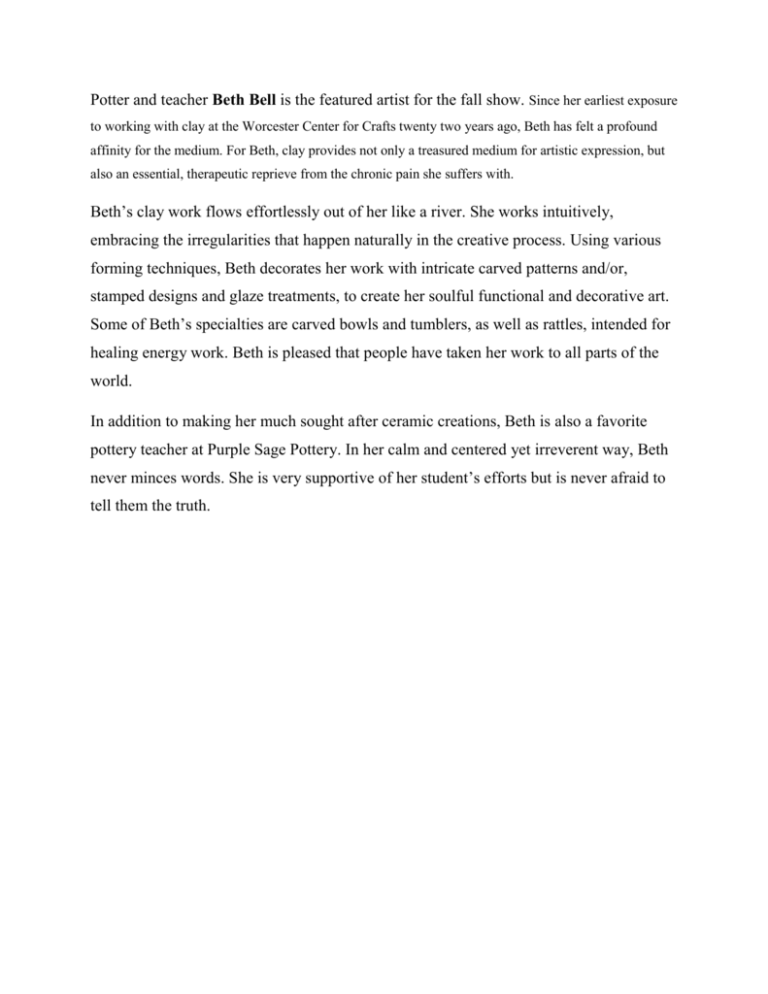 Potter and teacher Beth Bell is the featured artist for the fall show. Since her earliest exposure
to working with clay at the Worcester Center for Crafts twenty two years ago, Beth has felt a profound
affinity for the medium. For Beth, clay provides not only a treasured medium for artistic expression, but
also an essential, therapeutic reprieve from the chronic pain she suffers with.
Beth's clay work flows effortlessly out of her like a river. She works intuitively,
embracing the irregularities that happen naturally in the creative process. Using various
forming techniques, Beth decorates her work with intricate carved patterns and/or,
stamped designs and glaze treatments, to create her soulful functional and decorative art.
Some of Beth's specialties are carved bowls and tumblers, as well as rattles, intended for
healing energy work. Beth is pleased that people have taken her work to all parts of the
world.
In addition to making her much sought after ceramic creations, Beth is also a favorite
pottery teacher at Purple Sage Pottery. In her calm and centered yet irreverent way, Beth
never minces words. She is very supportive of her student's efforts but is never afraid to
tell them the truth.