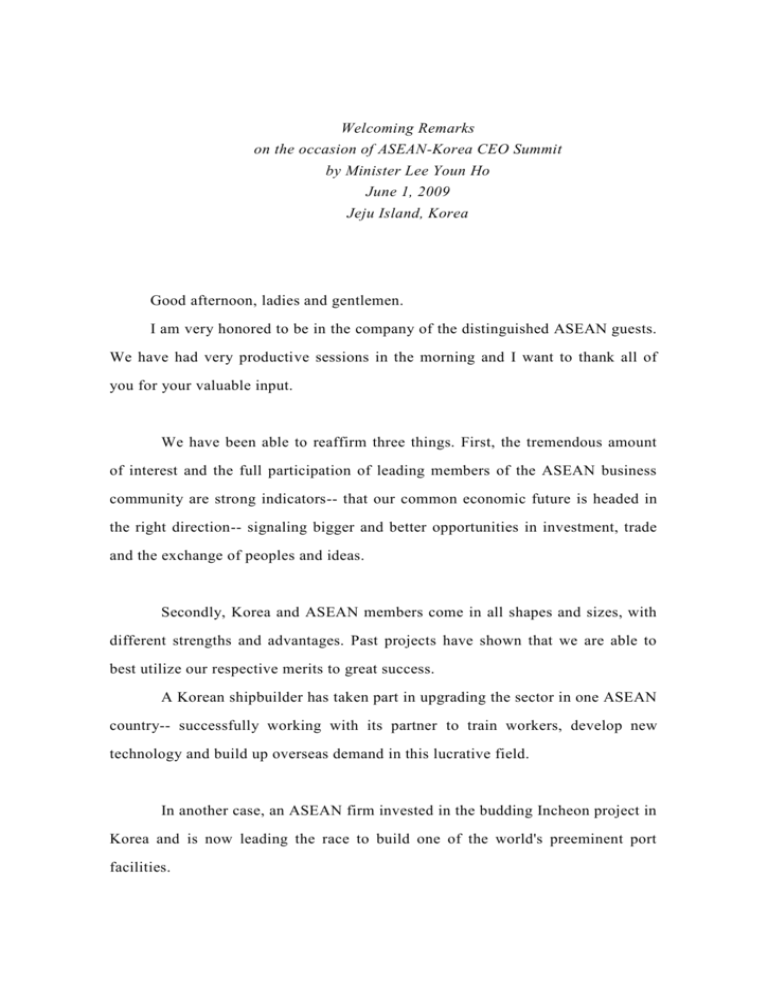 Welcoming Remarks
on the occasion of ASEAN-Korea CEO Summit
by Minister Lee Youn Ho
June 1, 2009
Jeju Island, Korea
Good afternoon, ladies and gentlemen.
I am very honored to be in the company of the distinguished ASEAN guests.
We have had very productive sessions in the morning and I want to thank all of
you for your valuable input.
We have been able to reaffirm three things. First, the tremendous amount
of interest and the full participation of leading members of the ASEAN business
community are strong indicators-- that our common economic future is headed in
the right direction-- signaling bigger and better opportunities in investment, trade
and the exchange of peoples and ideas.
Secondly, Korea and ASEAN members come in all shapes and sizes, with
different strengths and advantages. Past projects have shown that we are able to
best utilize our respective merits to great success.
A Korean shipbuilder has taken part in upgrading the sector in one ASEAN
country-- successfully working with its partner to train workers, develop new
technology and build up overseas demand in this lucrative field.
In another case, an ASEAN firm invested in the budding Incheon project in
Korea and is now leading the race to build one of the world's preeminent port
facilities.
And finally, these cases underline the last thing we have been able to
reaffirm at this Summit. That is-- business between Korea and ASEAN will
become more active, more secure, more convenient-- as we are about to sign the
final section of the Free Trade Agreement. May I applaud the efforts of all sides
for this milestone.
I share in your enthusiasm for what lies ahead. We have much to do. And I
am very glad to have such great partners! Thank you!