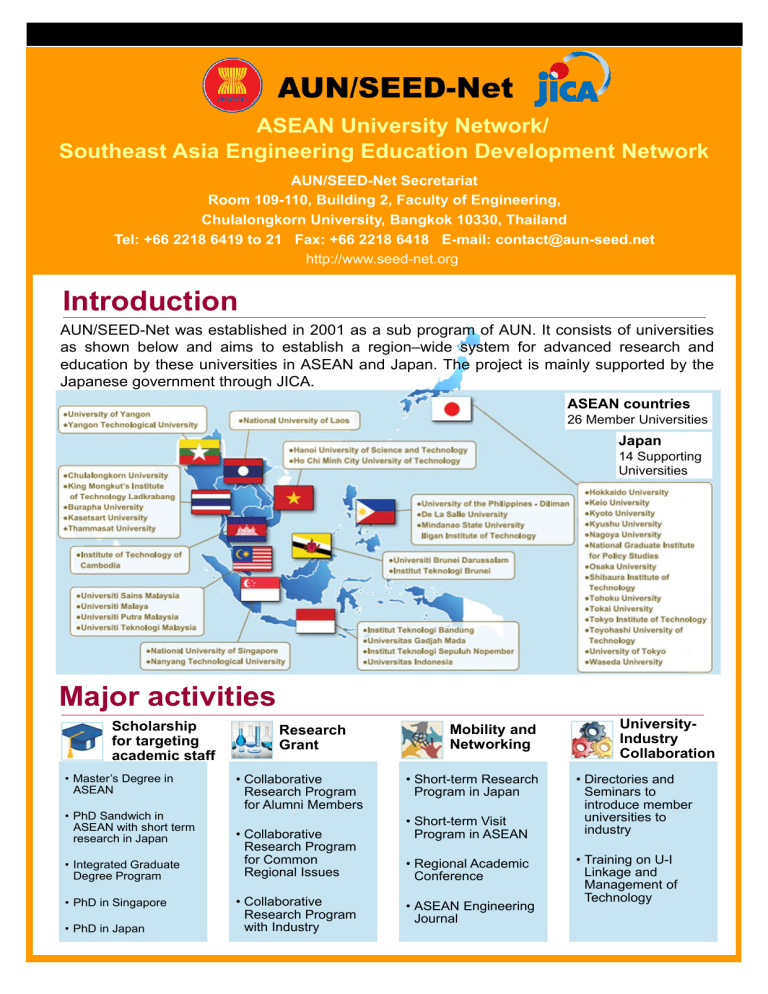 ASEAN University Network/
Southeast Asia Engineering Education Development Network
AUN/SEED-Net Secretariat
Room 109-110, Building 2, Faculty of Engineering,
Chulalongkorn University, Bangkok 10330, Thailand
Tel: +66 2218 6419 to 21 Fax: +66 2218 6418 E-mail: contact@aun-seed.net
http://www.seed-net.org
Introduction
AUN/SEED-Net was established in 2001 as a sub program of AUN. It consists of universities as shown below and aims to establish a region–wide system for advanced research and education by these universities in ASEAN and Japan. The project is mainly supported by the
Japanese government through JICA.
ASEAN countries
26 Member Universities
Japan
14 Supporting
Universities
Major activities
Scholarship for targeting academic staff
Research
Grant
• Master's Degree in
ASEAN
• Collaborative
Research Program for Alumni Members
• PhD Sandwich in
ASEAN with short term research in Japan
• Integrated Graduate
Degree Program
• Collaborative
Research Program for Common
Regional Issues
• PhD in Singapore • Collaborative
Research Program with Industry
• PhD in Japan
Mobility and
Networking
• Short-term Research
Program in Japan
• Short-term Visit
Program in ASEAN
• Regional Academic
Conference
• ASEAN Engineering
Journal
University-
Industry
Collaboration
• Directories and
Seminars to introduce member universities to industry
• Training on U-I
Linkage and
Management of
Technology