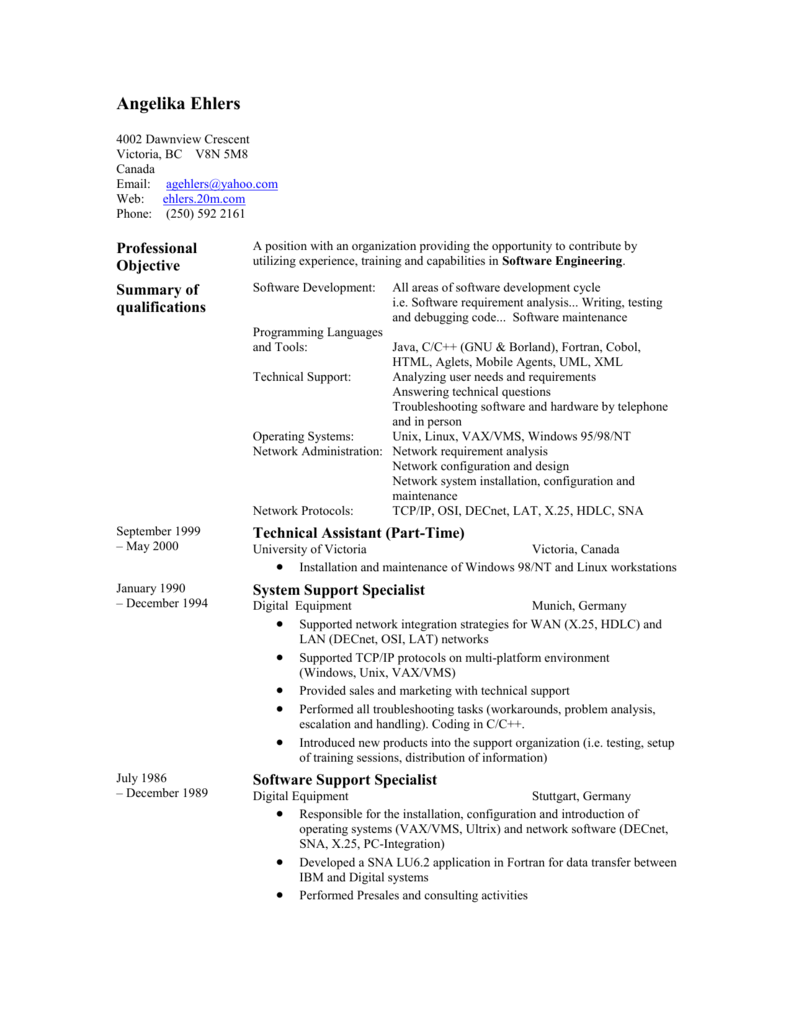 Angelika Ehlers
4002 Dawnview Crescent
Victoria, BC V8N 5M8
Canada
Email: [email protected]
Web: ehlers.20m.com
Phone: (250) 592 2161
Professional
Objective
A position with an organization providing the opportunity to contribute by
utilizing experience, training and capabilities in Software Engineering.
Summary of
qualifications
Software Development:
All areas of software development cycle
i.e. Software requirement analysis... Writing, testing
and debugging code... Software maintenance
Programming Languages
and Tools:
Java, C/C++ (GNU & Borland), Fortran, Cobol,
HTML, Aglets, Mobile Agents, UML, XML
Technical Support:
Analyzing user needs and requirements
Answering technical questions
Troubleshooting software and hardware by telephone
and in person
Operating Systems:
Unix, Linux, VAX/VMS, Windows 95/98/NT
Network Administration: Network requirement analysis
Network configuration and design
Network system installation, configuration and
maintenance
Network Protocols:
TCP/IP, OSI, DECnet, LAT, X.25, HDLC, SNA
September 1999
– May 2000
Technical Assistant (Part-Time)
January 1990
– December 1994
System Support Specialist
July 1986
– December 1989
Software Support Specialist
University of Victoria
Victoria, Canada
 Installation and maintenance of Windows 98/NT and Linux workstations
Digital Equipment
Munich, Germany
 Supported network integration strategies for WAN (X.25, HDLC) and
LAN (DECnet, OSI, LAT) networks
 Supported TCP/IP protocols on multi-platform environment
(Windows, Unix, VAX/VMS)
 Provided sales and marketing with technical support
 Performed all troubleshooting tasks (workarounds, problem analysis,
escalation and handling). Coding in C/C++.
 Introduced new products into the support organization (i.e. testing, setup
of training sessions, distribution of information)
Digital Equipment
Stuttgart, Germany
 Responsible for the installation, configuration and introduction of
operating systems (VAX/VMS, Ultrix) and network software (DECnet,
SNA, X.25, PC-Integration)
 Developed a SNA LU6.2 application in Fortran for data transfer between
IBM and Digital systems
 Performed Presales and consulting activities
Angelika Ehlers
-2-
Work experience
September 1981
– June 1986
Software Engineer
TechnoData
Stuttgart, Germany
 Developed software applications for the construction industry in COBOL
 Performed system administration activities for VAX/VMS systems
Education
January 1998
– May 2000
Bachelor of Science / Computer Science
University of Victoria
Victoria, Canada
3rdand 4th year course emphasis:
CSC320 Foundation of Computer Science
CSC322 Logic and Programming
CSC330 Programming Languages
CSC349A Numerical Analysis
CSC355 Digital Logic and Computer Organization
CSC360 Introduction to Operating Systems
CSC370 Database Systems
CSC375 Introduction to Systems Analysis
CSC450 Computer Communication and Networks
CENG420 Artificial Intelligence
SENG330 Object Oriented Software Development
SENG365 Software Development
SENG450 Network-Centric Computing
SENG462 Distributed Systems and the Internet
September 1995
– May 1997
University Transfer Program
September 1979
– June 1981
Associate Degree in Information Science and Mathematics
Capilano College
Fachoberschule Bremen
(Technical College)
Vancouver, Canada
Bremen, Germany
Languages
English, German
Citizenship
Canadian
References
Ross Gibbs, University of Victoria
Phone: (250) 477-7520 Email: [email protected]
Gord Brown, University of Victoria
Phone: (250) 721-8762 Email: [email protected]
Lief Bluck, University of Victoria
Phone: (250) 721-8549 Email: [email protected]
Written references for overseas work are available and will be furnished upon
request.