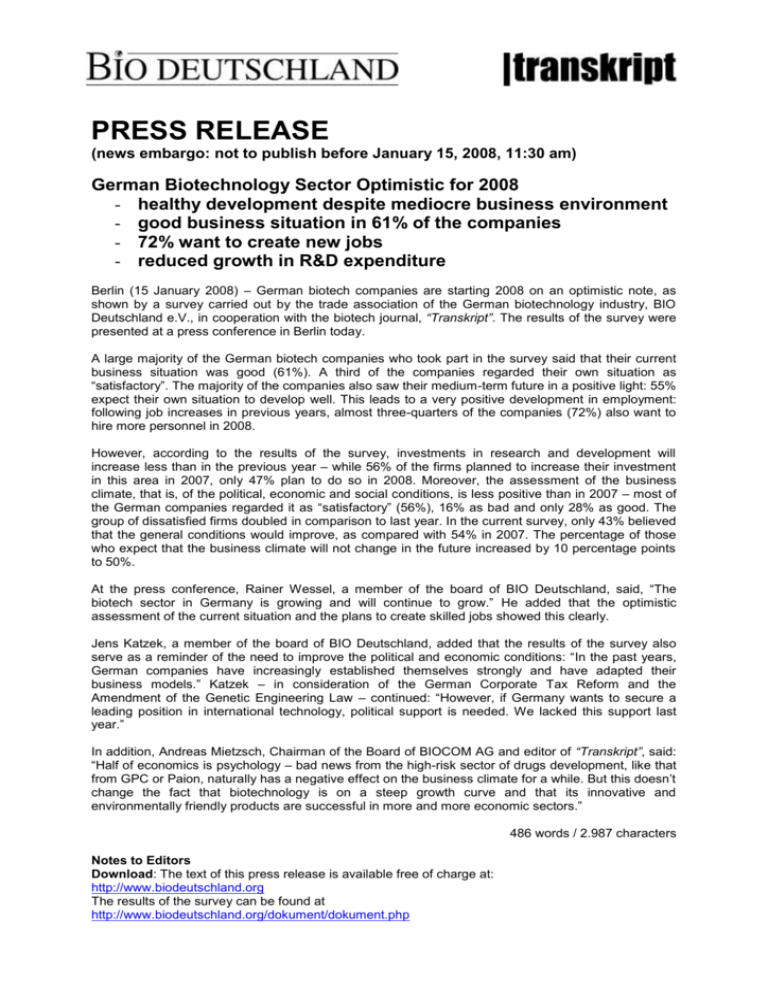 PRESS RELEASE
(news embargo: not to publish before January 15, 2008, 11:30 am)
German Biotechnology Sector Optimistic for 2008
- healthy development despite mediocre business environment
- good business situation in 61% of the companies
- 72% want to create new jobs
- reduced growth in R&D expenditure
Berlin (15 January 2008) – German biotech companies are starting 2008 on an optimistic note, as
shown by a survey carried out by the trade association of the German biotechnology industry, BIO
Deutschland e.V., in cooperation with the biotech journal, "Transkript". The results of the survey were
presented at a press conference in Berlin today.
A large majority of the German biotech companies who took part in the survey said that their current
business situation was good (61%). A third of the companies regarded their own situation as
"satisfactory". The majority of the companies also saw their medium-term future in a positive light: 55%
expect their own situation to develop well. This leads to a very positive development in employment:
following job increases in previous years, almost three-quarters of the companies (72%) also want to
hire more personnel in 2008.
However, according to the results of the survey, investments in research and development will
increase less than in the previous year – while 56% of the firms planned to increase their investment
in this area in 2007, only 47% plan to do so in 2008. Moreover, the assessment of the business
climate, that is, of the political, economic and social conditions, is less positive than in 2007 – most of
the German companies regarded it as "satisfactory" (56%), 16% as bad and only 28% as good. The
group of dissatisfied firms doubled in comparison to last year. In the current survey, only 43% believed
that the general conditions would improve, as compared with 54% in 2007. The percentage of those
who expect that the business climate will not change in the future increased by 10 percentage points
to 50%.
At the press conference, Rainer Wessel, a member of the board of BIO Deutschland, said, "The
biotech sector in Germany is growing and will continue to grow." He added that the optimistic
assessment of the current situation and the plans to create skilled jobs showed this clearly.
Jens Katzek, a member of the board of BIO Deutschland, added that the results of the survey also
serve as a reminder of the need to improve the political and economic conditions: "In the past years,
German companies have increasingly established themselves strongly and have adapted their
business models." Katzek – in consideration of the German Corporate Tax Reform and the
Amendment of the Genetic Engineering Law – continued: "However, if Germany wants to secure a
leading position in international technology, political support is needed. We lacked this support last
year."
In addition, Andreas Mietzsch, Chairman of the Board of BIOCOM AG and editor of "Transkript", said:
"Half of economics is psychology – bad news from the high-risk sector of drugs development, like that
from GPC or Paion, naturally has a negative effect on the business climate for a while. But this doesn't
change the fact that biotechnology is on a steep growth curve and that its innovative and
environmentally friendly products are successful in more and more economic sectors."
486 words / 2.987 characters
Notes to Editors
Download: The text of this press release is available free of charge at:
http://www.biodeutschland.org
The results of the survey can be found at
http://www.biodeutschland.org/dokument/dokument.php
BIO Deutschland:
With more than 180 members, including companies, BioRegions and sector service providers, and
located in Berlin, the Biotechnology Industry Organisation of Germany (BIO Deutschland) has set itself
the goal of supporting and promoting the development of an innovative economic sector in Germany
based on modern biosciences. Dr Peter Heinrich (CEO of MediGene AG) is Chairman of the Board of
BIO Deutschland. Further information is available at www.biodeutschland.org
BIO Deutschland's supporting members are:
berlinbiotechpark GmbH, Celgene GmbH, CMS Hasche Sigle, DZ Bank AG, EBD Group, Ernst &
Young AG, Hogan & Hartson Raue LLP, KPMG AG, PricewaterhouseCoopers AG, TVM Capital
GmbH, UBS Wealth Management AG and VISCARDI AG.
|transkript:
The life sciences monthly journal |transkript, which reports on biotechnology, has a circulation of
10,000 copies in German-speaking areas of Europe. The journal is now in its fourteenth year of
publication and is published by BIOCOM. It is generally agreed that |transkript has established itself as
the leading trade journal that deals with topics on biotechnology in the economy, society and in
specialist applications.
Further information is available at www.transkript.de
Contact:
BIO Deutschland e.V.
Dr Pablo Serrano
Tegeler Weg 33 / berlinbiotechpark,
10589 Berlin
Tel.: +49-(0)-30-264840-87, Fax: -88
E-Mail: info@biodeutschland.org
transkript editorial office:
Dr Patrick Dieckhoff
Stralsunder Str. 58-59
13355 Berlin, Germany
Tel.: +49-30-264921-41
Fax: +49-30-264921-11
www.transkript.de
For publication free of charge.
Please send us a copy of the article.