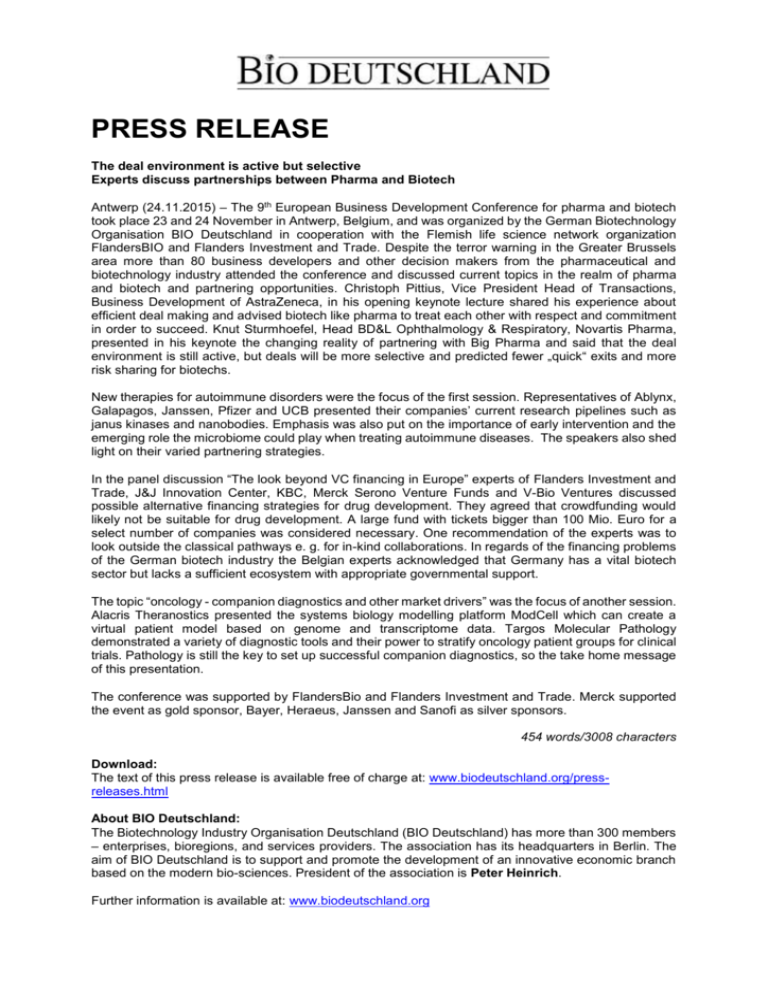 PRESS RELEASE
The deal environment is active but selective
Experts discuss partnerships between Pharma and Biotech
Antwerp (24.11.2015) – The 9th European Business Development Conference for pharma and biotech
took place 23 and 24 November in Antwerp, Belgium, and was organized by the German Biotechnology
Organisation BIO Deutschland in cooperation with the Flemish life science network organization
FlandersBIO and Flanders Investment and Trade. Despite the terror warning in the Greater Brussels
area more than 80 business developers and other decision makers from the pharmaceutical and
biotechnology industry attended the conference and discussed current topics in the realm of pharma
and biotech and partnering opportunities. Christoph Pittius, Vice President Head of Transactions,
Business Development of AstraZeneca, in his opening keynote lecture shared his experience about
efficient deal making and advised biotech like pharma to treat each other with respect and commitment
in order to succeed. Knut Sturmhoefel, Head BD&L Ophthalmology & Respiratory, Novartis Pharma,
presented in his keynote the changing reality of partnering with Big Pharma and said that the deal
environment is still active, but deals will be more selective and predicted fewer "quick" exits and more
risk sharing for biotechs.
New therapies for autoimmune disorders were the focus of the first session. Representatives of Ablynx,
Galapagos, Janssen, Pfizer and UCB presented their companies' current research pipelines such as
janus kinases and nanobodies. Emphasis was also put on the importance of early intervention and the
emerging role the microbiome could play when treating autoimmune diseases. The speakers also shed
light on their varied partnering strategies.
In the panel discussion "The look beyond VC financing in Europe" experts of Flanders Investment and
Trade, J&J Innovation Center, KBC, Merck Serono Venture Funds and V-Bio Ventures discussed
possible alternative financing strategies for drug development. They agreed that crowdfunding would
likely not be suitable for drug development. A large fund with tickets bigger than 100 Mio. Euro for a
select number of companies was considered necessary. One recommendation of the experts was to
look outside the classical pathways e. g. for in-kind collaborations. In regards of the financing problems
of the German biotech industry the Belgian experts acknowledged that Germany has a vital biotech
sector but lacks a sufficient ecosystem with appropriate governmental support.
The topic "oncology - companion diagnostics and other market drivers" was the focus of another session.
Alacris Theranostics presented the systems biology modelling platform ModCell which can create a
virtual patient model based on genome and transcriptome data. Targos Molecular Pathology
demonstrated a variety of diagnostic tools and their power to stratify oncology patient groups for clinical
trials. Pathology is still the key to set up successful companion diagnostics, so the take home message
of this presentation.
The conference was supported by FlandersBio and Flanders Investment and Trade. Merck supported
the event as gold sponsor, Bayer, Heraeus, Janssen and Sanofi as silver sponsors.
454 words/3008 characters
Download:
The text of this press release is available free of charge at: www.biodeutschland.org/pressreleases.html
About BIO Deutschland:
The Biotechnology Industry Organisation Deutschland (BIO Deutschland) has more than 300 members
– enterprises, bioregions, and services providers. The association has its headquarters in Berlin. The
aim of BIO Deutschland is to support and promote the development of an innovative economic branch
based on the modern bio-sciences. President of the association is Peter Heinrich.
Further information is available at: www.biodeutschland.org
BIO Deutschland's supporting members and sector partners are:
AbbVie, Avia, Bayer, Biotest, Boehringer Ingelheim, Celgene, Clariant, CMS Hasche Sigle,
Deutsche Bank, Deutsche Börse, EBD Group, Ernst & Young, Isenbruck, Bösl, Hörschler LLP,
Janssen-Cilag, KPMG, Merck, Miltenyi Biotec, MorphoSys, PricewaterhouseCoopers, Qiagen,
Roche Diagnostics, Sanofi Aventis Deutschland, Thermo Fisher Scientific, VWR International
Contact information:
BIO Deutschland e.V.
Dr. Claudia Englbrecht
Am Weidendamm 1a
10117 Berlin
Tel.: +49-(0)-30-72625-132, Fax: -138
E-Mail: englbrecht@biodeutschland.org
Publication free of charge - Specimen copy requested.