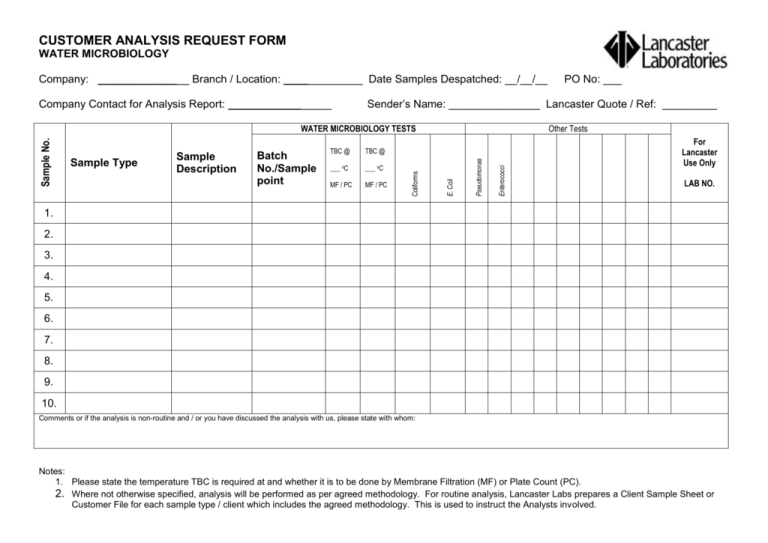 CUSTOMER ANALYSIS REQUEST FORM
WATER MICROBIOLOGY
Company: _______________ Branch / Location: _____________ Date Samples Despatched: __/__/__
Company Contact for Analysis Report: _________________
Sender's Name: _______________ Lancaster Quote / Ref: _________
___ oC
MF / PC
MF / PC
Enterococci
___ oC
Pseudomonas
Batch
No./Sample
point
TBC @
Other Tests
E. Coli
Sample
Description
TBC @
Coliforms
Sample No.
WATER MICROBIOLOGY TESTS
Sample Type
PO No: ___
For
Lancaster
Use Only
LAB NO.
1.
2.
3.
4.
5.
6.
7.
8.
9.
10.
Comments or if the analysis is non-routine and / or you have discussed the analysis with us, please state with whom:
Notes:
1. Please state the temperature TBC is required at and whether it is to be done by Membrane Filtration (MF) or Plate Count (PC).
2. Where not otherwise specified, analysis will be performed as per agreed methodology. For routine analysis, Lancaster Labs prepares a Client Sample Sheet or
Customer File for each sample type / client which includes the agreed methodology. This is used to instruct the Analysts involved.