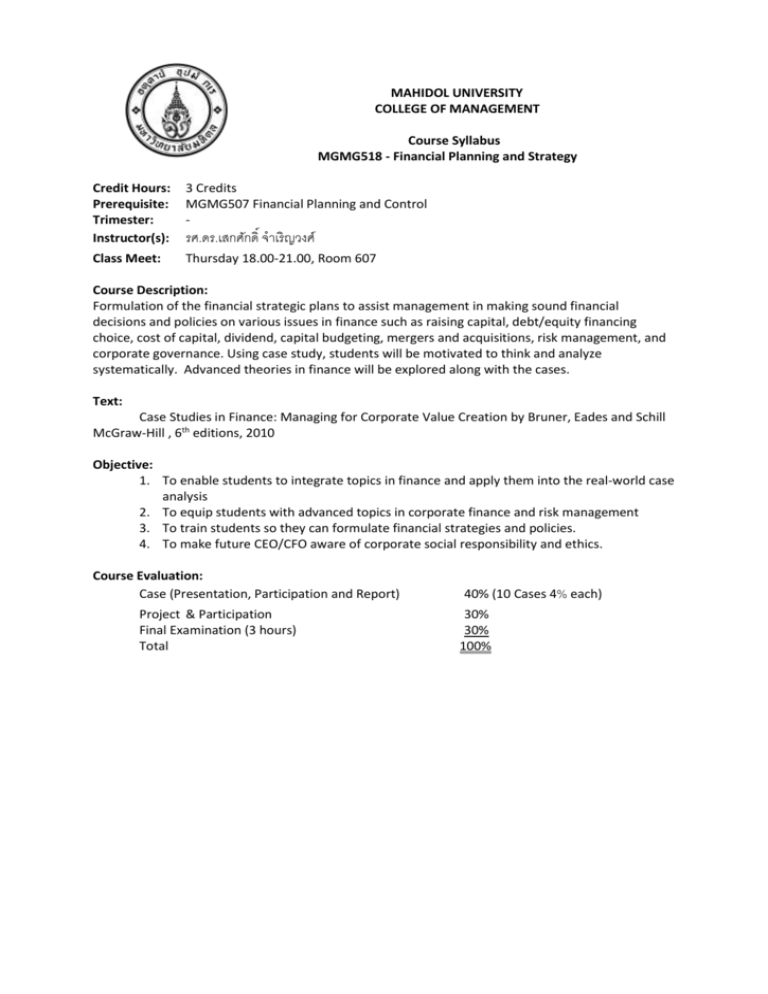 MAHIDOL UNIVERSITY
COLLEGE OF MANAGEMENT
Course Syllabus
MGMG518 - Financial Planning and Strategy
Credit Hours:
Prerequisite:
Trimester:
Instructor(s):
3 Credits
MGMG507 Financial Planning and Control
-
Class Meet:
Thursday 18.00-21.00, Room 607
รศ.ดร.เสกศักดิ์ จำเริ ญวงศ์
Course Description:
Formulation of the financial strategic plans to assist management in making sound financial
decisions and policies on various issues in finance such as raising capital, debt/equity financing
choice, cost of capital, dividend, capital budgeting, mergers and acquisitions, risk management, and
corporate governance. Using case study, students will be motivated to think and analyze
systematically. Advanced theories in finance will be explored along with the cases.
Text:
Case Studies in Finance: Managing for Corporate Value Creation by Bruner, Eades and Schill
McGraw-Hill , 6th editions, 2010
Objective:
1. To enable students to integrate topics in finance and apply them into the real-world case
analysis
2. To equip students with advanced topics in corporate finance and risk management
3. To train students so they can formulate financial strategies and policies.
4. To make future CEO/CFO aware of corporate social responsibility and ethics.
Course Evaluation:
Case (Presentation, Participation and Report)
Project & Participation
Final Examination (3 hours)
Total
40% (10 Cases 4% each)
30%
30%
100%
Course Outline & Schedule: (Schedule of topics and assignment is subject to revision)
Session
1
2
3
4
5
6
7
8
9
10
11
12-13
14
Topics and Assignments
Topic: Economic Profits
Case: FedEx V.S. U.P.S.
Topic: Financial analysis
Case: Value Line Publishing
Topic: Analysis of investment and Cost of Capital
Case: Boeing 7E7
Topic: Optimal Leverage
Case: California Pizza Chicken
Topic: Initial Public Offering
Case: JetBlue Airways
Topic: Dividend decision
Case: Gainesboro
Mid-term Examination (Submit the Project's Progress report)
Topic: Currency Risk Management
Case: Carrefour
Topic: Convertible bond valuation and financial engineering
Case: MoGen, Inc.
Topic: Corporate governance Influence
Case: Hershey Foods Corporation: Bitter Times in a Sweet Place
Topic: Evaluating a contingent value right
Case: General Mills 'Acquisition of Pillsbury from Diageo Plc.
Project Presentation
Final Examination
Project
Students (in group) will be assigned to interview CFO of a SET 50 company in real sector, and
write the report as well as make presentation in class. Topics to be reported include investment
policy, capital structure policy, dividend policy, corporate governance, and enterprise risk
management.