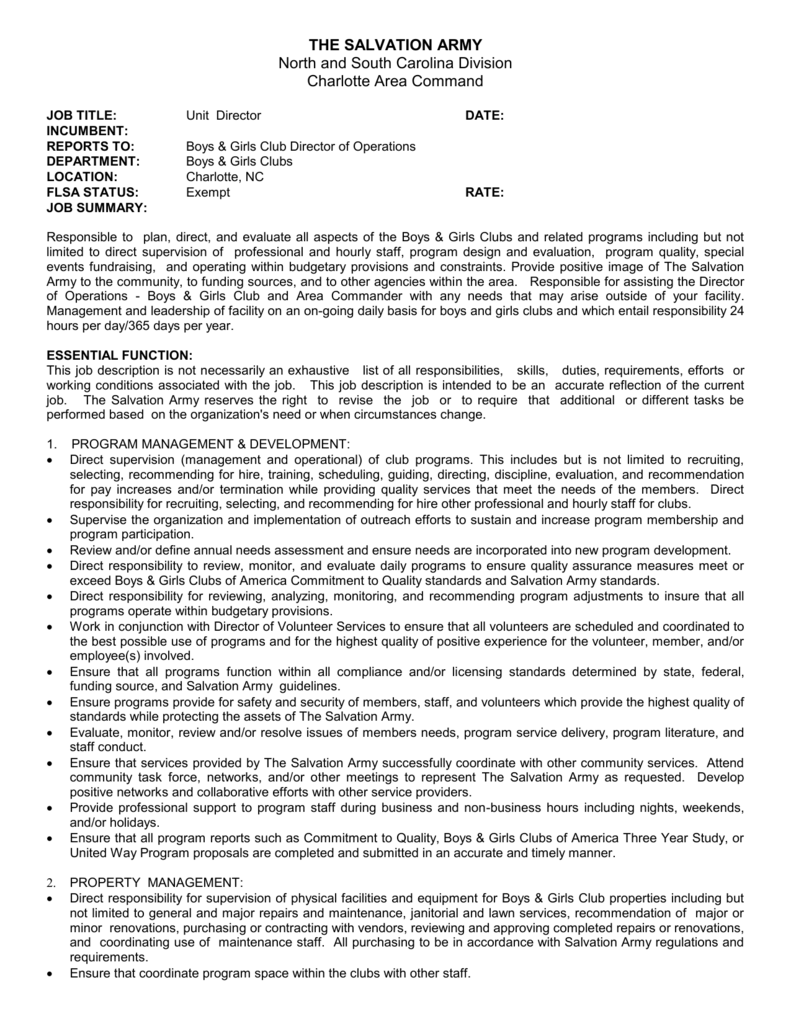 THE SALVATION ARMY
North and South Carolina Division
Charlotte Area Command
JOB TITLE:
INCUMBENT:
REPORTS TO:
DEPARTMENT:
LOCATION:
FLSA STATUS:
JOB SUMMARY:
Unit Director
DATE:
Boys & Girls Club Director of Operations
Boys & Girls Clubs
Charlotte, NC
Exempt
RATE:
Responsible to plan, direct, and evaluate all aspects of the Boys & Girls Clubs and related programs including but not
limited to direct supervision of professional and hourly staff, program design and evaluation, program quality, special
events fundraising, and operating within budgetary provisions and constraints. Provide positive image of The Salvation
Army to the community, to funding sources, and to other agencies within the area. Responsible for assisting the Director
of Operations - Boys & Girls Club and Area Commander with any needs that may arise outside of your facility.
Management and leadership of facility on an on-going daily basis for boys and girls clubs and which entail responsibility 24
hours per day/365 days per year.
ESSENTIAL FUNCTION:
This job description is not necessarily an exhaustive list of all responsibilities, skills, duties, requirements, efforts or
working conditions associated with the job. This job description is intended to be an accurate reflection of the current
job. The Salvation Army reserves the right to revise the job or to require that additional or different tasks be
performed based on the organization's need or when circumstances change.
1. PROGRAM MANAGEMENT & DEVELOPMENT:
 Direct supervision (management and operational) of club programs. This includes but is not limited to recruiting,
selecting, recommending for hire, training, scheduling, guiding, directing, discipline, evaluation, and recommendation
for pay increases and/or termination while providing quality services that meet the needs of the members. Direct
responsibility for recruiting, selecting, and recommending for hire other professional and hourly staff for clubs.
 Supervise the organization and implementation of outreach efforts to sustain and increase program membership and
program participation.
 Review and/or define annual needs assessment and ensure needs are incorporated into new program development.
 Direct responsibility to review, monitor, and evaluate daily programs to ensure quality assurance measures meet or
exceed Boys & Girls Clubs of America Commitment to Quality standards and Salvation Army standards.
 Direct responsibility for reviewing, analyzing, monitoring, and recommending program adjustments to insure that all
programs operate within budgetary provisions.
 Work in conjunction with Director of Volunteer Services to ensure that all volunteers are scheduled and coordinated to
the best possible use of programs and for the highest quality of positive experience for the volunteer, member, and/or
employee(s) involved.
 Ensure that all programs function within all compliance and/or licensing standards determined by state, federal,
funding source, and Salvation Army guidelines.
 Ensure programs provide for safety and security of members, staff, and volunteers which provide the highest quality of
standards while protecting the assets of The Salvation Army.
 Evaluate, monitor, review and/or resolve issues of members needs, program service delivery, program literature, and
staff conduct.
 Ensure that services provided by The Salvation Army successfully coordinate with other community services. Attend
community task force, networks, and/or other meetings to represent The Salvation Army as requested. Develop
positive networks and collaborative efforts with other service providers.
 Provide professional support to program staff during business and non-business hours including nights, weekends,
and/or holidays.
 Ensure that all program reports such as Commitment to Quality, Boys & Girls Clubs of America Three Year Study, or
United Way Program proposals are completed and submitted in an accurate and timely manner.
2.


PROPERTY MANAGEMENT:
Direct responsibility for supervision of physical facilities and equipment for Boys & Girls Club properties including but
not limited to general and major repairs and maintenance, janitorial and lawn services, recommendation of major or
minor renovations, purchasing or contracting with vendors, reviewing and approving completed repairs or renovations,
and coordinating use of maintenance staff. All purchasing to be in accordance with Salvation Army regulations and
requirements.
Ensure that coordinate program space within the clubs with other staff.


3.










Supervise purchase of furnishing and equipment. Purchase, within Salvation Army guidelines, all furnishing,
equipment related to Boys & Girls Clubs and Seniors programs. Make recommendations for change or improvement
to Area Commander or Business Manager.
Ensure that all Salvation Army Annual Property Inspection reports are complete, accurate and up-to-date as required.
FISCAL MANAGEMENT:
Develop fundraising goals and objectives to provide for the financial stability of the overall Boys & Girls Club programs.
Assist to develop and implement special fundraising events in conjunction with the Boys & Girls Club Advisory
Council, Unit Directors, Advisory Board members, or Area Command staff.
Develop and maintain positive relationships with community organizations, foundations, or government entities in
order to seek funding that will provide financial advantages for the Boys & Girls Club programs.
Assist Business Manager in development of Boys & Girls club budgets. This includes but is not limited to: Salvation
Army annual budget, United Way budget process, and various government or foundation grant budgets. Represent
The Salvation Army at various budget presentation meetings as required by funding sources.
Assist Business Manager in writing grants and/or funding requests as needed or requested.
Maintain and operate programs within budgetary provisions in order to maintain financial stability for the Boys & Girls
Club programs.
Review and approve all invoices related to Boys & Girls Clubs operations as requested by Business Manager or
Finance Department staff.
Provide written response to any Salvation Army audit exceptions as related to Boys & Girls Clubs programs as
requested.
Ensure that all donated items are properly accounted for within the programs.
Ensure that receipt of all members dues or fees are properly and timely recorded and submitted to Finance
Department for deposit.
Assist in the conservation of all Salvation Army resources.
4. RECORDKEEPING & REPORTING:
 Supervise proper record keeping of statistics and reports in relation to job scope and within structured reporting
schedules to ensure accuracy and stability.
 Ensure that all statistical reports are submitted on or before due dates.
 Ensure proper record keeping of members files within guidelines of Salvation Army standards.
 Ensure that all purchasing of supplies, equipment, furnishing, and repairs are properly approved and/or requisitioned in
accordance with Salvation Army regulations.
5. COMMUNITY RELATIONS:
Ensure that all potential volunteers are coordinated with Director of Volunteer Services which includes but is not limited to:
volunteer orientation attendance, monthly statistical information, and maintaining an updated list of volunteer work
projects at each club.


Ensure that Community Relations Director is provided with information on speaking engagements, special fundraising
events, a current list of club projects or needs such as program supplies, equipment, etc.
Represent The Salvation Army at special events, speaking engagements, United Way Speakers Bureau or other
community events as requested.
6. MISCELLANEOUS:
 Abide by and enforce all Salvation Army policies and procedures.
 Any other duties as may be assigned by the Area Commander or Business Manager.
OTHER RESPONSIBILITIES:
 Assist Salvation Army management in any way requested in order to fulfill the goals and objectives of the program and
the mission of The Salvation Army.
 Transport club members or seniors as needed and in accordance with Salvation Army policies and procedures.
 Assist Community Relations Director in developing public relations materials for Boys & Girls Clubs and Seniors
programs.
 Assist Director of Volunteer Services in soliciting items for operations and services of youth and seniors programs.
MATERIAL AND EQUIPMENT:
Typewriter, Keyboard, Computer, Personal Computer, Printer, Copier, Fax machine, Shredder, Telephone, Security
Systems, 15-passenger van, television, VCR, camera, audio-visual equipment, various sports equipment.
MINIMUM QUALIFICATIONS REQUIRED:
EDUCATION AND EXPERIENCE:
Bachelors Degree in Business Management, Education, Human Services or related field required or combination of
education and experience with a minimum of one-year experience. Management experience in recognized field or
department. Minimum of five years direct supervisory experience and staff development, preferably in non-profit field.
Experience in Salvation Army programming highly preferred.
LICENSES AND CERTIFICATION:
 Must possess valid driver's license with minimum of five years good driving record. MVR must be provided as
proof of clean record.
 CDL License required
KNOWLEDGE, SKILLS AND ABILITIES:
Knowledge of - standard boys and girls clubs operating procedures and practices
- standard personnel procedures
- youth issues
- community resources
- statistical methods
- program quality measures
- computer fundamentals
- personnel procedures, wage and hour laws, etc.
Skills in
- fundraising development
- writing and speaking in English language
- keyboarding / typing skills
- good telephone communications
- public speaking
Ability to
- make decisions balancing the needs of the members with the agency's mission and needs
- provide leadership and direction to the youth and senior program
- motivate and interact well with diverse population
- meet job attendance requirements
Club hours: 11:00 noon to 7:00 p.m. weekdays (School months)
8:00 a.m. to 6:00 p.m. weekdays ( non-school months)
Additional hours as may be required based on job demand
On call after hours, weekends, and holidays for facility needs
- organize work priorities
- pass drug screening requirement
- interpret and implement program to meet goals and objectives of agency for daily operations of youth
and seniors programs
MENTAL AND PHYSICAL ABILITIES:
Capable of understanding and interpreting the mission of The Salvation Army and its youth programs.
Ability to communicate effectively with clients, staff, volunteers, community resources, board members, ministers
Capable of supervising multiple programs simultaneously.
WORKING CONDITIONS:
Position requires both indoor and outdoor conditions including but not limited to: office, club, camp and various community
environments. The Salvation Army strives to have an environment that is free from the presence or use of alcohol, drugs
or other controlled substances. All Salvation Army facilities and vehicles provide a smoke free environment. Position may
include stressful situations.
ALL EMPLOYEES RECOGNIZE THAT THE SALVATION ARMY IS A CHURCH AND AGREE THAT THEY WILL DO
NOTHING AS AN EMPLOYEE OF THE SALVATION ARMY TO UNDERMINE IT'S RELIGIOUS MISSION.
MISSION STATEMENT
The Salvation Army, an international movement, is an evangelical part of the universal Christian church. Its message is based
on the Bible. Its ministry is motivated by the love of God. Its mission is to preach the gospel of Jesus Christ and to meet
human need in his name without discrimination.
I have read and understand this Job Description:
Date
Witness:__________________________________ Date
.
.