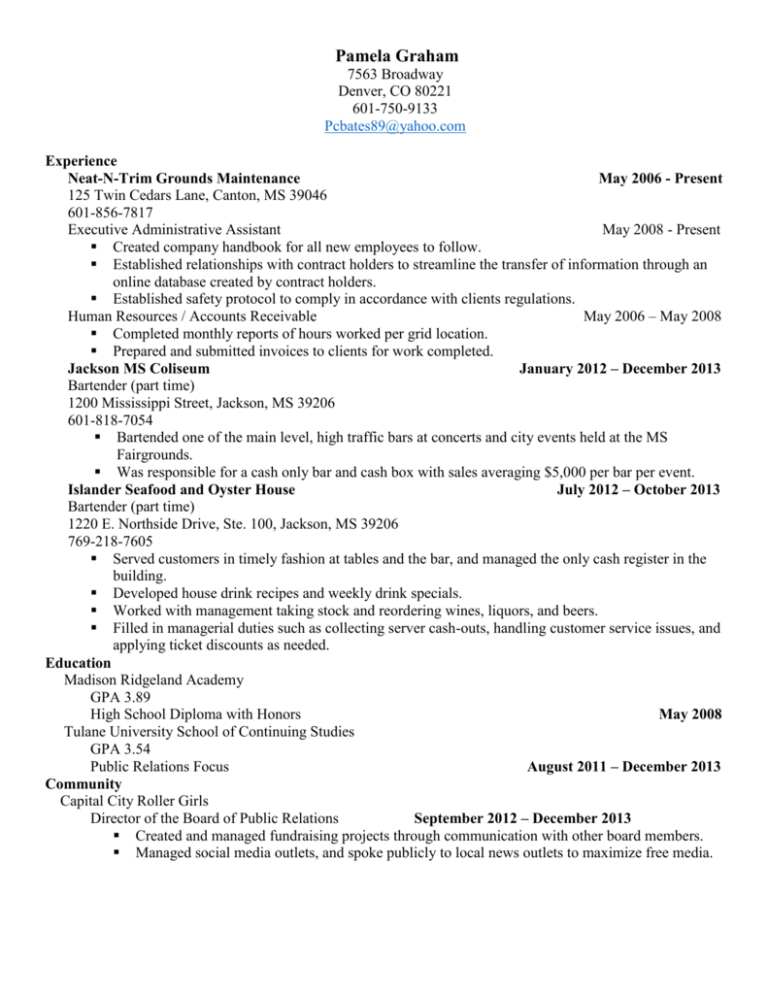 Pamela Graham
7563 Broadway
Denver, CO 80221
601-750-9133
[email protected]
Experience
Neat-N-Trim Grounds Maintenance
May 2006 - Present
125 Twin Cedars Lane, Canton, MS 39046
601-856-7817
Executive Administrative Assistant
May 2008 - Present
 Created company handbook for all new employees to follow.
 Established relationships with contract holders to streamline the transfer of information through an
online database created by contract holders.
 Established safety protocol to comply in accordance with clients regulations.
Human Resources / Accounts Receivable
May 2006 – May 2008
 Completed monthly reports of hours worked per grid location.
 Prepared and submitted invoices to clients for work completed.
Jackson MS Coliseum
January 2012 – December 2013
Bartender (part time)
1200 Mississippi Street, Jackson, MS 39206
601-818-7054
 Bartended one of the main level, high traffic bars at concerts and city events held at the MS
Fairgrounds.
 Was responsible for a cash only bar and cash box with sales averaging $5,000 per bar per event.
Islander Seafood and Oyster House
July 2012 – October 2013
Bartender (part time)
1220 E. Northside Drive, Ste. 100, Jackson, MS 39206
769-218-7605
 Served customers in timely fashion at tables and the bar, and managed the only cash register in the
building.
 Developed house drink recipes and weekly drink specials.
 Worked with management taking stock and reordering wines, liquors, and beers.
 Filled in managerial duties such as collecting server cash-outs, handling customer service issues, and
applying ticket discounts as needed.
Education
Madison Ridgeland Academy
GPA 3.89
High School Diploma with Honors
May 2008
Tulane University School of Continuing Studies
GPA 3.54
Public Relations Focus
August 2011 – December 2013
Community
Capital City Roller Girls
Director of the Board of Public Relations
September 2012 – December 2013
 Created and managed fundraising projects through communication with other board members.
 Managed social media outlets, and spoke publicly to local news outlets to maximize free media.