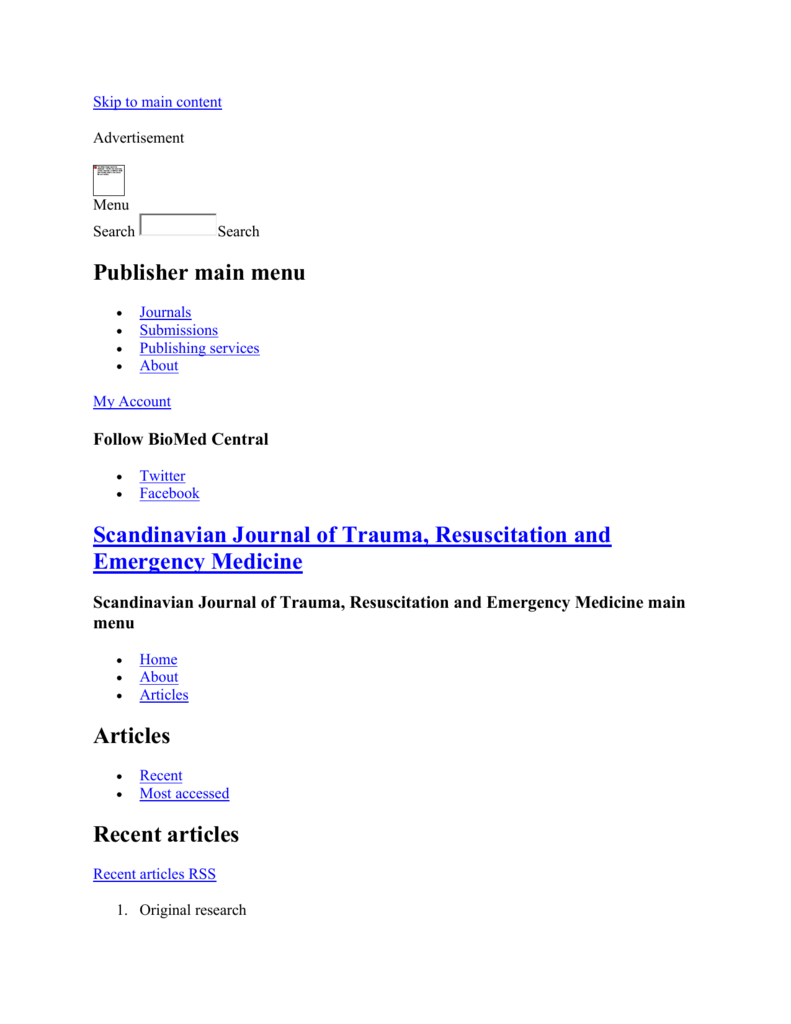 Skip to main content
Advertisement
Menu
Search
Search
Publisher main menu




Journals
Submissions
Publishing services
About
My Account
Follow BioMed Central


Twitter
Facebook
Scandinavian Journal of Trauma, Resuscitation and
Emergency Medicine
Scandinavian Journal of Trauma, Resuscitation and Emergency Medicine main
menu



Home
About
Articles
Articles


Recent
Most accessed
Recent articles
Recent articles RSS
1. Original research
Ease and difficulty of pre-hospital airway management in 425 paediatric
patients treated by a helicopter emergency medical service: a retrospective
analysis
Alexander R. Schmidt, Lea Ulrich, Burkhardt Seifert, Roland Albrecht, Donat R. Spahn
and Philipp Stein
Published on: 5 March 2016
2. Original research
The association between vital signs and mortality in a retrospective cohort
study of an unselected emergency department population
Malin Ljunggren, Maaret Castrén, Martin Nordberg and Lisa Kurland
Published on: 3 March 2016
3. Original research
Increasing incidence of hypotension in the emergency department; a 12
year population-based cohort study
Jon G. Holler, Daniel P. Henriksen, Søren Mikkelsen, Court Pedersen and Annmarie T.
Lassen
Published on: 2 March 2016
4. Original research
A reliability study of the rapid emergency triage and treatment system for
children
Brita Henning, Stian Lydersen and Henrik Døllner
Published on: 24 February 2016
5. Original research
An epidemiological approach to mass casualty incidents in the Principality
of Asturias (Spain)
Rafael Castro Delgado, Cecilia Naves Gómez, Tatiana Cuartas Álvarez and Pedro Arcos
González
Published on: 24 February 2016
View all articles
Most accessed articles
Most accessed articles RSS
1. Review
Critical care management of severe traumatic brain injury in adults
Samir H Haddad and Yaseen M Arabi
Published on: 3 February 2012
2. Review
Adherence to guidelines and protocols in the prehospital and emergency
care setting: a systematic review
Remco HA Ebben, Lilian CM Vloet, Michael HJ Verhofstad, Sanne Meijer, Joke AJ
Mintjes-de Groot and Theo van Achterberg
Published on: 19 February 2013
3. Original research
Comparisons of normal saline and lactated Ringer's resuscitation on
hemodynamics, metabolic responses, and coagulation in pigs after severe
hemorrhagic shock
Wenjun Z Martini, Douglas S Cortez and Michael A Dubick
Published on: 11 December 2013
4. Original research
Facilitators and obstacles in pre-hospital medical response to earthquakes:
a qualitative study
Ahmadreza Djalali, Hamidreza Khankeh, Gunnar Öhlén, Maaret Castrén and Lisa
Kurland
Published on: 16 May 2011
5. Review
Neurologic long term outcome after drowning in children
Pertti K Suominen and Raisa Vähätalo
Published on: 15 August 2012
View all articles
Aims and scope
Scandinavian Journal of Trauma, Resuscitation and Emergency Medicine (SJTREM)
encompasses all aspects of the epidemiology, etiology, pathophysiology, diagnosis, treatment,
rehabilitation and prevention of acute illnesses and trauma, resuscitation and emergency
medicine, with particular interest in the multidisciplinary aspects of the chain of survival.
Contributions focusing on education, training, implementation, as well as ethical and socioeconomic aspects of trauma management are welcome.
Society affiliations
SJTREM is the official journal of the Norwegian Air Ambulance Foundation and is affiliated
with 9 more societies involved in trauma, resuscitation, and emergency medicine in Scandinavia.









Swedish Society for Emergency Medicine
Danish Society for Emergency Medicine
Norwegian Resuscitation Council
Danish Resuscitation Council
Swedish Society for Disaster Medicine
Norwegian Society for Disaster Medicine
Swedish Society of Trauma Nurses
SATS Students' Anaestesiological & Traumatological Society
Danish Society of Emergency and Disaster Medicine
Editors' note
The editors wish to acknowledge, with sincere appreciation, the assistance of the many reviewers
who have generously contributed their time and efforts during the past year in the appraisal of
manuscripts submitted to the Scandinavian Journal of Trauma, Resuscitation and Emergency
Medicine.
Tweets
Submit a manuscript





Impact Factor: 2.025
Submission Guidelines
Editorial Board
Sign up to article alerts
Contact us
Follow

Follow us on Twitter
ISSN:
1757-7241
Advertisement






Contact us
Jobs
Manage manuscripts
Sign up for article alerts
Manage article alerts
Leave feedback


Press center
Read more on our blogs






Policies
Licensing
Terms and conditions
Privacy statement
Accessibility
Cookies
Follow BioMed Central







Twitter
Facebook
Google Plus
YouTube
LinkedIn
Reddit
Weibo
© 2016 BioMed Central Ltd unless otherwise stated. Part of Springer Science+Business Media.
By continuing to use this website, you agree to our Terms and Conditions, Privacy statement and
Cookies policy.