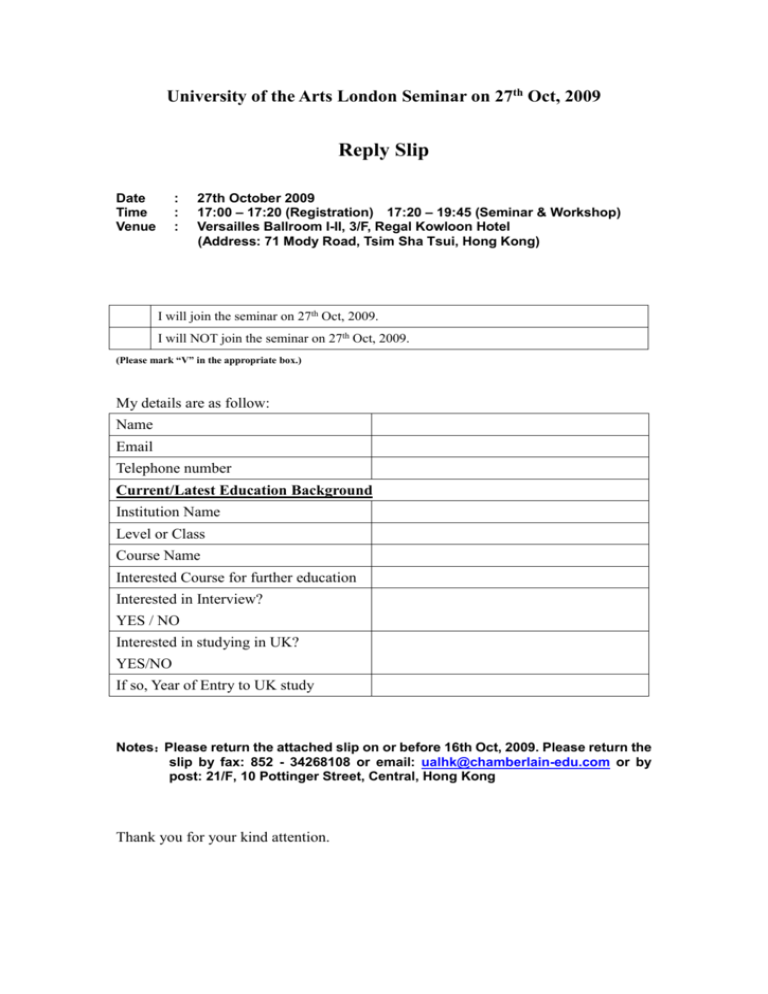 University of the Arts London Seminar on 27th Oct, 2009
Reply Slip
Date
Time
Venue
:
:
:
27th October 2009
17:00 – 17:20 (Registration) 17:20 – 19:45 (Seminar & Workshop)
Versailles Ballroom I-II, 3/F, Regal Kowloon Hotel
(Address: 71 Mody Road, Tsim Sha Tsui, Hong Kong)
I will join the seminar on 27th Oct, 2009.
I will NOT join the seminar on 27th Oct, 2009.
(Please mark "V" in the appropriate box.)
My details are as follow:
Name
Email
Telephone number
Current/Latest Education Background
Institution Name
Level or Class
Course Name
Interested Course for further education
Interested in Interview?
YES / NO
Interested in studying in UK?
YES/NO
If so, Year of Entry to UK study
Notes:Please return the attached slip on or before 16th Oct, 2009. Please return the
slip by fax: 852 - 34268108 or email: ualhk@chamberlain-edu.com or by
post: 21/F, 10 Pottinger Street, Central, Hong Kong
Thank you for your kind attention.