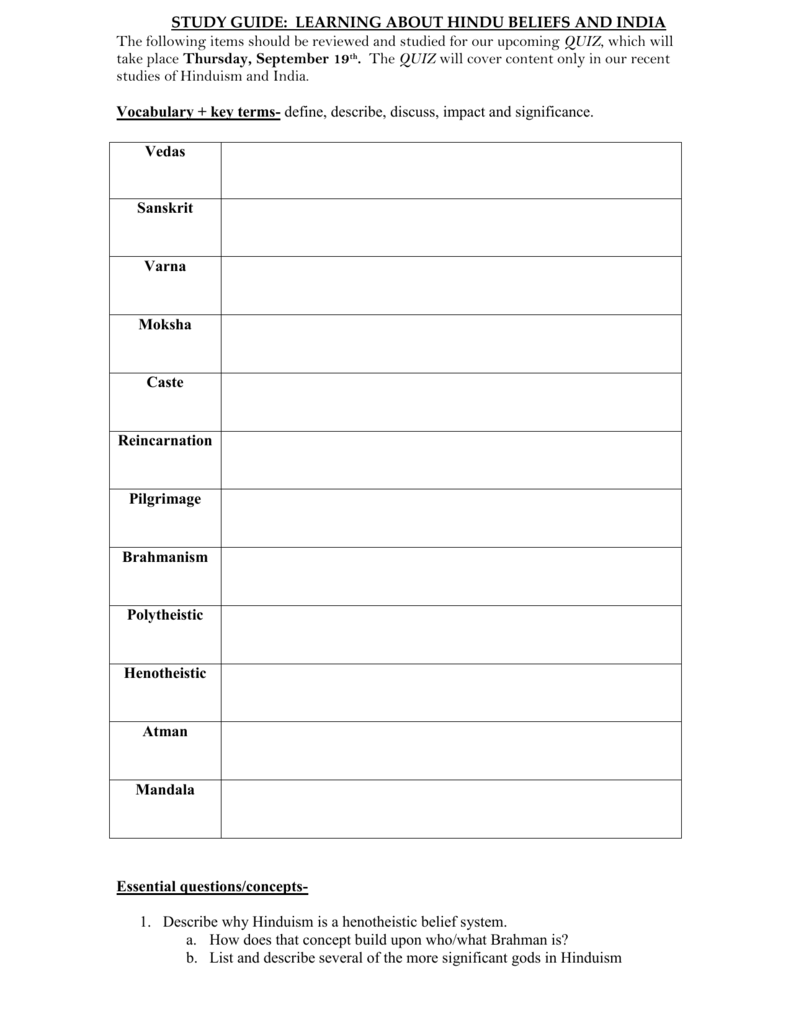 STUDY GUIDE: LEARNING ABOUT HINDU BELIEFS AND INDIA
The following items should be reviewed and studied for our upcoming QUIZ, which will
take place Thursday, September 19th. The QUIZ will cover content only in our recent
studies of Hinduism and India.
Vocabulary + key terms- define, describe, discuss, impact and significance.
Vedas
Sanskrit
Varna
Moksha
Caste
Reincarnation
Pilgrimage
Brahmanism
Polytheistic
Henotheistic
Atman
Mandala
Essential questions/concepts1. Describe why Hinduism is a henotheistic belief system.
a. How does that concept build upon who/what Brahman is?
b. List and describe several of the more significant gods in Hinduism
2. Describe the famous Hindu story, Ramayana. What is the theme and main idea of
this story? Why is this story such a significant piece to Indian/Hindu culture?
3. Highlight the four main social classes that the Vedas describes. (Brahmins,
Kshatryas, Vaishyas, Sudras) Be sure to discuss the untouchables as well. What
role has the caste system played in India?
Brahmins
Kshatryas
Vaishyas
Sudras
Untouchables
4. Discuss the origins of Hinduism. What group do historians often credit Hinduism
to?
5. Use the graphic organizer to provide the required information for the following:
BELIEF:
Dharma
Karma
Samsara
*Additional Notes:
What is it?
Influence on Indian
culture/society?