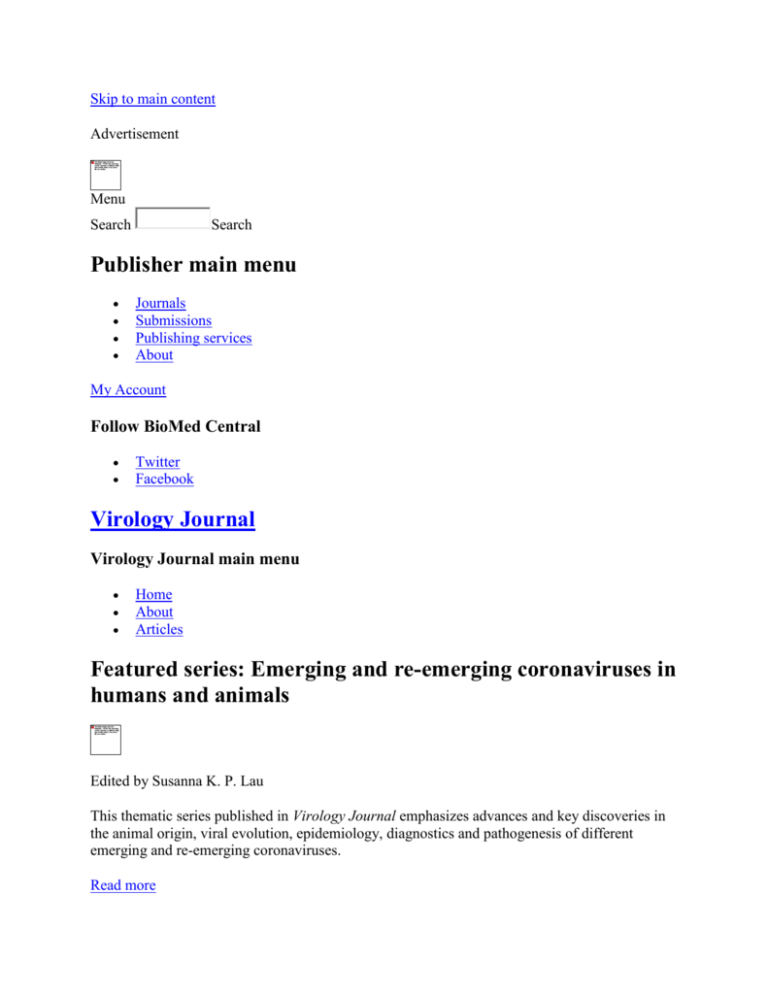 Skip to main content
Advertisement
Menu
Search
Search
Publisher main menu




Journals
Submissions
Publishing services
About
My Account
Follow BioMed Central


Twitter
Facebook
Virology Journal
Virology Journal main menu



Home
About
Articles
Featured series: Emerging and re-emerging coronaviruses in
humans and animals
Edited by Susanna K. P. Lau
This thematic series published in Virology Journal emphasizes advances and key discoveries in
the animal origin, viral evolution, epidemiology, diagnostics and pathogenesis of different
emerging and re-emerging coronaviruses.
Read more
Articles


Recent
Most accessed
Recent articles
Recent articles RSS
1. Research
Prevalence of antibody to Hepatitis B core antigen and Hepatitis B virus
DNA in HBsAg negative healthy blood donors
Gharib Karimi, Maryam Zadsar, Nasrin Vafaei, Zohreh Sharifi and Mohammad
FalahTafti
Published on: 5 March 2016
2. Research
Inhibition of protein kinase C promotes dengue virus replication
Warobon Noppakunmongkolchai, Teera Poyomtip, Thichakorn Jittawuttipoka, Natthanej
Luplertlop, Anavaj Sakuntabhai, Sarin Chimnaronk, Siwanon Jirawatnotai and Rutaiwan
Tohtong
Published on: 1 March 2016
3. Research
Molecular characterization of orf virus from sheep and goats in Ethiopia,
2008–2013
Esayas Gelaye, Jenna Elizabeth Achenbach, Shiferaw Jenberie, Gelagay Ayelet,
Alebachew Belay, Martha Yami, Angelika Loitsch, Reingard Grabherr, Adama Diallo
and Charles Euloge Lamien
Published on: 29 February 2016
4. Research
Molecular epidemiology and evolutionary histories of human coronavirus
OC43 and HKU1 among patients with upper respiratory tract infections in
Kuala Lumpur, Malaysia
Maryam Nabiel Al-Khannaq, Kim Tien Ng, Xiang Yong Oong, Yong Kek Pang, Yutaka
Takebe, Jack Bee Chook, Nik Sherina Hanafi, Adeeba Kamarulzaman and Kok Keng Tee
Published on: 25 February 2016
5. Research
Protective efficacy of a recombinant Newcastle disease virus expressing
glycoprotein of vesicular stomatitis virus in mice
Minmin Zhang, Jinying Ge, Xiaofang Li, Weiye Chen, Xijun Wang, Zhiyuan Wen and
Zhigao Bu
Published on: 24 February 2016
View all articles
Most accessed articles
Most accessed articles RSS
1. Research
Human rhinoviruses and enteroviruses in influenza-like illness in Latin
America
Josefina Garcia, Victoria Espejo, Martha Nelson, Merly Sovero, Manuel V Villaran,
Jorge Gomez, Melvin Barrantes, Felix Sanchez, Guillermo Comach, Ana E Arango,
Nicolas Aguayo, Ivette L de Rivera, Wilson Chicaiza, Mirna Jimenez, Washington
Aleman, Francisco Rodriguez…
Published on: 11 October 2013
2. Review
Bacteriophages and their implications on future biotechnology: a review
Irshad Ul Haq, Waqas Nasir Chaudhry, Maha Nadeem Akhtar, Saadia Andleeb and
Ishtiaq Qadri
Published on: 10 January 2012
3. Research
Matrix attachment regions as targets for retroviral integration
Chassidy N Johnson and Laura S Levy
Published on: 19 August 2005
4. Research
Whole genome sequencing of phage resistant Bacillus anthracis mutants
reveals an essential role for cell surface anchoring protein CsaB in phage
AP50c adsorption
Kimberly A Bishop-Lilly, Roger D Plaut, Peter E Chen, Arya Akmal, Kristin M Willner,
Amy Butani, Shakia Dorsey, Vishwesh Mokashi, Alfred J Mateczun, Carol Chapman,
Matroner George, Truong Luu, Timothy D Read, Richard Calendar, Scott Stibitz and
Shanmuga Sozhamannan
Published on: 26 October 2012
5. Review
Medical Virology of Hepatitis B: how it began and where we are now
Wolfram H Gerlich
Published on: 20 July 2013
View all articles
Senior editorial team
Editor-in-Chief
Linfa Wang, Duke-NUS, Singapore
Section Editors
Joana Azeredo, University of Minho, Portugal
Hualan Chen, Chinese Academy of Agricultural Sciences, China
Blossom Damania, University of North Carolina at Chapel Hill, USA
Andrew Easton, University of Warwick, UK
Tom Geisbert, University of Texas Medical Branch, USA
Erna Geessien Kroon, Universidade Federal de Minas Gerais, Brazil
Suresh Mahalingam, Griffith University, Australia
Johnson Mak, Deakin University, Australia
Alan McLachlan, University of Illinois at Chicago, USA
Klaus Osterrieder, Freie Universität Berlin, Germany
Xueping Zhou, Zhejiang University, China
Aims and scope
Virology Journal is an open access, peer reviewed journal that considers articles on all aspects of
virology, including research on the viruses of animals, plants and microbes. The journal
welcomes basic research as well as pre-clinical and clinical studies of novel diagnostic tools,
vaccines and anti-viral therapies.
The Editorial policy of Virology Journal is to publish all research which is assessed by peer
reviewers to be a coherent and sound addition to the scientific literature, and puts less emphasis
on interest levels or perceived impact.
Read more
Call for papers
We invite you to submit an article to one of our thematic series:


The interplay between the host and HSV-1 infection
Coronaviruses: emerging and re-emerging pathogens in humans and animals
View all article collections
Rapid publication
Tweets
From the blog
Zika virus – a Brazilian perspective on a global health emergency
Published on: 4 Feb 2016
Podcast: The origins and dangers of coronaviruses
Published on: 20 Jan 2016
Insights from the congress of the Chinese Society for Microbiology
Published on: 5 Nov 2015
Sun, Sand and Viruses – highlights from the Brazilian Congress of Virology
Published on: 28 Oct 2015
An epidemics timeline
Published on: 9 Oct 2015
The MERS outbreak: an Asian perspective
Published on: 18 Jun 2015
Go to BioMed Central blog network
Submit a manuscript





Impact Factor: 2.181
Submission Guidelines
Editorial Board
Sign up to article alerts
Follow

Follow us on Twitter
ISSN:
1743-422X
Advertisement






Contact us
Jobs
Manage manuscripts
Sign up for article alerts
Manage article alerts
Leave feedback


Press center
Read more on our blogs






Policies
Licensing
Terms and conditions
Privacy statement
Accessibility
Cookies
Follow BioMed Central







Twitter
Facebook
Google Plus
YouTube
LinkedIn
Reddit
Weibo
© 2016 BioMed Central Ltd unless otherwise stated. Part of Springer Science+Business Media.
By continuing to use this website, you agree to our Terms and Conditions, Privacy statement and
Cookies policy.