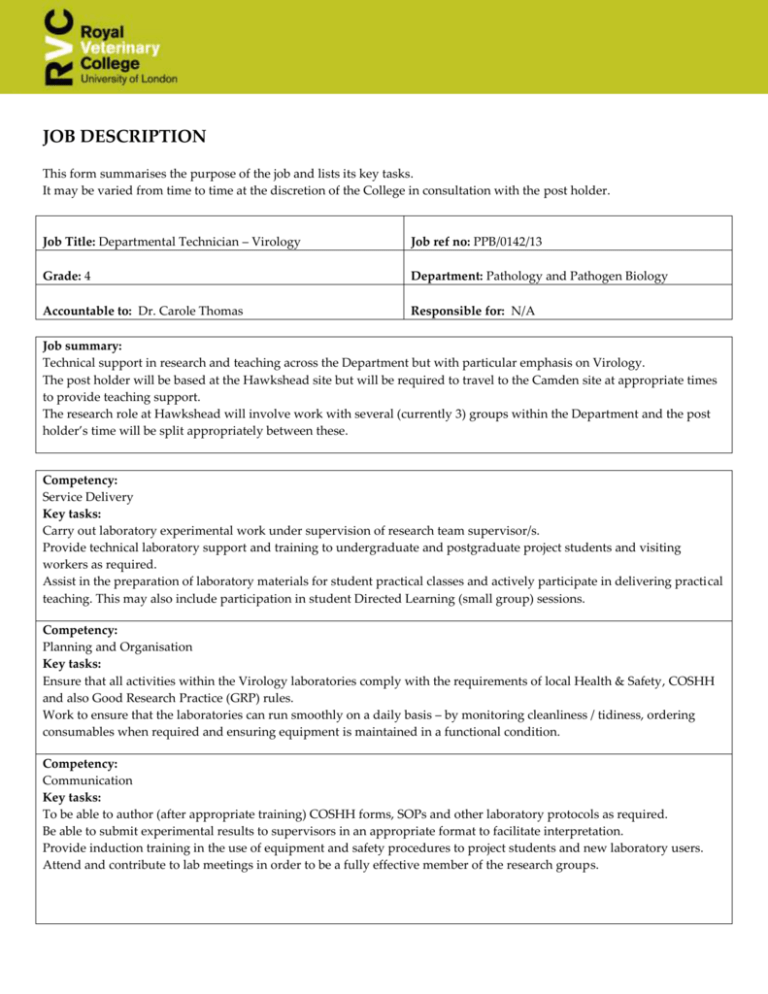 JOB DESCRIPTION
This form summarises the purpose of the job and lists its key tasks.
It may be varied from time to time at the discretion of the College in consultation with the post holder.
Job Title: Departmental Technician – Virology
Job ref no: PPB/0142/13
Grade: 4
Department: Pathology and Pathogen Biology
Accountable to: Dr. Carole Thomas
Responsible for: N/A
Job summary:
Technical support in research and teaching across the Department but with particular emphasis on Virology.
The post holder will be based at the Hawkshead site but will be required to travel to the Camden site at appropriate times
to provide teaching support.
The research role at Hawkshead will involve work with several (currently 3) groups within the Department and the post
holder's time will be split appropriately between these.
Competency:
Service Delivery
Key tasks:
Carry out laboratory experimental work under supervision of research team supervisor/s.
Provide technical laboratory support and training to undergraduate and postgraduate project students and visiting
workers as required.
Assist in the preparation of laboratory materials for student practical classes and actively participate in delivering practical
teaching. This may also include participation in student Directed Learning (small group) sessions.
Competency:
Planning and Organisation
Key tasks:
Ensure that all activities within the Virology laboratories comply with the requirements of local Health & Safety, COSHH
and also Good Research Practice (GRP) rules.
Work to ensure that the laboratories can run smoothly on a daily basis – by monitoring cleanliness / tidiness, ordering
consumables when required and ensuring equipment is maintained in a functional condition.
Competency:
Communication
Key tasks:
To be able to author (after appropriate training) COSHH forms, SOPs and other laboratory protocols as required.
Be able to submit experimental results to supervisors in an appropriate format to facilitate interpretation.
Provide induction training in the use of equipment and safety procedures to project students and new laboratory users.
Attend and contribute to lab meetings in order to be a fully effective member of the research groups.
Competency:
Knowledge and Experience
Key tasks:
Apply existing knowledge, skills and experience to investigate aspects of Virology of interest to the research groups
concerned.
Flexibility: To deliver services effectively, a degree of flexibility is needed, and the post holder may be required to perform
work not specifically referred to above.