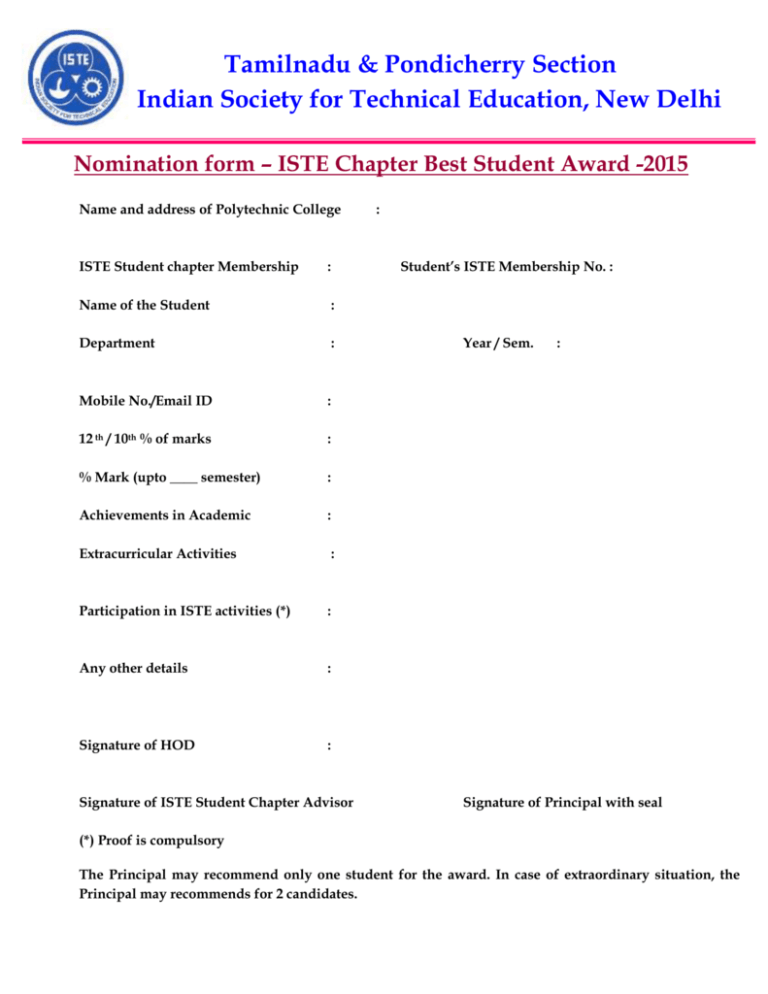 Tamilnadu & Pondicherry Section
Indian Society for Technical Education, New Delhi
Nomination form – ISTE Chapter Best Student Award -2015
Name and address of Polytechnic College
ISTE Student chapter Membership
:
Name of the Student
:
Department
:
Mobile No./Email ID
:
12 th / 10th % of marks
:
% Mark (upto ____ semester)
:
Achievements in Academic
:
Extracurricular Activities
:
Participation in ISTE activities (*)
:
Any other details
:
Signature of HOD
:
:
Student's ISTE Membership No. :
Signature of ISTE Student Chapter Advisor
Year / Sem.
:
Signature of Principal with seal
(*) Proof is compulsory
The Principal may recommend only one student for the award. In case of extraordinary situation, the
Principal may recommends for 2 candidates.
All nominations should be reached to Prof. A.K.Natesan, ISTE TN&P section Chairman, Excel Group
Institutions, Pallakapalayam, Sankari West Post, Namakkal Dist.-637303 (T.N.) on or before 23/2/16.