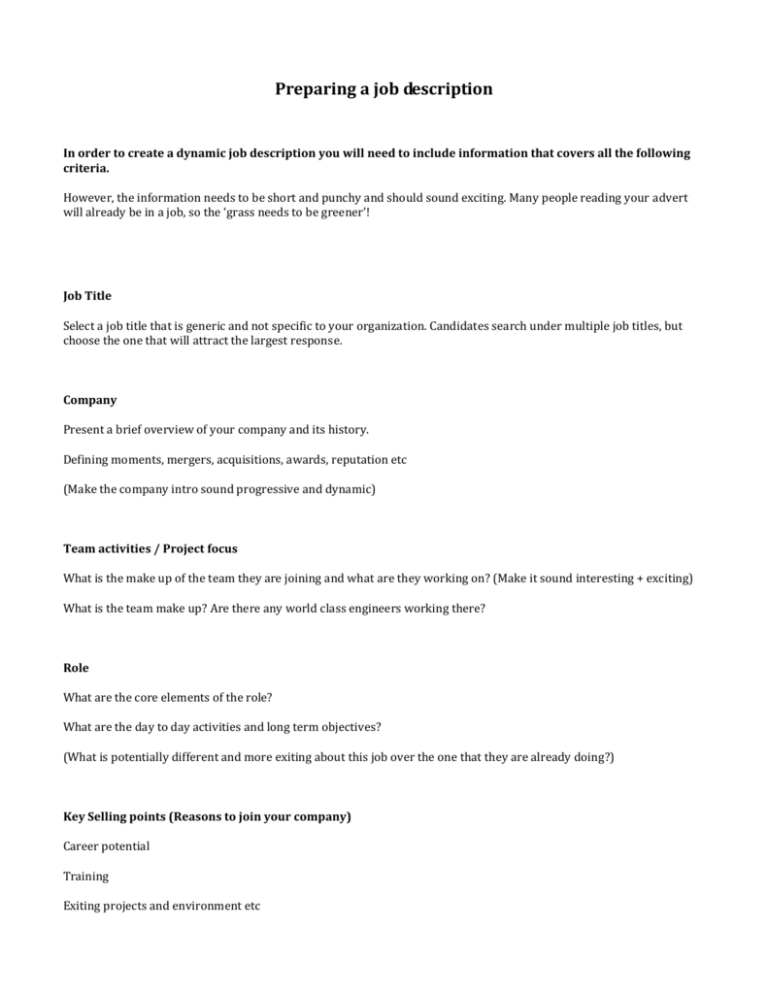 Preparing a job description
In order to create a dynamic job description you will need to include information that covers all the following
criteria.
However, the information needs to be short and punchy and should sound exciting. Many people reading your advert
will already be in a job, so the 'grass needs to be greener'!
Job Title
Select a job title that is generic and not specific to your organization. Candidates search under multiple job titles, but
choose the one that will attract the largest response.
Company
Present a brief overview of your company and its history.
Defining moments, mergers, acquisitions, awards, reputation etc
(Make the company intro sound progressive and dynamic)
Team activities / Project focus
What is the make up of the team they are joining and what are they working on? (Make it sound interesting + exciting)
What is the team make up? Are there any world class engineers working there?
Role
What are the core elements of the role?
What are the day to day activities and long term objectives?
(What is potentially different and more exiting about this job over the one that they are already doing?)
Key Selling points (Reasons to join your company)
Career potential
Training
Exiting projects and environment etc
Responsibilities
What are the candidates core responsibilities;

Personnel

Budgetary

Technical

Business
Essential criteria
The 2 or 3 must haves
Highly desirable
The selection of elements that will help a candidate to stand out from the crowd
Desirable
The cherry on the cake / nice to haves
Additional information
It is a candidate driven market and successful job descriptions have to FIND the right candidates. They do not always
find you.
Whenever possible avoid or explain acronyms.